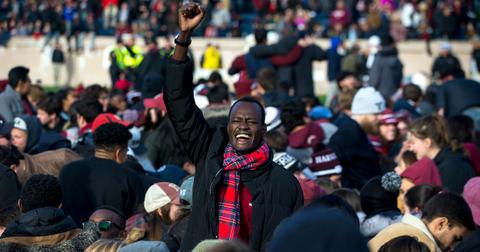 Why climate protesters interrupted the Harvard-Yale football game
By Sophie Hirsh

Updated
Thanks to Greta Thunberg's Fridays for Future movement, millions of people from all over the world have participated in protests for climate action over the past year, drawing attention to the global climate emergency. But this weekend, instead of sitting outside City Hall or the UN, hundreds of protestors gathered on the field of the Yale Bowl, interrupting the annual Harvard-Yale football game to demand the universities divest from fossil fuel investments.
Article continues below advertisement
Here's how and why the protest went down. Towards the end of halftime, a group of protestors — various reports estimate between 70 and 150 — walked onto the field and assembled near the 50-yard line. The protestors held signs aimed at Harvard University President Lawrence Bacow and Yale University President Peter Salovey, which read: "Presidents Bacow and Salovey: Our future demands action now" and "This is an emergency." The students were ultimately asking Harvard and Yale to stop investing in fossil fuel companies and holding Puerto Rican debt. According to EcoWatch, the two universities have a combined $71 billion endowment from both the fossil fuel industry and Puerto Rican debt holdings; as per The Guardian, Yale has endowments from the fossil fuel industry worth around $29 billion, while Harvard's are worth $39 billion.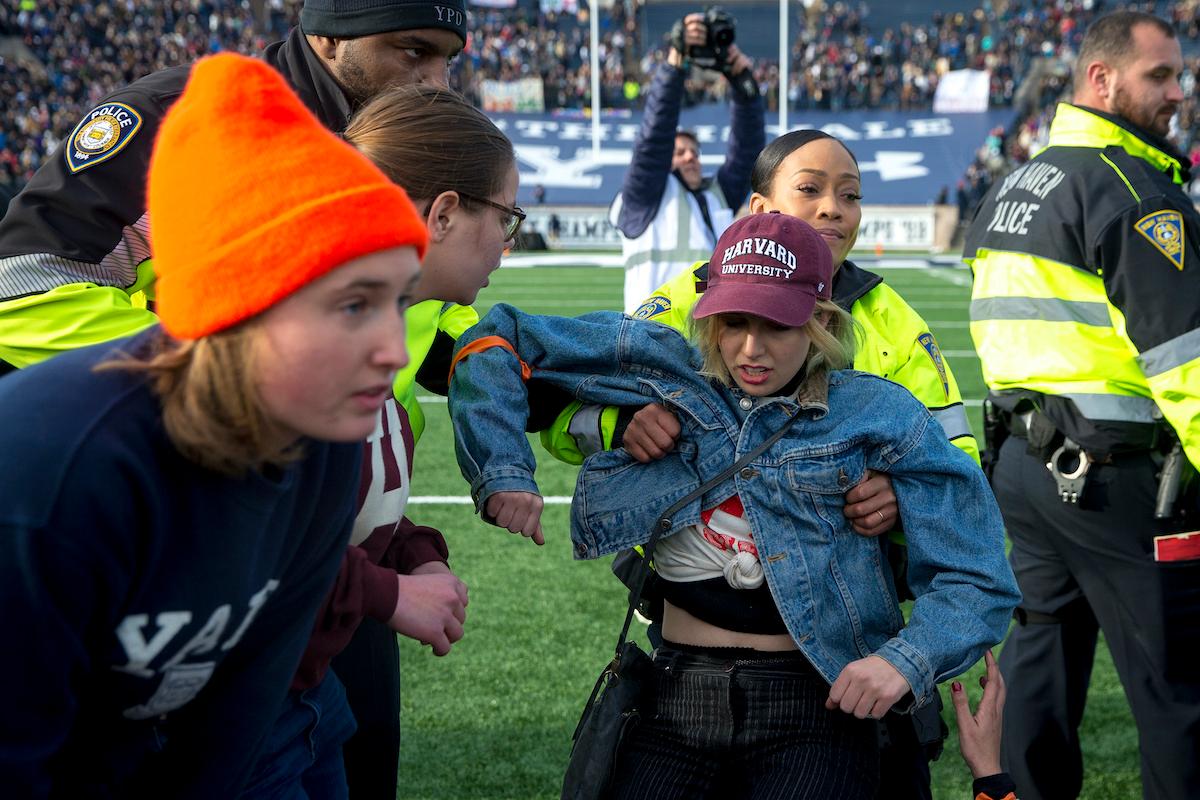 Article continues below advertisement
Soon, many more audience members left their seats to join the protests, with an estimated 500 protestors ultimately flooding the field, according to The New York Times. Protestors sang and chanted as authorities tried to get them to leave the field — announcers addressed the protesters over the PA system, and police and security guards surrounded the students, eventually forcibly removing some of them. It took nearly an hour to get the game started up again, according to NPR. The Yale police issued summons to 42 protestors for disorderly conduct, and more than 30 protesters were arrested.
And it wasn't only college students taking part — actor Sam Waterston was one of the 42 people charged with disorderly conduct for protesting on the football field on Saturday, according to the NY Post. Just a few weeks ago, Waterston joined his Grace and Frankie co-star Jane Fonda at her Fire Drill Fridays protest in D.C., where he was arrested for the first time, Variety reported.
Article continues below advertisement
Why did protesters target Harvard and Yale? 
Harvard and Yale are two of the most prestigious colleges on Earth, and if they divested from fossil fuels, it might set a precedent for other colleges to do the same. As explained by The New York Times, there has been a movement since 2011 to urge colleges to divest from fossil fuels. And according to The Guardian, students from both Harvard and Yale have been asking the institutions to divest since 2012. Unfortunately, those movements have not yet been fruitful at Harvard and Yale — both schools have asserted that remaining shareholders would give them the authority to campaign for climate action within the fossil fuel industry. In reality, the universities probably just don't want to say goodbye to the money they make from those investments.
Article continues below advertisement
Spokespeople for both Harvard and Yale provided statements to The New York Times — both statements acknowledged that the respective universities agreed that climate action is urgent, but they didn't believe the protest was the right thing to do. Yale spokeswoman Karen N. Peart told the newspaper that it was "regrettable that the orchestrated protest came during a time when fellow students were participating in a collegiate career-defining contest and an annual tradition," even though university supports "the right to free expression."
"While we agree on the urgency of this global challenge, we respectfully disagree with divestment activists on the means by which a university should confront it," read a statement from Harvard. "Universities like Harvard have a crucial role to play in tackling climate change and Harvard is fully committed to leadership in this area through research, education, community engagement, dramatically reducing its own carbon footprint, and using our campus as a test bed for piloting and proving solutions."
Article continues below advertisement
While it's legitimate that the footballs teams and the nearly 50,000 spectators may have been a bit annoyed by the delay, disruptive protests clearly tend to get more media attention than subdued ones. As Alexandria Ocasio-Cortez put it, "Activism disrupts the present to change the future." In addition to AOC, Elizabeth Warren and Al Gore also showed their support for the activists on Twitter. 
Article continues below advertisement
I support the students, organizers, and activists demanding accountability on climate action and more at #HarvardYale. Climate change is an existential threat, and we must take bold action to fight this crisis. https://t.co/lm1V6honI4

— Elizabeth Warren (@ewarren) November 24, 2019
Fossil Free Yale, who co-authored the protests, is raising money to pay the legal fees of the activists who were arrested on Saturday. You can donate to the GoFundMe campaign here.