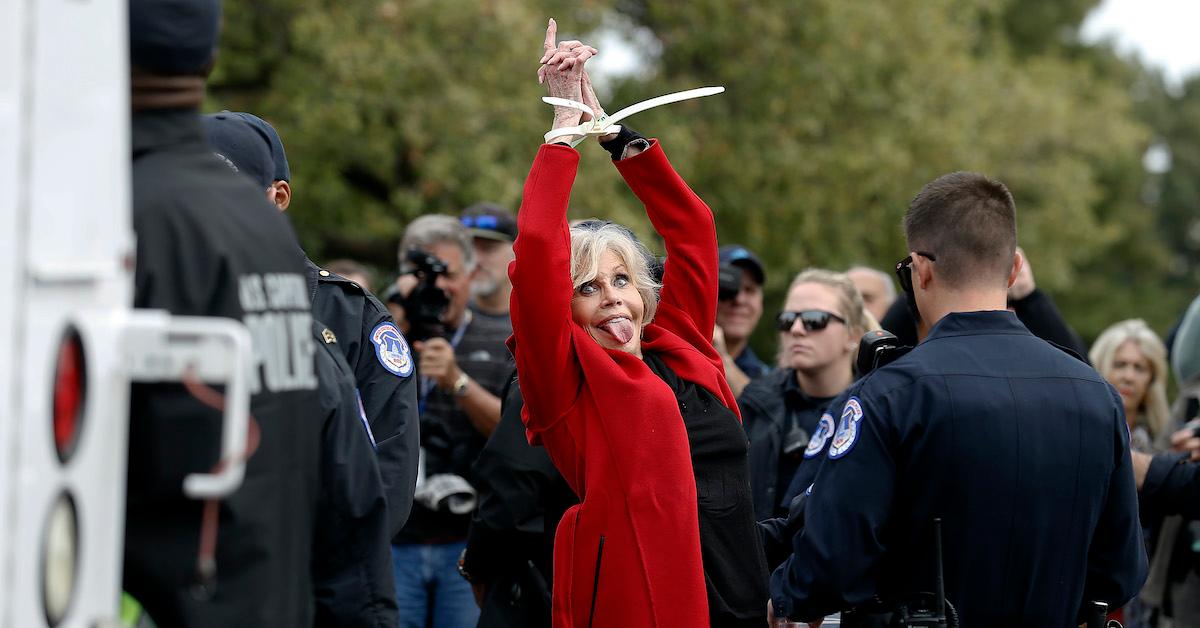 Jane Fonda arrested 3 weeks in a row for climate protests, this time with Ted Danson
By Sophie Hirsh

Nov. 13 2019, Updated 5:34 p.m. ET
Inspired by 16-year-old Greta Thunberg, who has been striking from school every Friday for more than a year in a movement known as Fridays for Future, Jane Fonda has begun her own movement for her own generation: Fire Drill Fridays. The past few Fridays, the legendary actress — along with some famous friends — has been arrested on the steps of the U.S. Capitol.
Article continues below advertisement
"I'm inspired by @GretaThunberg and the young people who came out in unprecedented numbers, behaving like the mature adults in the room," Fonda, 81, wrote on Instagram last month. "Greta has called on us to get out of our comfort zones, stop business as usual and start behaving like we're in a crisis, like our house is on fire...because it is. So I'm moving to DC to take more direct action. Stay tuned."
Since moving to D.C., Fonda has caused quite the stir. The actress and activist told The Los Angeles Times that she planned to get arrested every week for organizing these protests, where she is "demanding urgent action on a Green New Deal," according to the Fire Drill Friday Instagram — and that she has.
Article continues below advertisement
This past Friday, Oct. 25, Fonda and her buddy Ted Danson, from The Good Place and Cheers were both arrested outside of the Capitol after leading a protest and making speeches to the crowd. Danson is a known environmental activist, having co-authored the 2011 book Oceana: Our Endangered Oceans and What We Can Do to Save Them, so it's no surprise that he is joining Fonda in this fight for the planet.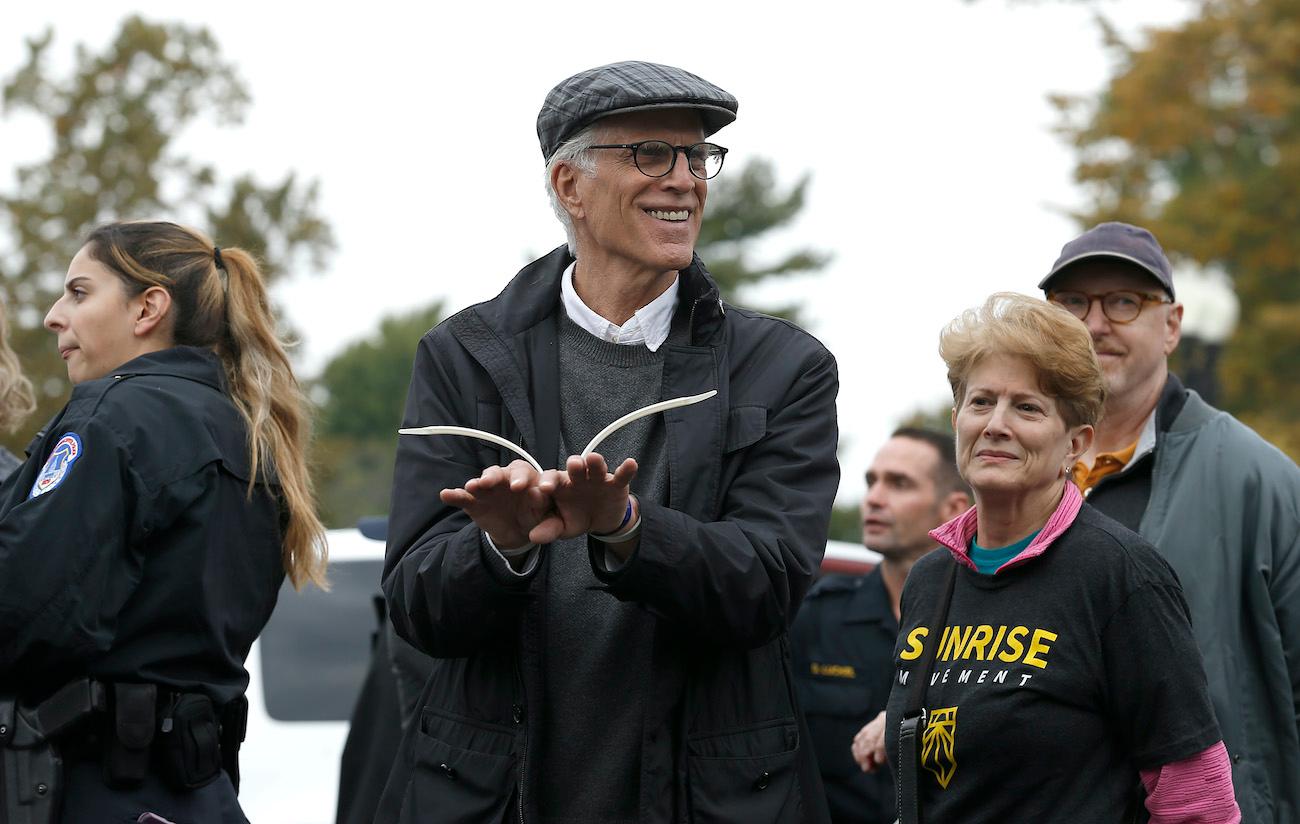 Article continues below advertisement
The pair went viral on social media for the looks of pure glee on their faces as they were escorted off the premises in zip-tie handcuffs. People had a field day on Twitter, praising the two actors for their action.
Article continues below advertisement
Article continues below advertisement
The previous Friday, Oct. 18, Fonda brought along her friend and Grace and Frankie co-star Sam Waterston to the protest, and the police also took them away in zip-tie handcuffs. The actor may have played an attorney for 16 years on Law & Order, but this was his first personal brush with the law. According to Vulture, he had never been arrested before.
Article continues below advertisement
And during her first Fire Drill Friday, on Oct. 11, Fonda was the sole celebrity to be arrested. (Though several lesser-known activists were arrested along with her.) Images of her being escorted away in zip-tie handcuffs, wearing a fabulous red peacoat and a newsboy cap, quickly began circulating online.
While Greta Thunberg has her signature braids and "skolstrejk för klimatet" sign, Jane Fonda has her signature red peacoat, sunglasses, and cap. And with Halloween later this week, the two women are giving you some seriously great viral inspiration for costumes that are not only easy to put together, but may also leave people at your Halloween party thinking about the climate crisis.
Greta is currently protesting on the west coast in Vancouver, Canada — but hopefully one of these days, she will hop on some public transportation and meet Fonda in D.C. for a Fire Drill Fridays for Future mashup.