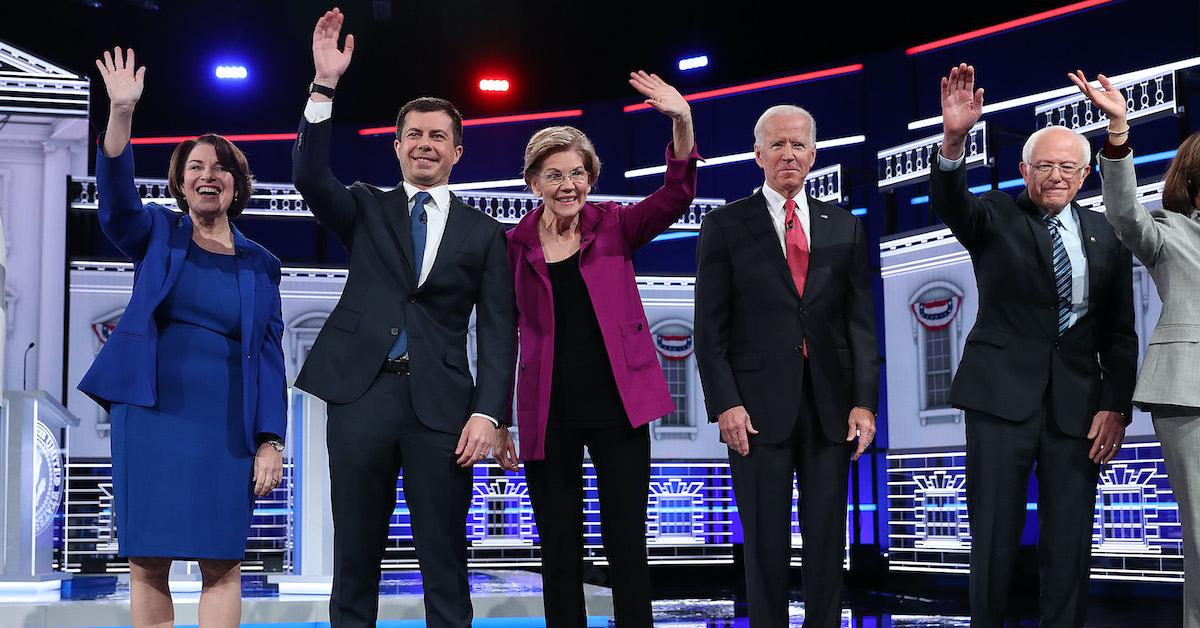 Just one question dedicated to climate crisis at November Democratic debate — and it got heated
By Sophie Hirsh

Updated
Another month, another presidential debate... and another presidential debate with a limited focus on climate issues. On Monday, Nov. 20, moderator Andrea Mitchell opened the debate by saying, "We'll be covering a wide range of topics tonight, including national security, race, and climate." But unfortunately, climate topics did not get the airtime many environmentalists would have liked. As noted by Grist, the 10 Democratic presidential candidates were faced with just one question about the planet during the entire evening.
Article continues below advertisement
About halfway through the debate, moderator Rachel Maddow told the candidates that they received thousands of viewer questions about the climate crisis, and she shared just one, from a citizen in Minneapolis. "Leading the world in resolving the climate crisis will be a multi-decade project, spanning far beyond even a two-term presidency," the question read, according to a transcript published by NBC News. "If you are elected president, how would you ensure that there is secure leadership and bipartisan support to continue this project?"
Maddow prompted Hawaii Rep. Tulsi Gabbard to address the question first. Gabbard emphasized that climate action is a bipartisan issue, and she plans to prioritize climate action if she becomes president. In office, she would end "the nearly $30 billion in subsidies that we as taxpayers are currently giving to the fossil fuel industry," and instead invest in a green renewable economy. But unfortunately for those on the Gabbard train, the congresswoman isn't exactly a frontrunner in this race.
Article continues below advertisement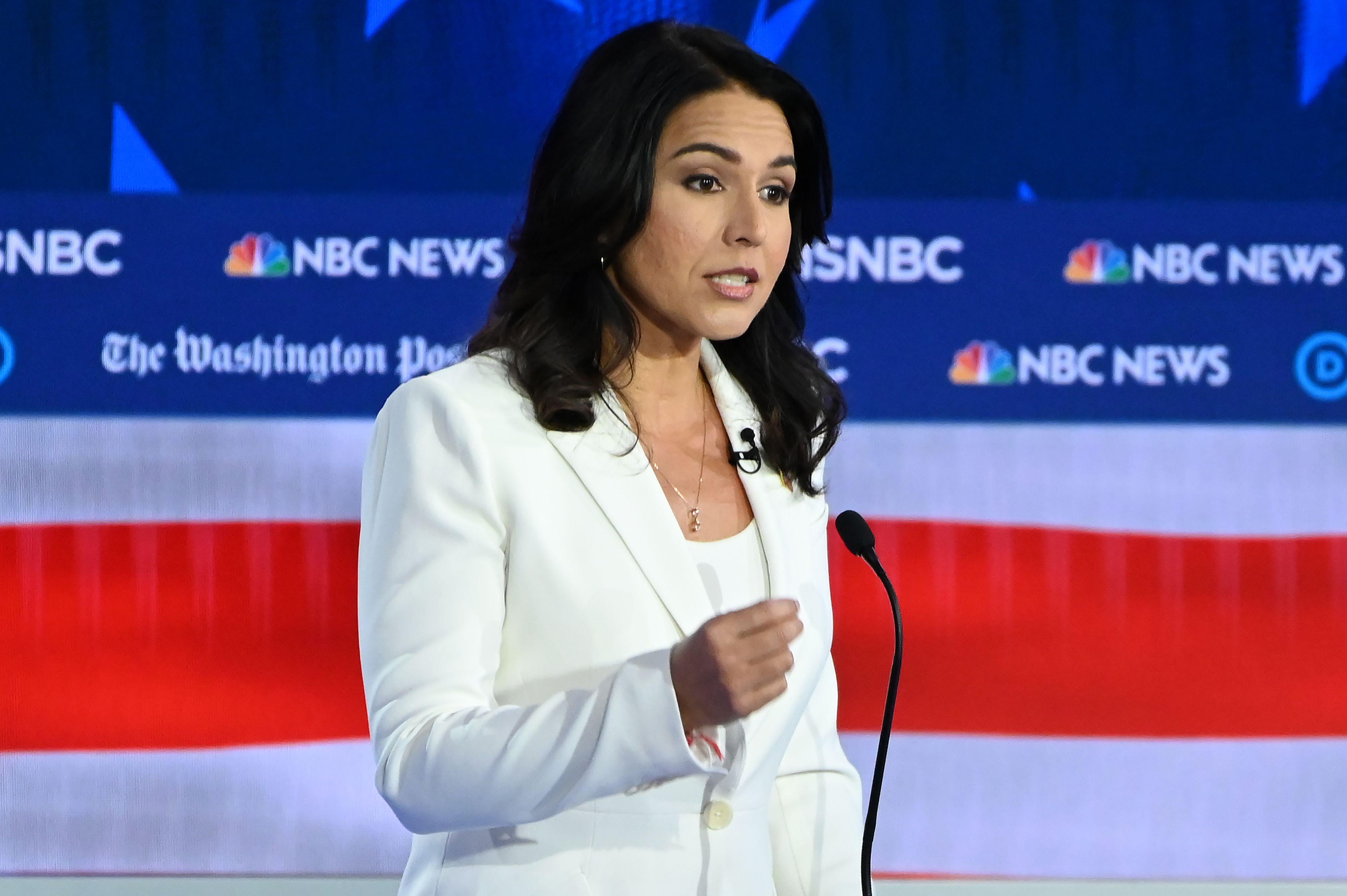 The next candidate Maddow asked to chime in was Tom Steyer, a businessman who joined the race in July. According to theSkimm, Steyer founded NextGen America – a youth coalition dedicated to electing progressive candidates and fighting climate change. "Rachel, I'm the only person on this stage who will say that climate is the number-one priority for me," Steyer said at the debate, as per the NBC News transcript. 
Article continues below advertisement
"Vice President Biden won't say it. Senator Warren won't say it. It's a state of emergency, and I would declare a state of emergency on day one. I would use the emergency powers of the presidency," Steyer continued, as Sen. Elizabeth Warren raised her hand in an attempt to chime in. Steyer also added that he would make climate the No. 1 priority of his foreign policy, and that he would base his climate policy on "environmental injustice and members of the communities where this society has chosen to put our air and water pollution, which are low-income black and brown communities."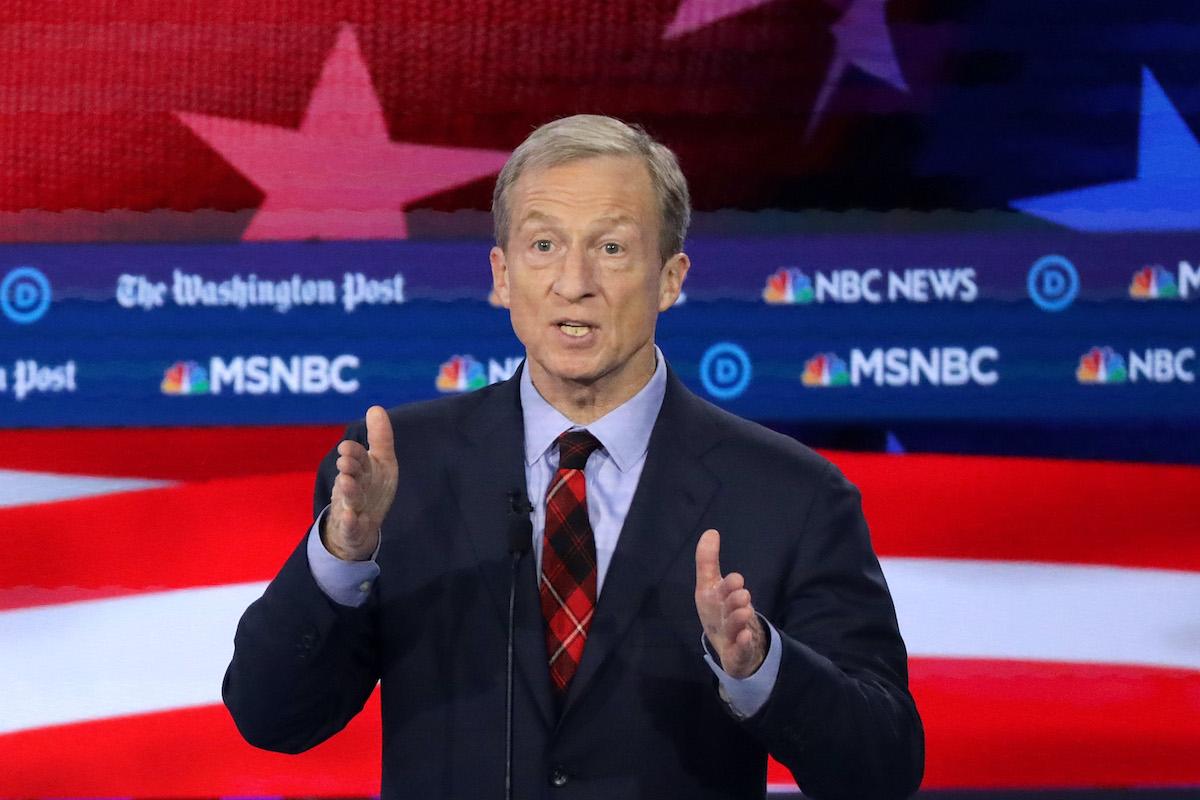 Article continues below advertisement
Like Gabbard, Steyer is not quite a frontrunner in this election — but fear not, because three of the frontrunners shared their thoughts on the topic of bipartisan support in the climate crisis next.
Maddow gave Vice President Joe Biden a chance to respond because he was "name-checked" — and as the back-and-forth began to escalate, Maddow then asked Sen. Bernie Sanders to comment. This prompted Warren to chime in with an "I was also named in that," to which the audience erupted into a brief wave of supportive laughs and cheers. Maddow affirmed that she was, but unfortunately, she did not give her a chance to respond.
Article continues below advertisement
Biden was swift to disagree with Steyer's opinion of him, and the former Veep stated that he thinks climate is "the number-one issue" and "the existential threat to humanity." When Sanders took the microphone, he noted that he has already introduced legislation to declare climate change a national emergency. He also said that according to scientists, we do not have decades to solve the climate crisis as the citizen's question suggested. "What we have got to do tonight, and I will do as president, is to tell the fossil fuel industry that their short-term profits are not more important than the future of this planet," Sanders said. 
Article continues below advertisement
Sanders then added that "the fossil fuel industry is probably criminally liable" and "maybe we should think about prosecuting them." It's too bad Warren wasn't given the time to comment, because she would certainly agree with that stance. In fact, Warren recently unveiled a presidential plan called titled Fighting Corporate Perjury, which would hold the nation's biggest fossil fuel companies and polluters accountable for their actions and for misleading the public. She did take a moment to address the climate during her closing statements, however. "We want to make real progress on climate," she said, according to the transcript. "We have to start by attacking the corruption that gives the oil industry and other fossil fuel industries a stranglehold over this country."
Fighting the fossil fuel industry is key to significantly cutting the country's emissions, and as we get closer and closer to the Democratic primaries (which begin in February in some states), it's more important than ever that we support candidates who will promise to prioritize that fight.