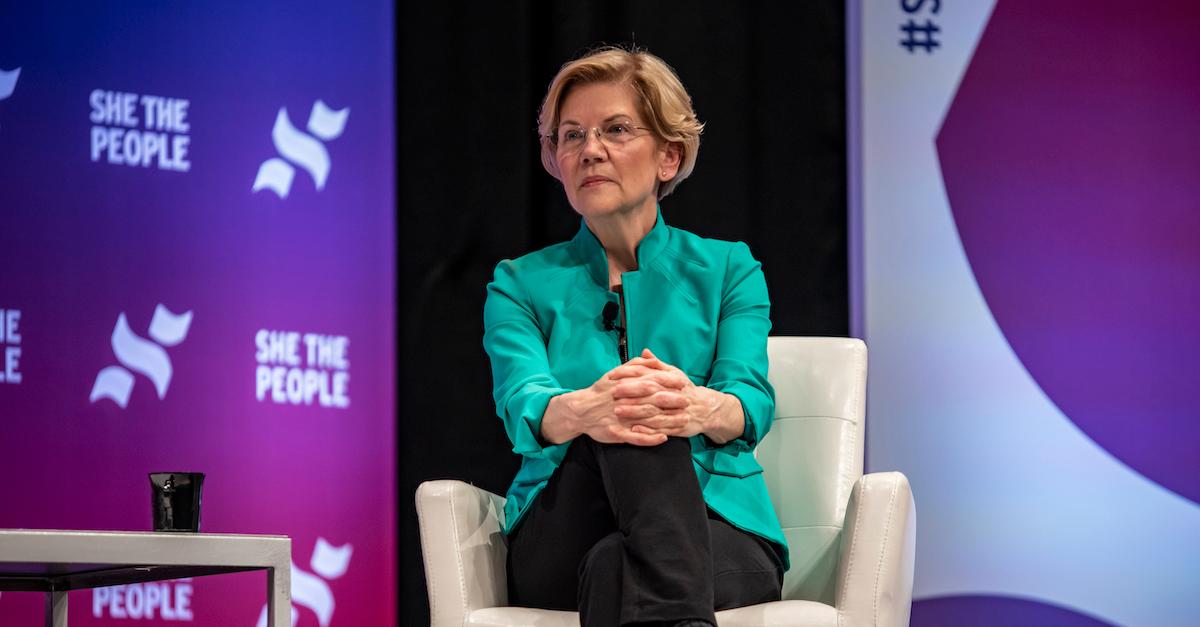 Elizabeth Warren would put lying fossil fuel executives in jail under new presidential proposal
By Sophie Hirsh

Updated
Sen. Elizabeth Warren just unveiled her latest presidential plan — and she isn't holding anything back when it comes to holding the country's biggest polluters accountable. In the plan, titled Fighting Corporate Perjury, the 2020 presidential hopeful explains why "fossil fuel companies like Exxon shouldn't be able to pour money into fake junk science, then use it to lie to federal regulators." When you put it that way, it sounds like a no-brainer, doesn't it?
Warren published Fighting Corporate Perjury on her website on Tuesday, Nov. 12, and she began the document by criticizing ExxonMobil for misleading the public about the effects of fossil fuels on climate change. As she explained, even though the oil and gas company's scientists had done extensive research and discovered this connection in 1977, Exxon chose to keep that information from the public, and instead spend millions of dollars on climate denial research to make sure the public was uninformed on oil's effect on the planet. But what is most concerning to Warren are the allegations that Exxon has lied to the Environmental Protection Agency (EPA) — a government agency — about the severity of the climate crisis, up until 2009.
It's illegal to lie to Congress, to a court, and even to your shareholders. It should also be illegal for Exxon and other giant corporations to lie to federal regulators. I've got a plan for that. https://t.co/BkkcRYHVzo

— Elizabeth Warren (@ewarren) November 12, 2019
"It is illegal to lie to Congress. It is illegal to lie to a court. It's even illegal to lie to your shareholders," Warren wrote. "But corporate interests are regularly and knowingly peddling false claims in order to stop regulatory agencies from acting in the public interest."
For that reason, if Warren is elected President one year from now, she will make it a federal felony for companies to lie to the government. "My plan to end Washington corruption prevents companies like Exxon from using industry-funded fake research to mislead federal regulators," Warren declared. "And if bad actors like Exxon break the rules and deliberately lie to government agencies, my plan will treat them the same way the law treats someone who lies in court – by subjecting them to potential prosecution for perjury."
My plan prevents companies like Exxon from using industry-funded fake research to mislead federal regulators and strike down regulations in court. And if they knowingly lie, we'll treat them the same way the law treats anyone who lies in court—by prosecuting them for perjury.

— Elizabeth Warren (@ewarren) November 12, 2019
To fix this issue, Warren has a three-prong plan:
Establish a "corporate perjury" law that will take companies who lie to federal agencies to court. The punishment for this offense could range from jail time to fines up to $250,000.
Make it illegal for the government and courts to use non-peer-reviewed, industry-funded research. Research of this nature is biased and not credible, and should not be used to govern or establish laws.
Give the public the tools to engage with the legal changes made by federal agencies, especially in relation to the climate crisis. Warren's plan will establish a national Office of the Public Advocate to facilitate this.
What's most interesting about Warren's plan is that not only would it subject lying fossil fuel companies to punishment, but it would also potentially punish the executives involved in the operation with jail time. 
Whether or not Warren becomes POTUS (or even the Democratic nominee), hopefully Fighting Corporate Perjury will make its way to the White House as soon as Trump is out of office — because with the climate crisis growing more serious every day, there is no time to waste.