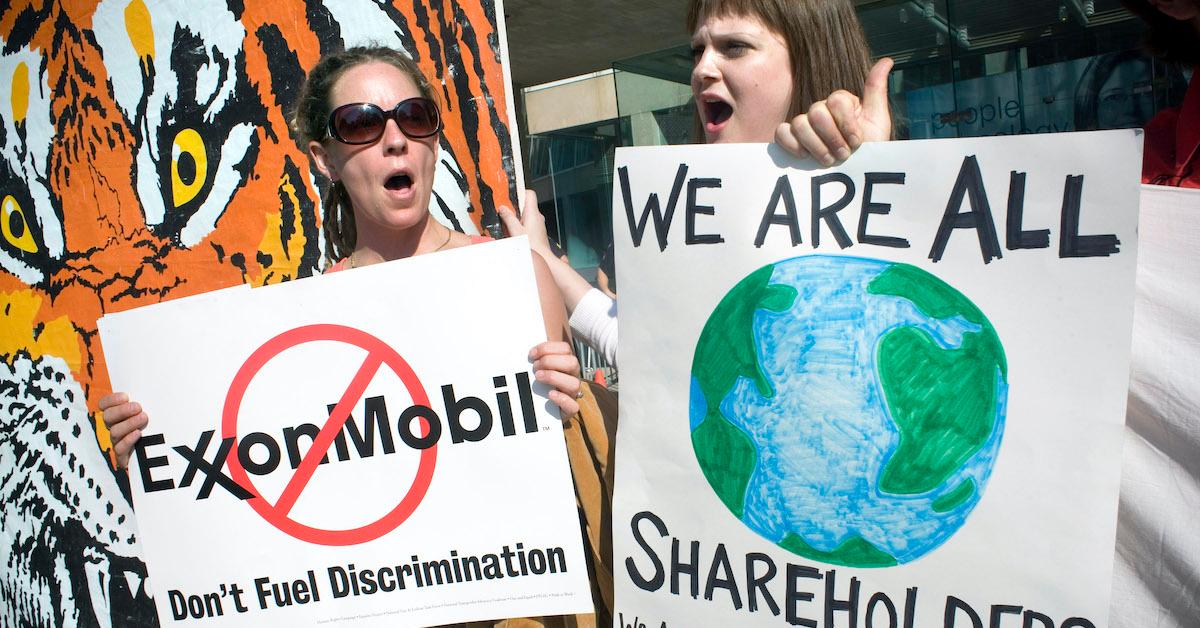 Exxon Mobil is on trial for allegedly misleading investors about the climate crisis
By Sophie Hirsh

Oct. 22 2019, Updated 4:42 p.m. ET
Today, Exxon Mobil goes on trial — but not for being one of the largest oil and gas companies in the world, or for emitting significant greenhouse gases into the atmosphere, or for polluting the Earth. Rather, the gasoline giant is being sued by the New York Attorney General's office for allegedly lying to its investors about how safe it is to invest in Exxon Mobil despite governments beginning to establish laws regulating fossil fuels in response to the climate crisis, such as carbon taxes, the AP reported.
Article continues below advertisement
Attorney General Letitia James' lawsuit claims that Exxon Mobil has kept "two sets of books" for investors, climate activist Kert Davies told BuzzFeed News. One set of figures takes into account government regulations concerning the climate, and was only used internally. The other set of figures underestimates the ways the company will be affected — and this was the set that was shared with shareholders. If true, that would mean Exxon Mobil was misleading its investors by making the company seem more valuable than it might be in a few years, the AP explained.
Article continues below advertisement
"Exxon Mobil made its assets appear significantly more secure than they really were, which had a material impact on its share price," the lawsuit claims, as seen in a document the Attorney General's office published and shared with BuzzFeed News. This allegedly began back in 2010, when Exxon Mobil announced that it was had been considering potential carbon taxes when calculating future figures — but those were not the ones shared with the public, the lawsuit alleges, as noted by CBS News.
Charlotte Huffaker, Corporate Media Relations Advisor for ExxonMobil, emailed us to share Exxon Mobil's views on the trial. It seems that the company is admitting to having two sets of books — it just maintains that neither of them were misleading. She explains in an email:
"In the absence of a uniform, globally accepted cost of carbon, ExxonMobil uses two distinct metrics to account for the impact of current and potential climate-related regulations. The first is a 'proxy cost' which is intended to reflect the impact of all climate polices that could reduce demand for oil and natural gas globally. The other, a greenhouse gas cost or 'GHG cost,' reflects actual costs that might be imposed directly on the emissions of oil and gas projects as a result of specific laws in a jurisdiction, for example.
ExxonMobil applies proxy costs and GHG costs precisely as disclosed and takes both into account to help make sound business decisions and meet its fiduciary responsibilities to shareholders."
Article continues below advertisement
Huffaker also tells us that Exxon Mobil believes the case itself is "misleading" and "politically motivated and resulted from a coordinated effort by anti-fossil fuel groups and contingency-fee lawyers involved in other lawsuits against industry." But even if anti-fossil fuel groups are involved in this lawsuit, is that really so bad? Anti-fossil fuel groups sue corporations like Exxon Mobil with a goal of creating a cleaner and healthier planet — but groups like Exxon Mobil run their business motivated by profit. Which motivation can be justified?
Considering Exxon Mobil's stance on this trial, it will certainly be interesting to see how things shake out in court. However, we will have to wait a few weeks for judge's ruling — according to BuzzFeed News, the trial, which kicked off on Tuesday, Oct. 22 at 2:15 p.m. in the New York Supreme Court, could go for as long as three weeks.
Article continues below advertisement
But either way, this lawsuit is history-making. As Michael Gerrard, director of Columbia Law School's the Sabin Center for Climate Change Law, told CBS News, "This will only be the second climate-change case ever to go to trial in the United States." And when speaking with BuzzFeed News, Gerrard noted that this trial has been a long time coming, with Exxon Mobil resisting the allegations. "Exxon has been working very hard to prevent this day from ever happening," Gerrard told the website.