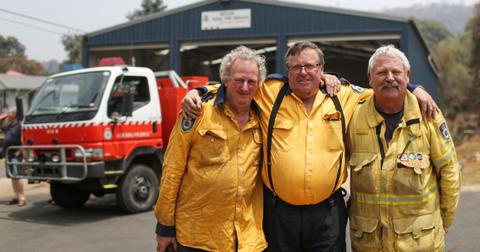 All wildfires in New South Wales are now contained
By Mark Pygas
Thousands of firefighters from all around the world are still battling bushfires in Australia that have been burning for months. But firefighters in the state of New South Wales will now get some much-needed rest after the Rural Fire Service (RFS) announced that all fires burning in New South Wales have been contained for the first time this season.
That's good news for Australia's volunteer firefighters, who have been battling the blazes in grueling shifts for weeks on end. So far, at least 33 people have been killed in the wildfires. That number includes four firefighters, three of whom were from the United States.
The RFS explained that torrential downpours had helped to extinguish more than 30 fires, some of which had been burning for months. The rain also helped firefighters to contain fires that are still burning, which will hopefully mean that they'll eventually extinguish by themselves.
"In what has been a very traumatic, exhausting and anxious bush fire season so far, for the first time this season all bush and grass fires in NSW are now contained," the RFS said.
"It has taken a lot of work by firefighters, emergency services and communities to get to this point."
Premier of New South Wales Gladys Berejiklian added: "The scale of these bushfires is unprecedented and NSW is experiencing the most devastating natural disaster in living memory. The bushfire season has left a huge scar on NSW."
NSW Emergency Services Minister David Elliott added: "The state is in mourning. The state is in grief... for the heroes, we never knew and who were there when we needed them most."
Australia's wildlife has also been hard hit, with more than 11 million hectares of land burned and an estimated one billion animals killed. On Kangaroo Island, where bushfires have now been contained, up to half of the island's 50,000 koalas are believed to have perished in the fires.