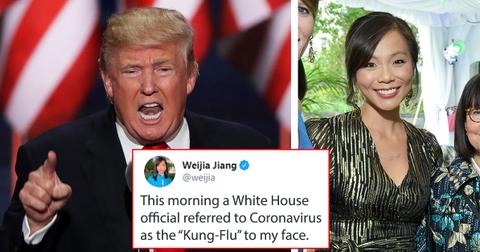 Asian American journalist says White House official referred to coronavirus as 'Kung-Flu'
By Mark Pygas
Republicans have drawn criticism for referring to coronavirus as 'Chinese coronavirus' in recent weeks. Just last night, President Trump referred to the virus by the name on Twitter.
Now, a CBS News White House correspondent is alleging that a White House official called coronavirus the "Kung-Flu" during a conversation.
Weijia Jiang, who was born in China but moved to West Virginia, alleged that the incident took place on Tuesday morning in a tweet.
"This morning a White House official referred to Coronavirus as the "Kung-Flu" to my face," Jiang wrote. "Makes me wonder what they're calling it behind my back."
Unsurprisingly, Twitter users were shocked by the accusation. "I'm sorry you have to report on a crisis and face bigotry at the same time," one user wrote. "We appreciate the work you're doing and the danger that puts you in to get us the news."
While other journalists encouraged Jiang to name the White House official.
And one user concluded: "Would be nice if they worked more on how to respond to it and less time coming up with racist names for it."
Despite the virus now being a global one, many Asians around the world are facing xenophobia. In one such incident earlier this month, Jonathan Mok, a 23-year-old studying in the United Kingdom, took to Facebook to say that a group of men in London has attacked him. Mok says one of the attackers yelled at him, "I don't want your coronavirus in my country." Two teenagers have since been arrested over the incident.
But despite these kinds of attacks, Republicans have repeatedly been referring to coronavirus as "Chinese coronavirus."
Last week, Kevin McCarthy, the Republican House Minority Leader, took to Twitter to share the CDC's website on coronavirus. In the tweet, he referred to the virus as "Chinese coronavirus."
Tucker Carlson of Fox News also referred to the virus as "Chinese coronavirus" in a segment on his show. Carlson said:
"On the left, you've heard them tell you that the real worry if that you might use the wrong word to describe what's happening to the country. It's racist—they're telling you—to blame the most racist nation in the world for the spread of this virus."
Paul Gosar, a staunch Trump ally and Congressman for AZ's 4th District, also referred to the virus as "Wuhan virus." He was announcing his self-quarantine after coming into contact with the virus.
This is despite the World Health Organization (WHO) moving away from naming viruses after geographic places or groups of people.
"We've seen certain disease names provoke a backlash against members of particular religious or ethnic communities, create unjustified barriers to travel, commerce and trade, and trigger needless slaughtering of food animals," Keiji Fukuda, then the WHO's assistant director-general for health security, said in 2015. "This can have serious consequences for people's lives and livelihoods."
When the WHO was first naming what we now know as COVID-19, epidemiologist Maria van Kerkhove explained why they were not using a geographic name.
"I'm sure you have seen many media reports that are still calling this, using the name Wuhan or using China. We wanted to ensure that there was no stigma associated with this virus, and so we've put out this interim name."