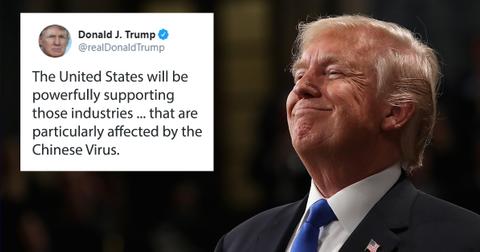 Trump calls coronavirus 'the Chinese Virus' despite racist attacks against Asians
By Mark Pygas
Coronavirus has been declared a global pandemic by the World Health Organization. Europe has now become the center of the outbreak, with nearly 24,000 cases of coronavirus in Italy alone.
But despite the virus now being a global one, many Asians around the world are facing xenophobia. In one such incident earlier this month, Jonathan Mok, a 23-year-old studying in the United Kingdom, took to Facebook to say that a group of men in London has attacked him. Mok says one of the attackers yelled at him, "I don't want your coronavirus in my country." Two teenagers have since been arrested over the incident.
Despite these attacks, Republicans have taken to calling coronavirus "the Chinese virus." And now, President Trump is among those using the name.
In a tweet on Monday, Trump wrote: "The United States will be powerfully supporting those industries, like Airlines and others, that are particularly affected by the Chinese Virus. We will be stronger than ever before!"
Trump isn't the first to use this name. Last week, Kevin McCarthy, the Republican House Minority Leader, took to Twitter to share the CDC's website on coronavirus. In the tweet, he referred to the virus as "Chinese coronavirus."
Tucker Carlson of Fox News also referred to the virus as "Chinese coronavirus" in a segment on his show. Carlson said:
"On the left, you've heard them tell you that the real worry if that you might use the wrong word to describe what's happening to the country. It's racist—they're telling you—to blame the most racist nation in the world for the spread of this virus."
Paul Gosar, a staunch Trump ally and Congressman for AZ's 4th District, also referred to the virus as "Wuhan virus" in a tweet on Monday. He was announcing his self-quarantine after coming into contact with the virus.
In 2015, the World Health Organization (WHO) issued new naming protocols for diseases, prohibiting any reference to geographic locations, animals, or groups of people.
"We've seen certain disease names provoke a backlash against members of particular religious or ethnic communities, create unjustified barriers to travel, commerce and trade, and trigger needless slaughtering of food animals," said Keiji Fukuda, then the WHO's assistant director-general for health security. "This can have serious consequences for people's lives and livelihoods."
When the WHO was first naming what we now know as COVID-19, epidemiologist Maria van Kerkhove explained why they were not using a geographic name.
"I'm sure you have seen many media reports that are still calling this, using the name Wuhan or using China. We wanted to ensure that there was no stigma associated with this virus, and so we've put out this interim name."
Unsurprisingly, President Trump's decision to refer to coronavirus as "the Chinese virus" has been met with condemnation online.
"F**k anyone who calls it the 'Chinese virus,' one user wrote. "Cancel yourselves real fast."
Another user joked: "If Trump is going to call #covid19 'the Chinese Virus' then let's start calling the Spanish Flu of 1918 'the Kansas Virus.'"
While this tweet pretty much sums itself up.
The best way to prevent contracting or spreading coronavirus is with thorough hand washing and social distancing. If you feel you may be experiencing symptoms of coronavirus, which include persistent cough (usually dry), fever, shortness of breath, and fatigue, please call your doctor before going to get tested. For comprehensive resources and updates, visit the CDC website. If you are experiencing anxiety about the virus, seek out mental health support from your provider or visit NAMI.org.