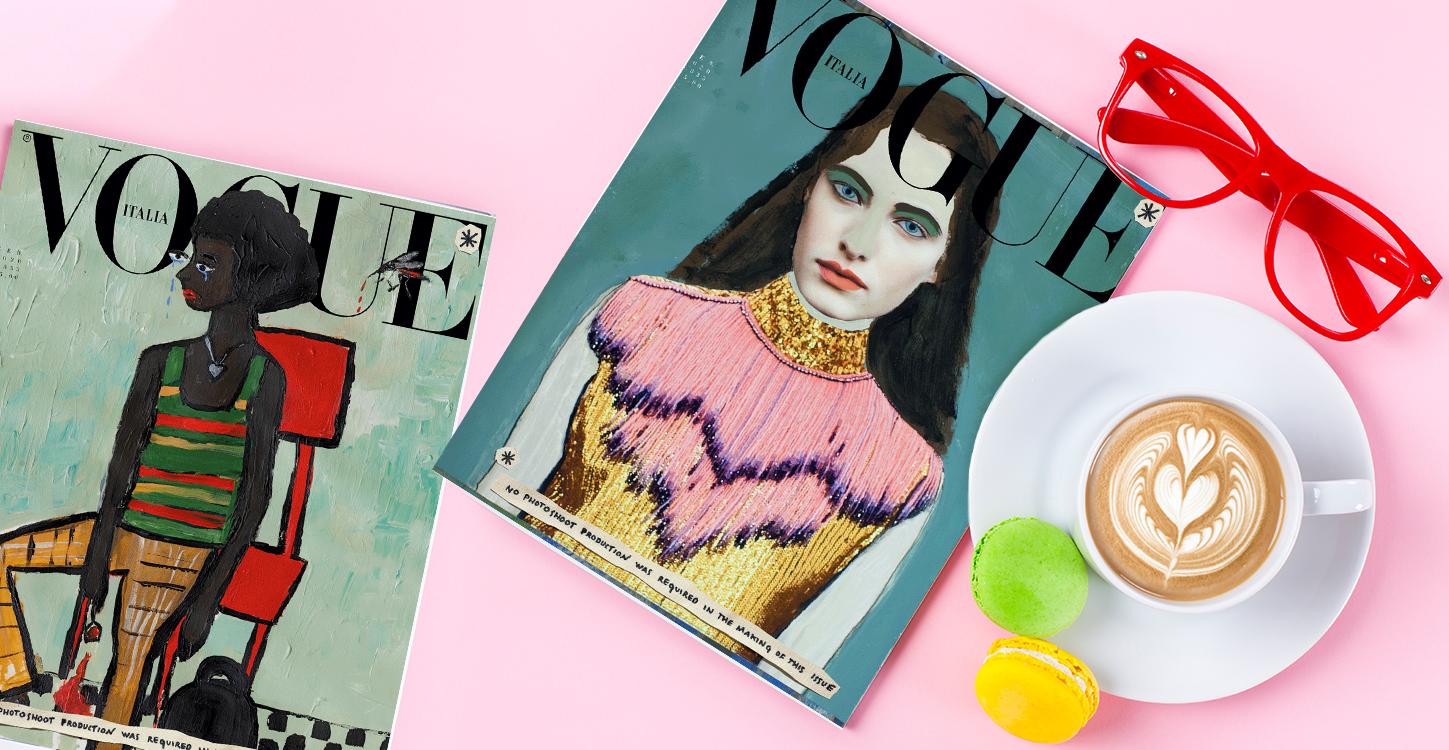 Vogue Italia skips photoshoots this month for the environment
By Sophie Hirsh

Dec. 15 2020, Updated 12:42 p.m. ET
The pages of fashion magazines are typically filled with photo spreads showing off the latest styles. But as part of a sustainability declaration that all 26 international Vogue editions made in December 2019, this month's issue of Vogue Italia will forgo photographs. The magazine is doing this to avoid the high environmental impact of photoshoots, and to prove that "it is possible to show clothes without photographing them."
Article continues below advertisement
While it's becoming increasingly common knowledge that the fashion industry is generally unsustainable due to the processes, materials, waste, and pollution that often come with clothing manufacturing, one aspect of the industry that most people do not think about is the photoshoots. Vogue Italia editor-in-chief Emanuele Farneti opened this month's editor's letter by listing some of the resources that went into Vogue Italia's last September issue (the biggest issue of the year).
"One hundred and fifty people involved. About twenty flights and a dozen or so train journeys. Forty cars on standby. Sixty international deliveries. Lights switched on for at least ten hours non-stop, partly powered by gasoline-fuelled generators. Food waste from the catering services. Plastic to wrap the garments. Electricity to recharge phones, cameras…" he wrote.
Article continues below advertisement
So instead, Farneti hired seven illustrators to create seven original drawings of Gucci outfits for seven different magazine covers this month. The artists created each cover "without traveling, shipping entire wardrobes of clothes or polluting in any way," Vogue Italia said in a statement.
Article continues below advertisement
Each cover is in a distinctly different style, but most of the seven artists chose to depict specific models. For example, artist Cassi Namoda painted model Ambar Cristal Zarzuela crying and bleeding, with a mosquito dripping blood flying near her head, which is meant to represent global heating, according to The New York Times. Each cover includes the following handwritten disclaimer on what looks like a scrap of paper floating in front of the illustrations: "no photoshoot production was required in the making of this cover."
This marks Vogue Italia's first-ever cover not to include a photograph. In addition to the cover, the pages of the issue do not include any photo features, except for one that was shot by two 17-year-old photographers, because, "They are the eyes of tomorrow on loan to our present," according to Farneti.
Article continues below advertisement
Not only did Italian Vogue save on emissions by forgoing photoshoots this month, but the publication also saved a considerable amount of money. So, Vogue Italia is donating the funds it saved to help restore Fondazione Querini Stampalia, a space in Venice where students can study at night. The heavy floods in Venice in late 2019 damaged Fondazione Querini Stampalia's foundation.
Article continues below advertisement
"Although the magazine will return to its normal production routine tomorrow, it's nice to think that something will remain of this issue: a small but concrete gesture," Farneti wrote.
The issue hits newsstands Jan. 7, and subscribers will receive the magazine in compostable plastic wrap, which Farneti calls "a substantial but necessary added cost." Compostable plastics are often only compostable in industrial or commercial settings, and often wind up in the trash can — so while it's an upgrade from plastic, it would be awesome to see more magazines mailing issues out in paper envelopes, a pivot National Geographic made in 2018.