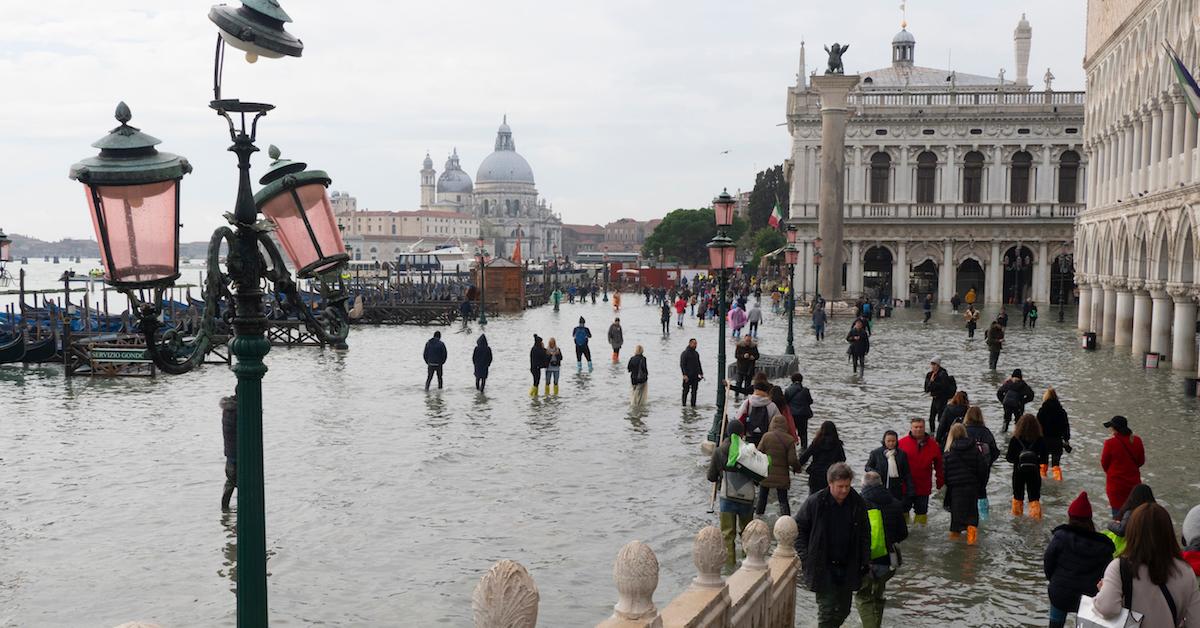 Venice floods cause mayor to declare state of emergency: "These are the effects of climate change"
By Sophie Hirsh

Updated
The city of Venice, Italy has been slowly sinking — and experiencing rising water levels — for years. But this week, Venice's water levels reached new heights, with catastrophic floods taking over more than 85 percent of the islands. The floods, which are the worst Venice has seen in more than five decades, have caused the mayor to submit a state of emergency claim to Italy's federal government — and the mayor himself is confident that the floods are a side effect of the climate crisis.
Article continues below advertisement
As reported by CNN, on Tuesday night, Nov. 12, Venice experienced an extremely high tide, measuring 187 centimeters (73.6 inches), according to the Venice government. On Tuesday, 45 percent of Venice was flooded, according to the Tide Forecasting and Reporting Center of Civil Protection via Forbes. But by Wednesday, more than 85 percent of the city was flooded, as NPR reported.
The last time Venice had a flood to this degree was in 1966, when the tide was 194 cm (76.4 inches), CNN added.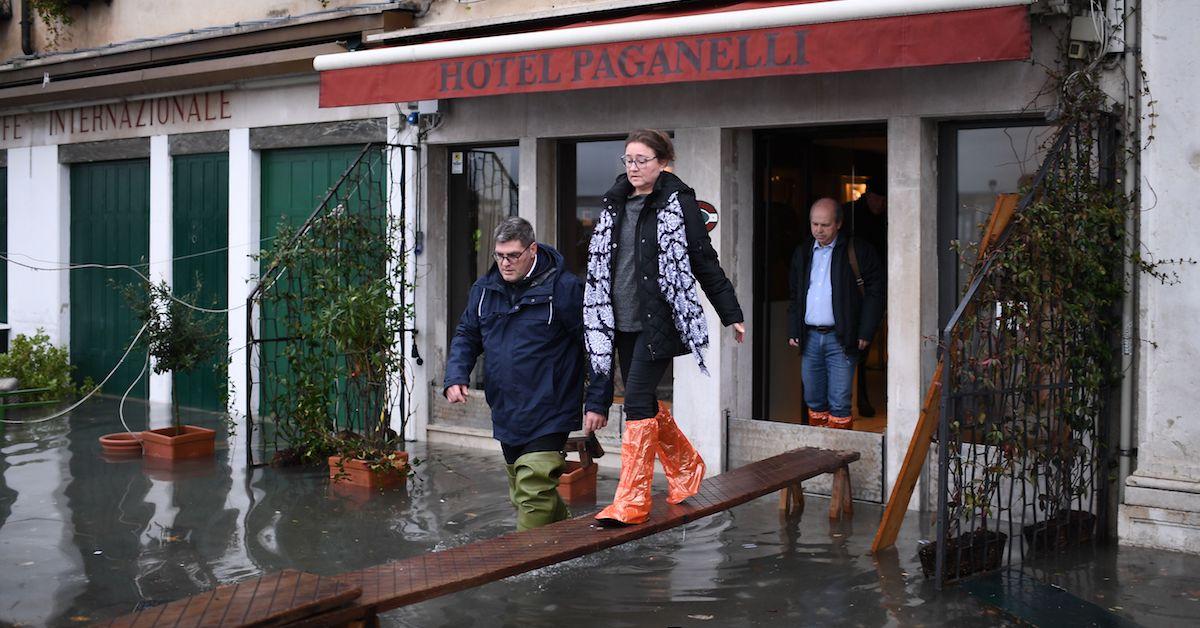 Article continues below advertisement
Schools across the city are closed on both Wednesday and Thursday, and staff is working to clean any flooding so that students can return to class on Friday. Additionally, buildings across the city have been damaged by the high tides — including the Basilica of San Marco.
"Venezia is on its knees," Venice Mayor Luigi Brugnaro tweeted in Italian early Wednesday morning. "The Basilica of San Marco has suffered serious damage like the entire city and the islands. We are here with Patriarch Moraglia to bring our support but we need everyone's help to overcome these days that are putting us to the test." The Basilica of San Marco is Venice's central duomo, aka cathedral, and the historic building was consecrated way back in 832 AD.
Article continues below advertisement
#Venezia è in ginocchio. La Basilica di San Marco ha subito gravi danni come l'intera città e le isole.
Siamo qui con il Patriarca Moraglia per portare il nostro sostegno ma c'è bisogno dell'aiuto di tutti per superare queste giornate che ci stanno mettendo a dura prova. pic.twitter.com/3Qy7070hZn

— Luigi Brugnaro (@LuigiBrugnaro) November 13, 2019
But worst of all, two men have already died in the floods. 
Alessandro Bertasi, spokesman for the mayor of Venice, told CNN that an unnamed 78-year-old man died in the floods Tuesday night when he was trying to run electric pumps at his house on the Venetian island of Pellestrina. A second unnamed man's body was found in his home, according to EcoWatch.
Article continues below advertisement
Brugnaro is confident that the floods are a result of the climate crisis. "These are the effects of climate change," Brugnaro tweeted on Tuesday.
The climate crisis causes high tides and flooding for a few reasons. In general, increasing greenhouse gases in the atmosphere are causing the global temperature to rise; and warmer air can hold more moisture, which increases rainfall, as explained by The Guardian. 
More specifically, the BBC explained that Venice's recent floods were primarily caused by two events coinciding: high spring tides (which are tides just after a full moon or a new moon), and a meteorological storm surge (which is an abnormal rise of water caused by a storm). The storm surge was most likely caused by sirocco winds, which are hot and humid winds originating in the deserts of Northern Africa. According to the BBC, storm surge combined with high spring tide results in Acqua Alta (which translates to high water), aka a flood.