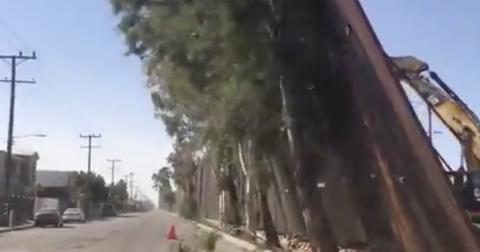 Section of Trump's border wall falls over in wind and lands in Mexico
By Mark Pygas
After promising that Mexico would pay for the wall along the United State's southern border, President Donald Trump ended up declaring a national emergency to redirect $3.6 billion from military construction projects. A further $601 million has been redirected from the Treasury Department's forfeiture fund, while the Pentagon provided a further $2.5 billion from other priorities.
President Trump is also reportedly looking to divert another $7.2 billion of Pentagon spending to help build a further 885 miles of new wall by 2022.
On a visit to San Diego in September, President Donald Trump announced that the wall would be "virtually impenetrable."
But so far, it's been scaled by migrants using ladders and saws. And now, a section has reportedly fallen over during strong wind, landing in Mexico.
NBC News affiliate KYMA reports that a section of wall collapsed on Wednesday and landed on some trees on the Mexico side of the border. The new panels were being erected in an effort to improve and lengthen existing areas of the border wall.
Agent Carlos Pitones of the Customs and Border Protection sector in El Centro, California, told CNN that the section of the wall was newly installed and that the concrete hadn't been able to set yet. So, when winds picked up, they were able to knock over the fence.
The National Weather Service recorded wind gusts up to 37 mph on the day the wall fell.
President Trump's critics were fast to share a video of the moment on social media, with one writing: "37mph winds blew over the border wall. Btw remember the 700,000 hungry Americans Trump kicked off SNAP to 'save money'? The $18B he's wasted on this wall could have funded their SNAP for for 16+ years."
While another added: "But he's a builder. He builds things. He's the best builder. NOT! Nothing but lies & self-aggrandizement."
While another questioned the position of the fencing, writing: "They built the wall two feet from trees taller than the wall.....anyone else see the problem?"
It definitely seems like the wall won't be as durable as initially pitched. Some experts expect portions to "settle" in the ground within 5 years of completion due to shifting layers of soil. Time will tell.