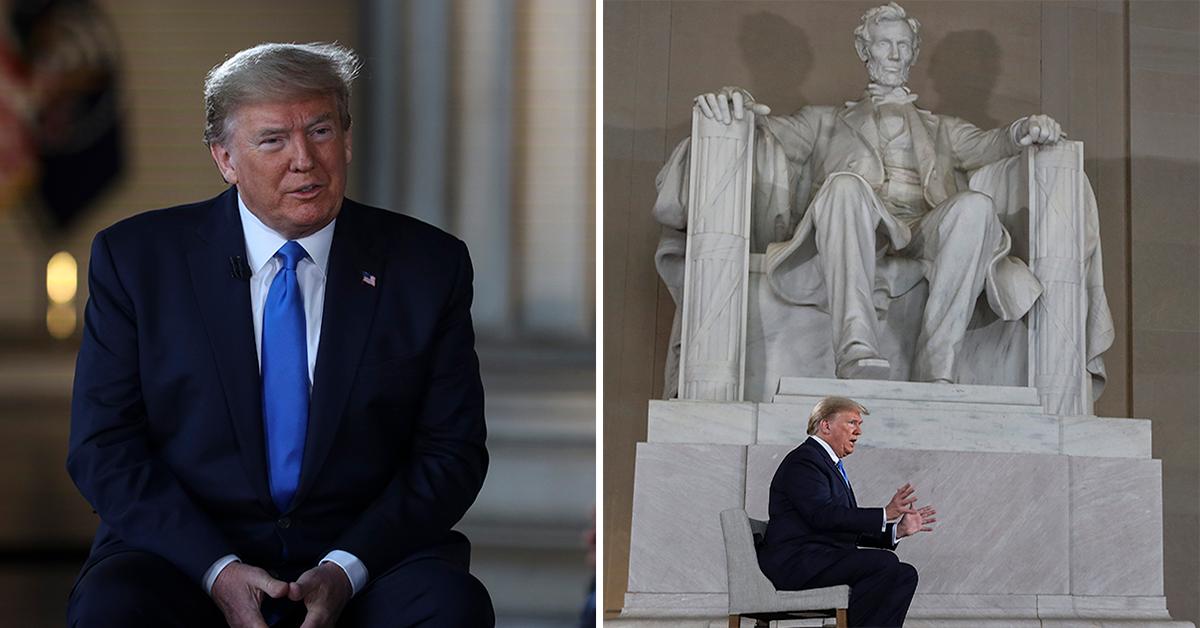 Trump says media treats him worse than Lincoln during town hall at Lincoln Memorial
By Mark Pygas

May 4 2020, Updated 10:26 a.m. ET
President Donald Trump is facing criticism for saying that the media treats him worse than President Abraham Lincoln, who was assassinated by John Wilkes Booth just days after the Civil War ended.
Article continues below advertisement
On Sunday night, President Trump took place in a Fox News town hall at the Lincoln Memorial.
The comment came after a supporter asked why he "uses descriptive words that can be classified as bullying," as well as why he doesn't "directly answer the questions asked by the press." The supporter said that instead, Trump "speaks of past success and generally ramble."
"Please let go of those behaviors that are turning people away from you," the supporter concluded.
"I think I like that question," Trump responded. "I'm not sure but I think I like that question. I appreciate it, I appreciate the prayers."
Article continues below advertisement
In response to the comment, Trump said: "Look, I am greeted with a hostile press the likes of which no president has ever seen. The closest would be that gentleman right there," Trump says as he points towards the Lincoln memorial.
Article continues below advertisement
"They always said Lincoln - nobody got treated worse that Lincoln - I believe I am treated worse. You're there, you see those press conferences, they come at me with questions that are disgraceful. Their manner of presentation and their words."
"I feel that if I was kind to them, I would be walked off the stage. I mean they come at you with the most horrible, horrendous, bias questions. And you see it, 94 to 95% of the press is hostile. And yet, if you look at Florida today, he had hundreds and hundreds of boats going down the Inter-coastal - 'Trump, Trump' - but the media, they might as well be in the Democratic party."
Article continues below advertisement
President Trump has repeatedly spared with journalists asking legitimate questions during his coronavirus briefings. Perhaps the most infamous argument was with CBS' Paula Reid. After making members of the press watch a video touting his accomplishments and actions during the coronavirus pandemic, Reid criticized Trump for being too slow to act.
"You brought yourself some time," Reid said referencing Trump's decision to close borders to China and Europe. "You didn't use it to prepare hospitals, you didn't use it to ramp up testing..."
Article continues below advertisement
"You're so disgraceful," Trump responded as the two talk over each other. "It's so disgraceful the way you say that." Trump later accused Reid and CBS of being "fake."
Article continues below advertisement
In comparison, some newspapers from the time celebrated the assassination of President Lincoln. "Glorious news," the 1865 dispatch published in the Demopolis Herald reads. "Lincoln and Seward assassinated!"
"We have been favored with the following private dispatch, which we hasten to lay before our readers, with the hope that it may prove true," the paper reads.
While Lincoln's assassination was correct, the attempt against Secretary of State Seward failed. The paper also incorrectly states that General Robert E. Lee had defeated Union General S. Grant.
Article continues below advertisement
Unsurprisingly, Trump's comments on Lincoln earned criticism online, with one user writing: "Future generations simply won't believe that after 67,000 Americans — and counting — died in a pandemic, Trump went to the Lincoln Memorial to portray himself as the real victim, saying he has been treated worse than any US president, including Lincoln, who was... assassinated."
Article continues below advertisement
Another added: "Sure Lincoln was shot in the head but was he ever subjected to basic oversight."
Article continues below advertisement
"This is the second worst experience Lincoln has had watching a performance," another joked.
Article continues below advertisement
While another remarked: "If a Democratic President said they had been treated worse than Abraham Lincoln, the Republican Party would be apoplectic with rage."