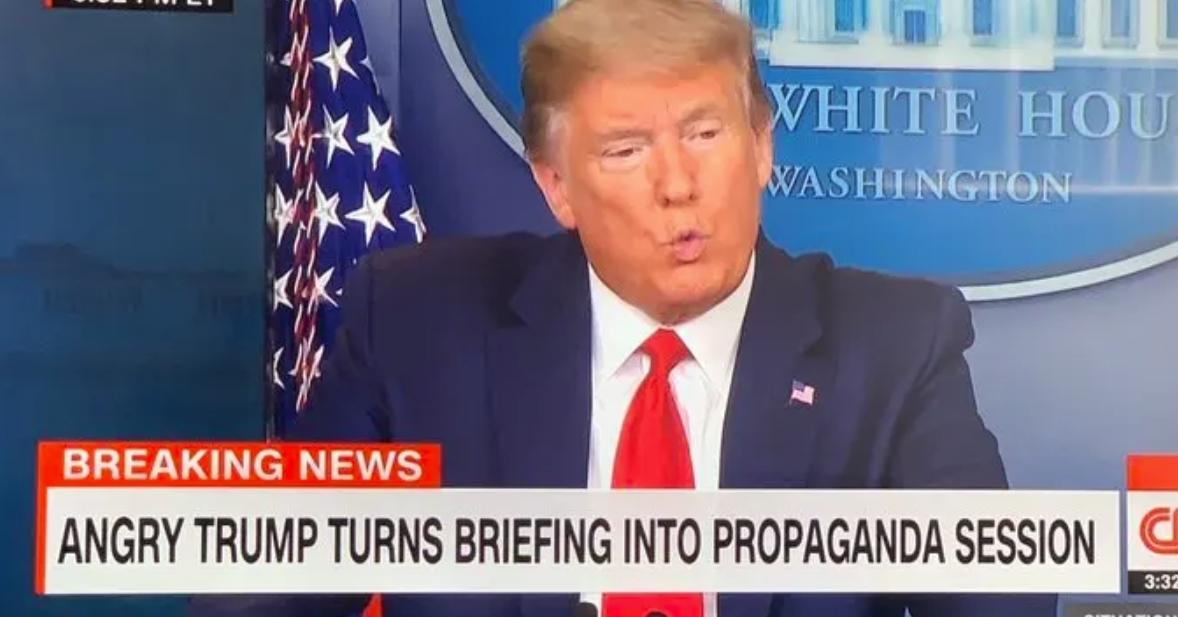 CNN didn't hold back with their captions during Trump's most heated coronavirus briefing yet
By Mark Pygas

Apr. 14 2020, Updated 10:51 a.m. ET
Yesterday's coronavirus briefing was wild. It all began when Dr. Anthony Fauci clarified the comments that he made to CNN over the weekend. Fauci had appeared to suggest to Jake Tapper that earlier mitigation efforts could have saved lives. He also seemed to indicate that his advice to lock down the country wasn't headed when he initially proposed it.
Article continues below advertisement
During the briefing yesterday, Fauci clarified that he was responding to a "hypothetical question" on the first point. He said his response "was taken as a way that maybe somehow something was at fault here." On the second point, he said that his remark about "pushback" from the administration was a poor choice of words and that President Trump had implemented his advice when he suggested it.
President Trump then made the entire room watch a video containing cherry-picked clips of the mainstream media dismissing the coronavirus in its early days and detailing the actions that President Trump had taken in an attempt to slow the spread of the virus.
Article continues below advertisement
It's worth noting that while the president decided to ban all travel between China and the United States in early February—which Fauci has previously said "absolutely has" mitigated cases in the US—he had previously dismissed the fear around coronavirus as "the Democrats' new hoax."
President Trump also stated in February that the virus could "maybe go away. We'll see what happens. Nobody really knows." He went on to predict that the virus is "going to disappear. One day it's like a miracle – it will disappear."
After the video, President Trump took questions from the press, and things somehow got even crazier. "Everything we did was right," Trump said when he was asked if the administration had gotten anything about their coronavirus response wrong.
Article continues below advertisement
And when asked how he could make states reopen against the wishes of their governors, President Trump said: "When somebody is president of the United States, your authority is total."
He also got into an argument with Paula Reid of CBS News when she criticized him over the video.
Article continues below advertisement
And during this whole mess, CNN got pretty creative with their chyron captions. "Angry Trump turns briefing into propaganda session," one read.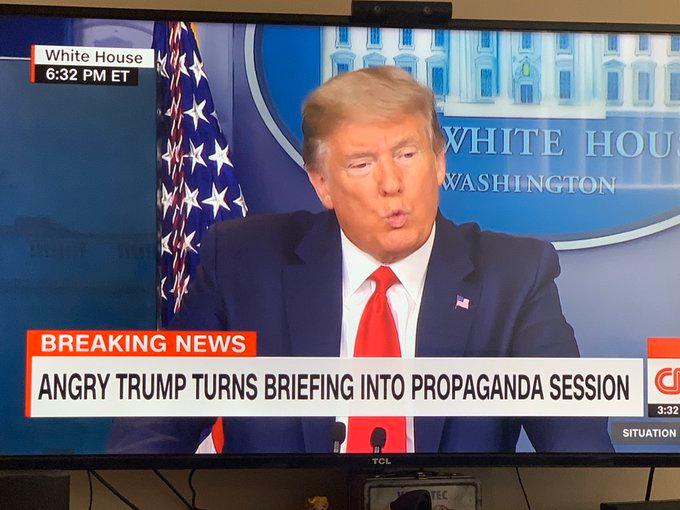 Article continues below advertisement
Others included: "Trump refuses to acknowledge any mistakes" and "Trump uses task force briefing to try and rewrite history on coronavirus response.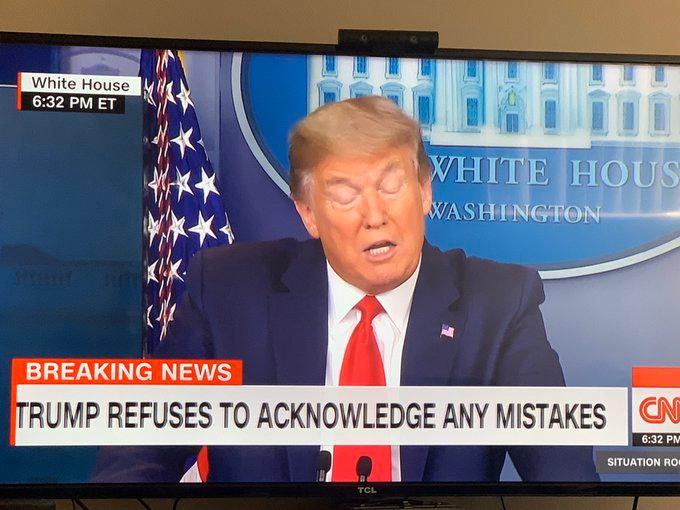 Article continues below advertisement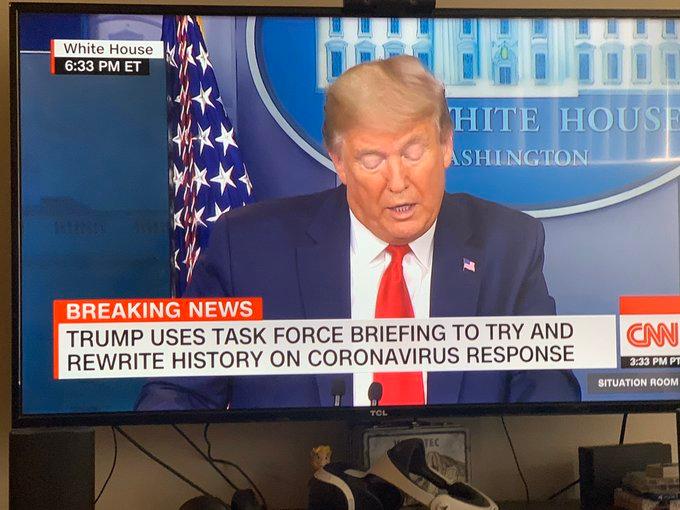 And yes, there were more.
Article continues below advertisement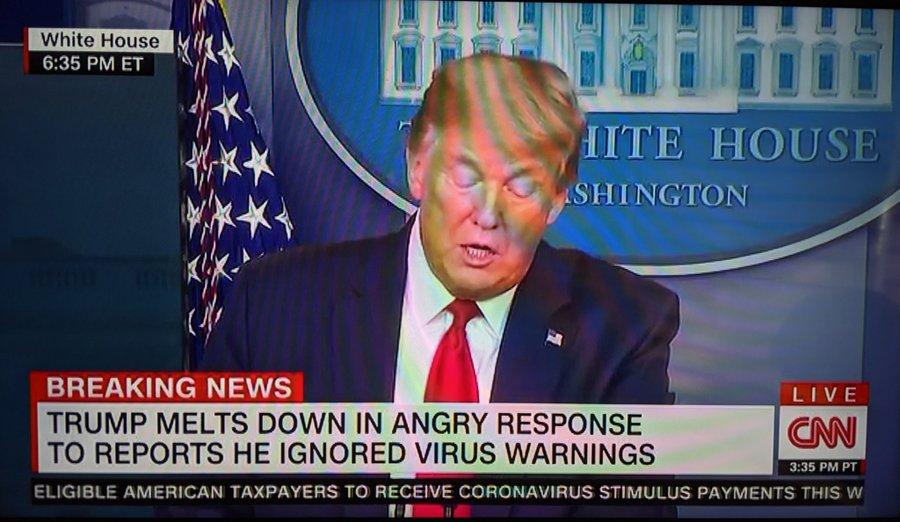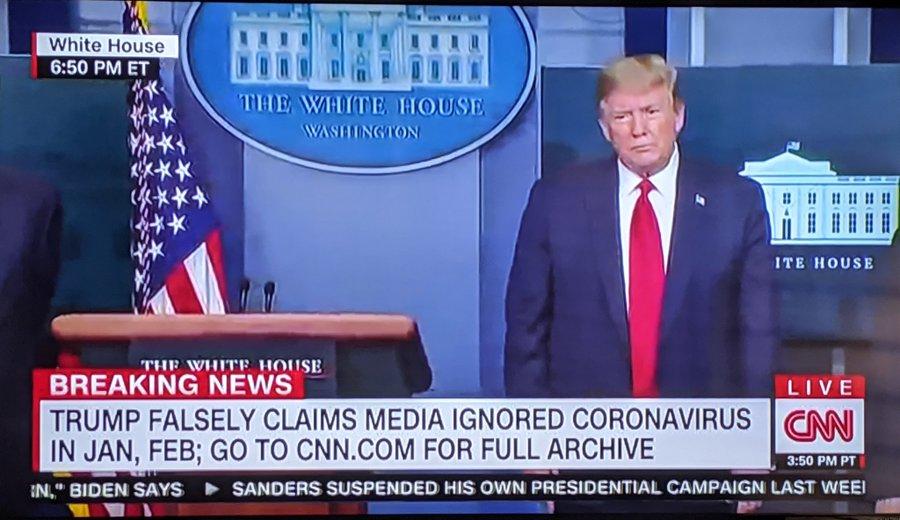 Article continues below advertisement
Unsurprisingly, Twitter was pretty mixed on the captions. "The CNN chyron writer is my spirit animal," one user wrote.
Article continues below advertisement
While others accused CNN—not President Trump—of having a meltdown. "CNN gave up pretending to be 'fair and balanced' today (they weren't doing a great job anyway)," one user wrote.
Article continues below advertisement
The captions come after CNN anchor Anderson Cooper accused President Trump of "hijacking" the daily coronavirus task force briefings to "rewrite the history" of his early response to coronavirus and help him get reelected.
During a show last week, Cooper said Trump has "attacked and belittled" reporters who questioned Trump's actions. Cooper also defended the Department of Health and Human Services Inspector General Christi Grimm, who released a report on widespread medical supply and testing shortages at hospitals.
Article continues below advertisement
"If you tuned into it hoping you were going to hear from the country's top scientists, you were likely disappointed," Cooper began. "What you mostly heard was the president. And what you saw was a hijacking. A hijacking of the task force press conference by a president determined to rewrite the history of his early and reprehensibly irresponsible response to this virus."
"What the president showed us today is what the nation's top scientists have to deal with every day- a president who now uses these briefings as a reelection platform, an opportunity to lie, to deflect, to attack, to bully, and cover-up his own deadly dismissals of the virus for crucial weeks."
Article continues below advertisement
"I just have to point out that this is not normal and it matters because this is life or death," Cooper added.
He then went on to blast Trump for claiming a "victory" over coronavirus testing and telling the country that there's "light at the end of the tunnel." Cooper told viewers that no one knows "how long that tunnel may be" or "how dim the light currently is."
The best way to prevent contracting or spreading coronavirus is with thorough hand washing and social distancing. If you feel you may be experiencing symptoms of coronavirus, which include persistent cough (usually dry), fever, shortness of breath, and fatigue, please call your doctor before going to get tested. For comprehensive resources and updates, visit the CDC website. If you are experiencing anxiety about the virus, seek out mental health support from your provider or visit NAMI.org.