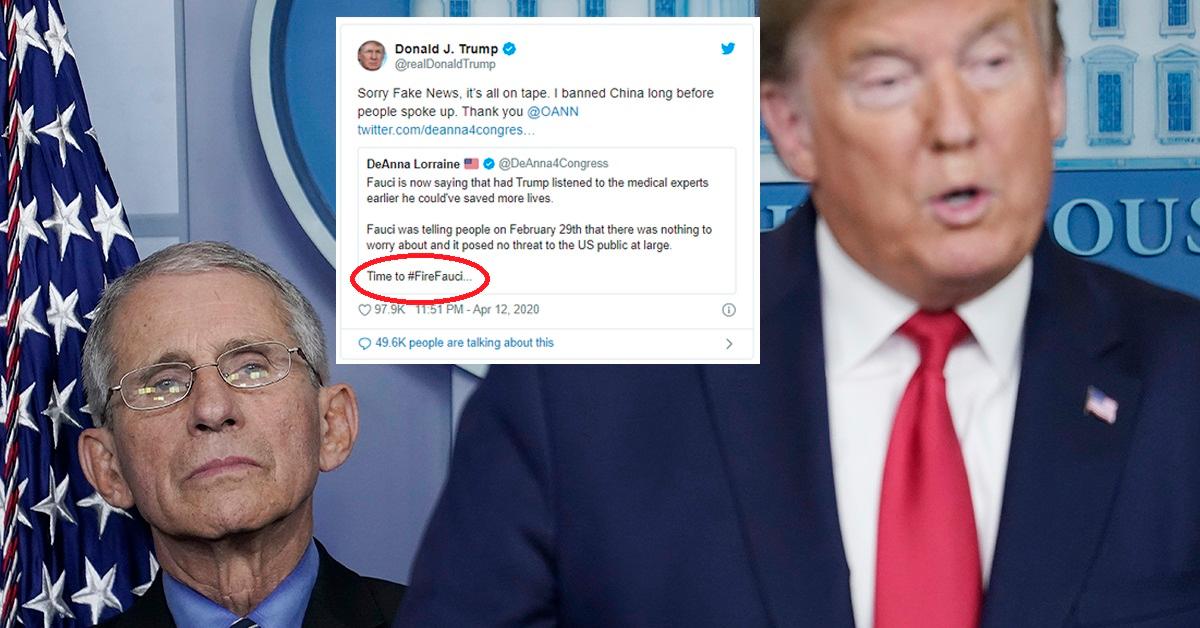 Trump retweets call to 'Fire Fauci' after he said US's slow response to coronavirus cost lives
By Mark Pygas

Apr. 15 2020, Updated 11:14 a.m. ET
President Donald Trump has retweeted a call to fire Dr. Anthony Fauci after the nation's top infectious disease expert confirmed that earlier mitigation efforts could have saved more lives and called for a cautious approach to reopening the economy.
Article continues below advertisement
In an interview on CNN over the weekend, Fauci was asked whether South Korea's early response to the coronavirus was the reason the country had managed to limit deaths more than most other countries. South Korea has only seen around 10,000 cases and 210 deaths as a result of the virus, despite their outbreak happening far earlier than the United States.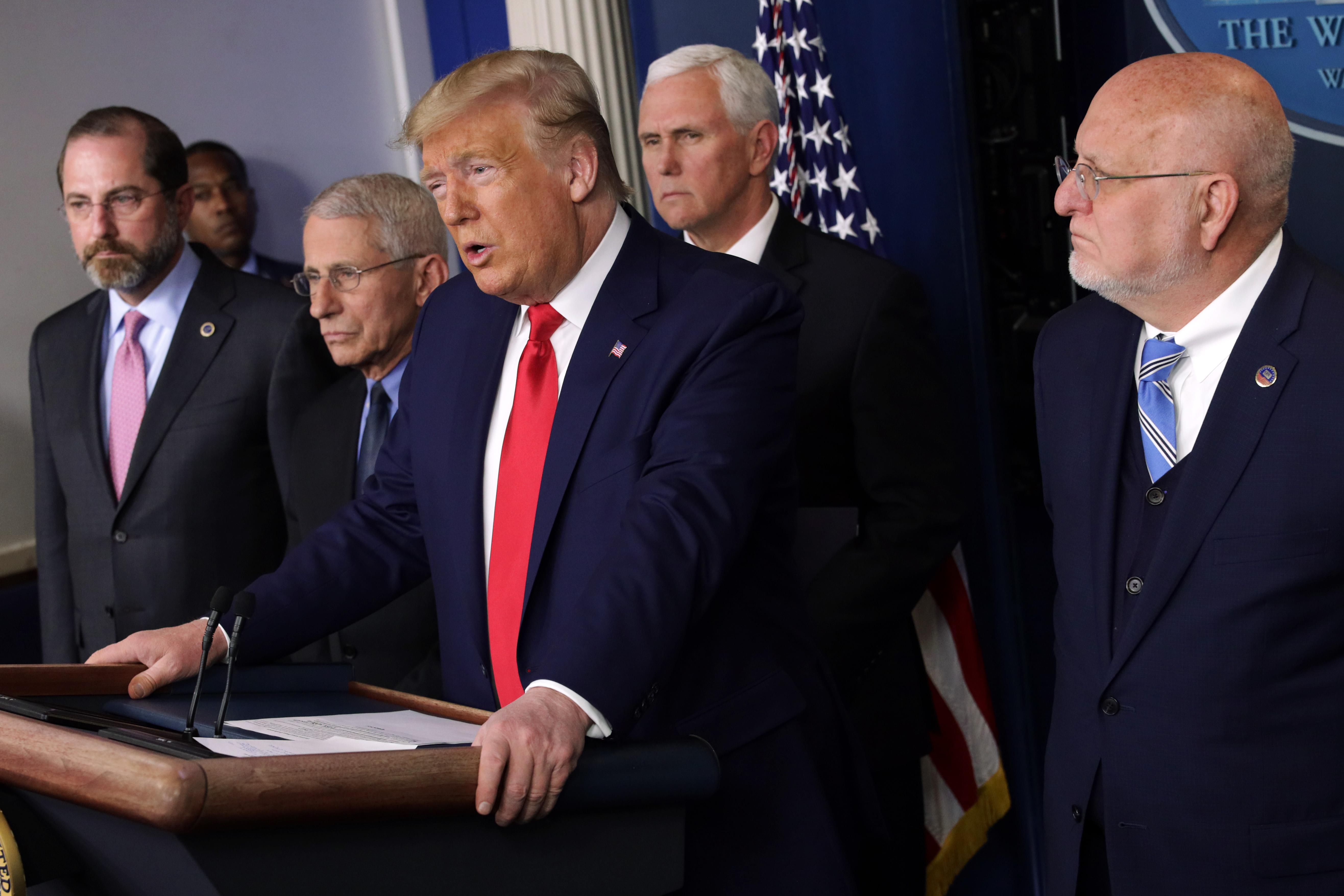 Article continues below advertisement
Jake Tapper went on to ask whether introducing social distancing methods earlier could have reduced the over 530,000 cases and 20,600 deaths in the United States.
"I mean, obviously, you could logically say that if you had a process that was ongoing and you started mitigation earlier, you could have saved lives," Fauci said.
"Obviously, no one is going to deny that. But what goes into those decisions is complicated," added Fauci. "But you're right, I mean, obviously, if we had right from the very beginning shut everything down, it may have been a little bit different. But there was a lot of pushback about shutting things down back then."
However, Fauci also stressed that the United States could not be compared to South Korea. While South Korea's outbreak mainly focused around one city, the outbreak in the United States was far wider. "It isn't as simple as that," he said. "Where we are now is the result of a number of factors ... I think it's a little bit unfair to compare us to South Korea ... It would have been nice if we had a better head start, but I don't think you can say we are where we are because of one factor."
Article continues below advertisement
Hours later, President Trump retweeted a statement from DeAnna Lorraine, who ran against House Speaker Nancy Pelosi, suggesting that it was time to "fire Fauci."
"Fauci is now saying that had Trump listened to the medical experts earlier he could've saved more lives," Lorraine wrote in her tweet. "Fauci was telling people on February 29th that there was nothing to worry about and it posed no threat to the US public at large. Time to #FireFauci..."
Article continues below advertisement
President Trump went on to quote that tweet, writing in reply: "Sorry Fake News, it's all on tape. I banned China long before people spoke up." The president was referring to his decision to ban all travel between China and the United States in early February, which Fauci has previously said "absolutely has" mitigated cases in the US.
Article continues below advertisement
Lorraine's tweet appears to be referring to an interview Fauci gave on 29 February, on NBC's Today Show. The interview came a day after Trump told supporters at a rally that fears over the coronavirus were "the Democrats' new hoax."
Asked if Americans "should be changing our habits and if so, how", Fauci said:
Article continues below advertisement
"No. Right now at this moment, there is no need to change anything that you're doing on a daily basis. Right now the risk is still low but this could change. I've said that many times, even on this program. You've gotta watch out because the risk is low now. You don't need to change anything you're doing. When you start to see community spread, this could change and force you to become much more attentive."
Fauci went on to state: "This could be a major outbreak … or it could be something that's reasonably well controlled … hopefully, we can protect the American public from any serious degree of morbidity and mortality."
Article continues below advertisement
According to a New York Times report, however, at the time that Fauci made this statement, he and other health officials were pushing for social distancing methods to be implemented by mid-February. They were reportedly rebuffed, and the methods were not introduced until 16 March.
Article continues below advertisement
Fauci appeared to confirm this report when asked about it during his interview with CNN on Sunday, stating: "You know… as I have said many times, we look at it from a pure health standpoint. We make a recommendation. Often, the recommendation is taken. Sometimes, it's not. It is what it is. We are where we are right now."
The best way to prevent contracting or spreading coronavirus is with thorough hand washing and social distancing. If you feel you may be experiencing symptoms of coronavirus, which include persistent cough (usually dry), fever, shortness of breath, and fatigue, please call your doctor before going to get tested. For comprehensive resources and updates, visit the CDC website. If you are experiencing anxiety about the virus, seek out mental health support from your provider or visit NAMI.org.