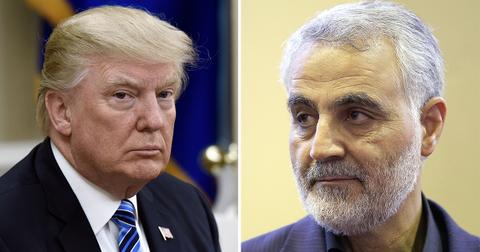 Iran is accusing Trump of war crimes over Soleimani's killing and taking him to the Hague
By Mark Pygas
Iran is pursuing war crime charges against President Donald Trump following the killing of one of Iran's most powerful military commanders, General Qasem Soleimani. President Trump ordered an airstrike against Soleimani as he left Baghdad airport in Iraq.
In retaliation, Iran launched several ballistic missiles against U.S. bases in Iraq, and accidentally shot down a Ukrainian passenger plane, killing all 176 people aboard.
After initially denying involvement in the downing of the plane, Iran blamed heightened tensions over the incident and arrested several people involved.
Gholam Hossein Esmaeili, the spokesman for Iran's top judicial authorities, announced on Tuesday that Iran is looking to take President Trump to the International Criminal Court in the Hague over the killing.
"We intend to file lawsuits in the Islamic Republic, Iraq, and The Hague Court [International Court of Justice] against the military and government of America and against Trump," Esmaeili said during a press conference according to Business Insider.
"There is no doubt that the US military has done a terrorist act assassinating Guards Commander Lt. Gen. Soleimani and Second-in-Command of Iraq Popular Mobilization Units (PMU) Abu Mahdi al-Muhandis ... and Trump has confessed doing the crime."
The Trump administration has said that Soleimani had already executed attacks on American citizens and military personnel, and was planning more operations, describing the killing as an act of self-defense.
While the United States is not a signatory to the court, so any action is unlikely to be taken, Business Insider explains that the case could still be embarrassing for President Trump if it goes to court, because some experts believe that Iran has a good chance of winning.
After the killing, Agnes Callamard, UN Special Rapporteur on Extra-Judicial Executions, took to Twitter to explain that the bar for lethal action by a nation claiming self-defense is very high.
"The targeted killings of Qasem Soleimani and Abu mahdi al muhandi most likely violate international law incl human rights law," Callamard wrote. "Lawful justifications for such killings are very narrowly defined and it is hard to imagine how any of these can apply to these killings."
In a series of further tweets, Callamard explained why she believes that the killing did not meet the requirements for self-defense.
A NATO military attaché based in the Middle East further told Business Insider that the "case against the Americans is shockingly strong."
"Keeping distance between the Americans and Europe is most of Iran's broader plan right now," the unnamed attaché said.
"If this case happens — I suspect there are some reasons Iran might not want to take this mess to an international court for their own reasons — but if it does go forward, the case against the Americans is shockingly strong."
"On the face of it, the killing of Soleimani for reasons specifically cited by Trump is probably illegal. Do the Americans have a stronger case then they're showing us?"
"I would assume so, but there's little chance of them participating in a Hague trial, so all the evidence will be what Iran delivers along with public statements."
"And these statements will not look good in a courtroom."
More From Megaphone
.

News

Hungarian Prime Minister Viktor Orbán announced that 10 trees will be planted for every baby born.

.

News

Baby boomers tend to be more environmentally friendly than Millennials and those in Generation Z, according to a new survey.