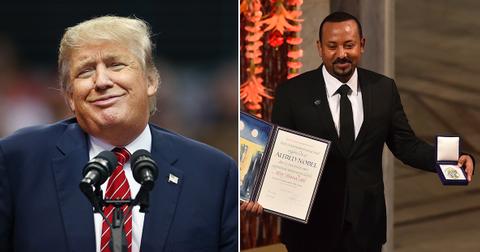 Trump says he should have won Nobel Peace Prize instead of Ethiopian Prime Minister
By Mark Pygas
While many believed that climate activist Greta Thunberg had a shot, the 2019 Nobel Peace Prize ended up being awarded to Ethiopian Prime Minister Abiy Ahmed for his role in securing peace with neighboring Eritrea. The two nations have been in a 20-year military stalemate following a border war that started in 1998.
Abiy was honored for his "decisive initiative to resolve the border conflict with neighboring Eritrea", the Norwegian Nobel Committee said at the time.
But last night, President Donald Trump said he should have received the prize and not Abiy.
At a rally in Ohio, Trump said: "I'm going to tell you about the Nobel Peace Prize, I'll tell you about that. I made a deal, I saved a country, and I just heard that the head of that country is now getting the Nobel Peace Prize for saving the country. I said: 'What, did I have something do with it?' Yeah, but you know, that's the way it is. As long as we know, that's all that matters... I saved a big war, I've saved a couple of them."
According to the BBC, the United States played a minimal role in peace talks between the two nations. They credit the United Arab Emirates and Saudi Arabia for bringing the two sides together.
It's also unclear why President Trump "just heard" about the award when it was awarded on 11 October last year, and Abiy gave his acceptance speech on December 10.
The Norwegian Nobel Committee explained why Abiy was awarded the honor at the time: "The prize is also meant to recognize all the stakeholders working for peace and reconciliation in Ethiopia and in the East and Northeast African regions," they said.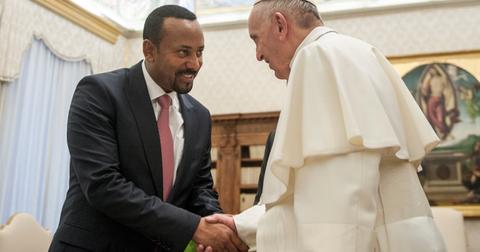 "Peace does not arise from the actions of one party alone. When Prime Minister Abiy reached out his hand, President Afwerki grasped it, and helped to formalize the peace process between the two countries. The Norwegian Nobel Committee hopes the peace agreement will help to bring about positive change for the entire populations of Ethiopia and Eritrea."
Abiy's office said the award was testimony "to the ideals of unity, cooperation, and mutual coexistence that the Prime Minister has been consistently championing."
Abiy has largely been praised for introducing liberalizing reforms to Ethiopia, which was previously a tightly controlled nation.
When elected, he released thousands of opposition activists from jail and allowed exiled dissidents to return home.
During his acceptance speech, Abiy spoke out against war, saying: "War is the epitome of hell for all involved. I know because I was there and back."
"Twenty years ago, I was a radio operator attached to an Ethiopian army unit in the border town of Badame," he recalled. "I briefly left the foxhole in the hopes of getting a good antenna reception. … It only took but a few minutes. Yet upon my return I was horrified to discover that my entire unit had been wiped out in an artillery attack."
"The global military superpowers are expanding their military presence in the area. Terrorist and extremist groups also seek to establish a foothold. We do not want the Horn to be a battleground for superpowers nor a hideout for the merchants of terror and brokers of despair and misery," he added.
More From Megaphone
.

News

25,000 lawsuits from Flint, Michigan residents can now go to court, thanks to a ruling from the U.S. Supreme Court.

.

News

"Our house is still on fire," Greta Thunberg said.

.

News

China is banning several kinds of single-use plastic gradually over the next five years.