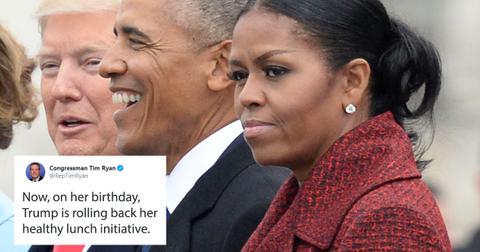 Trump proposed scrapping Michelle Obama's healthy school lunch policy on her birthday
By Mark Pygas

Updated
Friday was a big day in terms of birthdays, with both Betty White and Michelle Obama celebrating. But in an announcement that is far too timely to simply be a coincidence, President Donald Trump's administration announced on the same day that they are planning to roll-back school lunch regulations that Michelle Obama pushed for as First Lady.
Michelle Obama was the driving force behind the Healthy, Hunger-Free Kids Act which encouraged schools to provide healthier food options as part of the National School Lunch Program and School Breakfast Program, which subsidizes meals for 32 million students a day.
She also planted a vegetable garden at the White House and launched the Let's Move! campaign, which aimed to lower childhood obesity by 5% by 2030 while encouraging kids to move and play.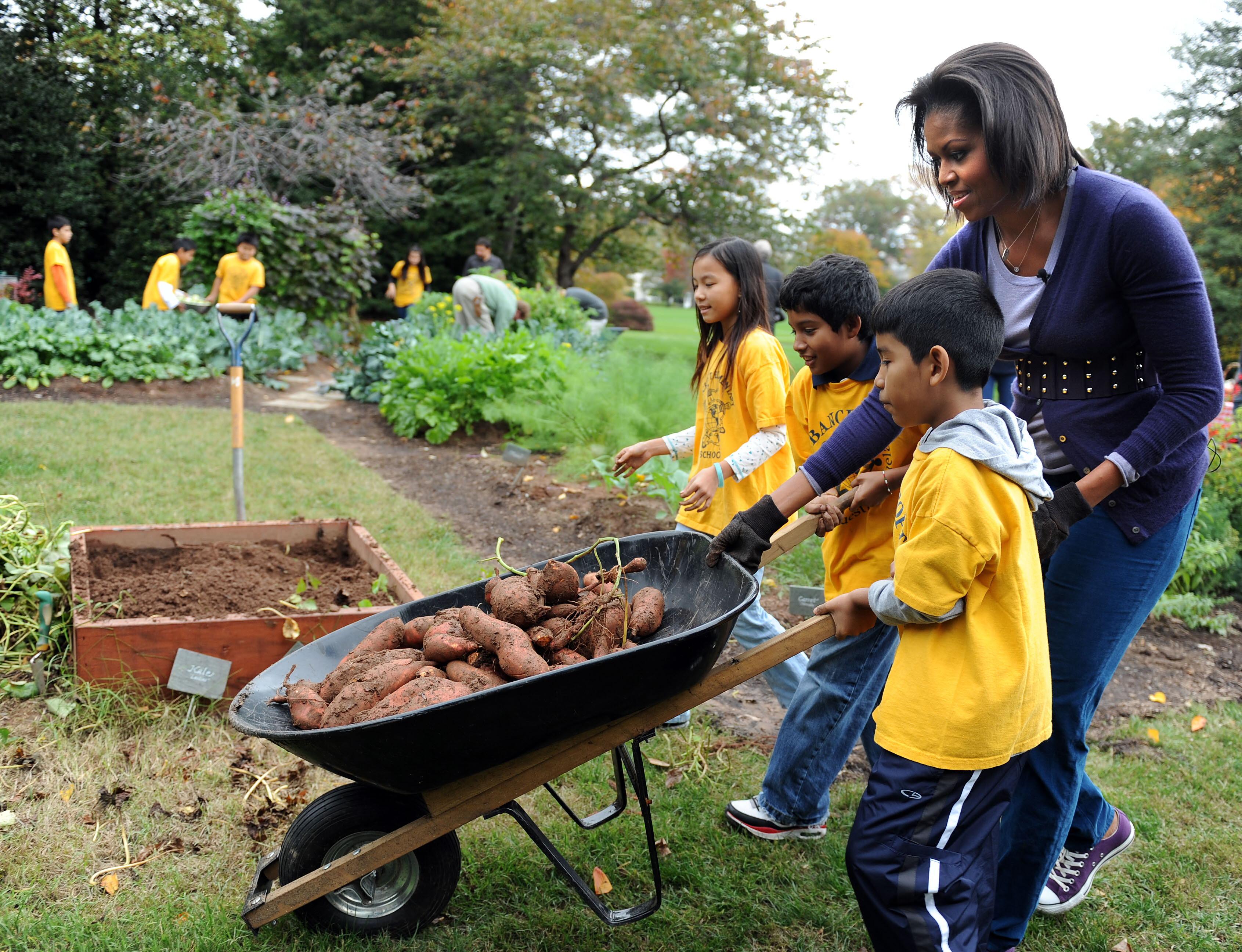 The U.S. Department of Agriculture (USDA) and the Food and Nutrition Service (FNS) announced on Friday that they will push for school lunches to be less regulated.
"Schools and school districts continue to tell us that there is still too much food waste and that more common-sense flexibility is needed to provide students nutritious and appetizing meals. We listened and now we're getting to work," Secretary of Agriculture Sonny Perdue said.
"Our proposed changes empower schools to give their very best to our children nationwide and have the potential to benefit nearly 100,000 schools and institutions that feed 30 million children each school day through USDA's school meal programs."
According to TIME, the new rules will allow schools to be more flexible in what is considered "vegetable subgroups." They'll also be allowed to serve less fruit at breakfast.
While the Daily Mail reports that the new rules would make it simpler to offer meats or meat alternates; cut recommended fruit servings in half; allow potatoes as a vegetable every day, and allow schools to offer "pizza and burgers over more nutritious choices."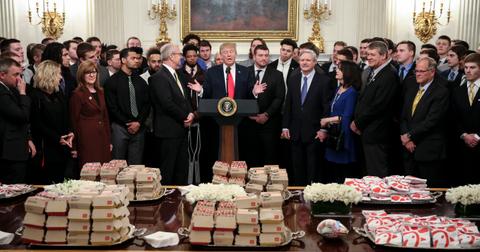 Center for Science in the Public Interest Deputy Director of Legislative Affairs Colin Schwartz slammed the proposal, saying:
"The proposed rule would allow anything that might be allowable as an entrée on any one school day to be served as an a la carte item every single day. In practice, if finalized, this would create a huge loophole in school nutrition guidelines, paving the way for children to choose pizza, burgers, French fries, and other foods high in calories, saturated fat or sodium in place of balanced school meals every day."
"The Trump administration proposal also would limit the variety of vegetables served at lunch and allow schools to reduce the amount of fruit served with some breakfasts. (If past is prologue, lobbyists for the potato industry likely have replacements in mind.)"
Despite the timing, a USDA spokesperson told TIME that "this is not about politics; this is about serving children well. These rules are a direct response to what has been shared with us by those who look these children in the eye every day, building on their feedback to introduce effective next steps that will ensure children get the nutrition they need to be successful."
They added that the department "did not intentionally announce this proposed rule on Michelle Obama's birthday."
The department also cited a USDA study that found 21% of calories in schools meals are thrown away.
But social media users believe the timing to be intentional. Congressman Tim Ryan wrote on Twitter: "I've been fighting alongside Michelle Obama for years to bring healthier lunches into schools. Now, on her birthday, Trump is rolling back her healthy lunch initiative. This is shameful. Students shouldn't suffer just because of Trump's pettiness."
Others seem to be celebrating the news, with one user writing: "Michelle Obama's school lunch program has been cancelled by the Trump administration. Happy Birthday, Michelle!"
Michelle Obama's school lunch program has been cancelled by the Trump administration.

Happy Birthday, Michelle!

— Ryan Fournier (@RyanAFournier) January 17, 2020
Another user added: "President Trump just announced that he is rolling back school lunch programs and initiatives implemented by Michelle Obama. The White House made the announcement on her birthday."
President Trump just announced that he is rolling back school lunch programs and initiatives implemented by Michelle Obama.

The White House made the announcement on her birthday.

— Travis | Text FIGHT to 24477 (@travisakers) January 17, 2020