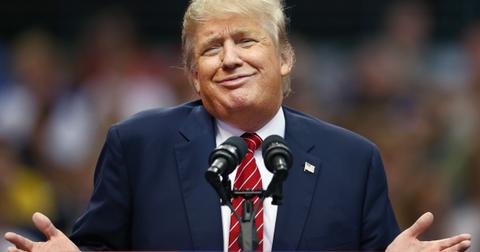 Trump pardoned a construction company-owner after his family donated $200,000 to his campaign
By Mark Pygas

Updated
President Trump went on a clemency spree yesterday, which included former Democratic governor of Illinois Rob Blagojevich. The decision was criticized because Blagojevich had been sentenced to 14 years after trying to sell President Barack Obama's empty Senate seat, among other corruption charges.
But another pardon has proved just as controversial. Paul Pogue, the former CEO of Pogue Construction, pled guilty to underpaying his taxes by $473,000 in 2010, which had landed him with three years' probation. He was granted a full pardon and clemency on Tuesday.
According to FEC filings obtained by The Daily Beast, the pardon followed a massive donation to President Donald Trump's presidential campaign.
Justin Baragona and Asawin Suebsaeng of The Daily Beast report:
"According to FEC filings, Pogue's family has donated hundreds of thousands of dollars in direct contributions and in-kind air travel to the Trump Victory Committee. Beginning in August 2019, Ben Pogue—CEO of Pogue Construction and son of Paul Pogue—and his wife Ashleigh made over $200,000 in contributions to the campaign."
"In August alone, Ben Pogue donated $85,000 to Trump Victory while Ashleigh Pogue contributed $50,000 that month. The following month, Ben Pogue made an in-kind air travel contribution of $75,404.40. The couple also made several large donations to the Republican National Committee and each donated $5,600 to Donald Trump for President Inc."
Business Insider notes that before this spending spree, the couple was not particularly big contributors to political campaigns. They reportedly donated about $10,000 to Paul Ryan's congressional campaign in 2017 and $5,400 to Rick Santorum's presidential run in 2016. Santorum was one of Pogue's advocates and is credited with helping to secure the pardon in the White House statement.
President Trump also pardoned or commuted the sentence of ten others on Tuesday. These included;
Former Democratic governor of Illinois Rod Blagojevich who was convicted to 14 years on corruption charges after he was recorded attempting to sell President Barack Obama's empty Senate seat following his election to President. He also faced numerous other corruption charges.
Bernard Kerik, a former commissioner of the New York City Department of Correction and Interim Minister of Interior of Iraq, was convicted of eight federal charges, including tax fraud and false statements. He was released in 2013 and was pardoned by President Trump today.
Michael Milken, who was indicted for racketeering and securities fraud, was sentenced to 10 years and a $600 million fine in 1989. That sentence was later reduced to two years because of good behavior and his testimony against other people involved in the scheme.
Edward J. DeBartolo Jr., a former owner of the San Francisco 49ers, who was found guilty of concealing an extortion attempt in 1998. DeBartolo had agreed to pay $400,000 to the governor of Louisiana Edwin W. Edwards to secure a gambling license. DeBartolo was among the guests at a 2017 pre-inauguration party for Trump.
Ariel Friedler, sentenced to two months in prison for conspiracy to access a protected computer without authorization in 2014.
David Safavian, convicted of making false statements and obstruction.
Angela Stanton, who was sentenced to home confinement for their role in stealing vehicles.
Tynice Nichole Hall, sentenced to 18 years for allowing her apartment to be used for drug distribution.
Crystal Munoz, sentenced to 12 years for her role in marijuana smuggling.
Judith Negron, convicted for a scheme to defraud the federal government.