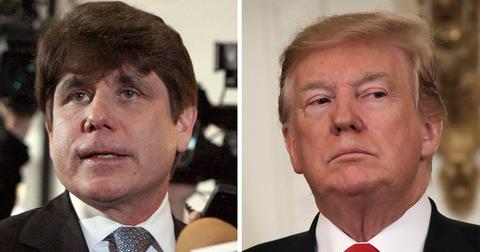 Trump commutes sentence of former Governor Rod Blagojevich, who tried to sell Obama's Senate seat
By Mark Pygas

Updated
President Donald Trump has commuted the 14-year sentence of former Democratic governor of Illinois Rod Blagojevich. In 2011, Blagojevich was convicted on corruption charges after he was recorded attempting to sell President Barack Obama's empty Senate seat following his election to President.
As governor of Illinois, Blagojevich was responsible for appointing a new Senator when Barack Obama won the presidential election and vacated his seat. Blagojevich was arrested and faced trial after federal investigators secretly recorded him discussing how he could sell the position for personal gain.
"I've got this thing and it's f*****g golden," Blagojevich said in a wiretapped phone call. "I'm just not giving it up for f*****g nothing. I'm not gonna do it. And, and I can always use it. I can parachute me there."
Blagojevich was arrested in 2008 and sentenced to prison in 2011 for this offense as well as several other "pay to play" schemes he had been involved in that involved state jobs and contracts.
Following his arrest, Blagojevich was impeached by the Illinois House and Senate in a bipartisan effort. The House voted 114–1 (with three abstentions) to impeach Blagojevich, while the Senate removed him from office and barred from holding office in Illinois again with two separate unanimous votes of 59–0.
The move by President Trump follows months of suggestions on the matter. In August, President Trump told reporters that he was considering commuting Blagojevich's sentence because he had been "treated unbelievably unfairly."
"He's been in jail for seven years over a phone call where nothing happens — over a phone call, which he shouldn't have said what he said, but it was braggadocio, you would say," Trump said.
"I would think that there have been many politicians — I'm not one of them, by the way — that have said a lot worse over the telephone." (Blagojevich was, in fact, convicted on the basis of multiple pieces of evidence, not a single phone call.)
Following the decision on Tuesday, Trump called the 14-year sentence "ridiculous."
President Trump and Blagojevich know each other personally, with the latter appearing on Season 9 of The Celebrity Apprentice. Trump had suggested that Blagojevich was a show favorite, though he ended up being fired on the fourth episode.
Blagojevich had attempted to appeal his conviction to the US Supreme Court in 2015 and 2019, both of which were rejected and did not receive a hearing.
A federal appeals judge stated in 2015 that: "The evidence, much of it from Blagojevich's own mouth, is overwhelming."
Illinois House Republicans had previously advised President Trump not to commute Blagojevich's sentence. They wrote in a 2019 press statement that it was "important that we take a stand against pay-to-play politics." They went on to point out that in Illinois, four of the last eight governors have gone to prison on federal corruption charges.
"Commuting the sentence of Rod Blagojevich, who has a clear and documented record of egregious corruption, sets a dangerous precedent," they warned.
President Trump also pardoned or commuted the sentence of ten others on Tuesday. These included;
Bernard Kerik, a former commissioner of the New York City Department of Correction and Interim Minister of Interior of Iraq, was convicted of eight federal charges, including tax fraud and false statements. He was released in 2013 and was pardoned by President Trump today.
Michael Milken, who was indicted for racketeering and securities fraud, was sentenced to 10 years and a $600 million fine in 1989. That sentence was later reduced to two years because of good behavior and his testimony against other people involved in the scheme.
Edward J. DeBartolo Jr., a former owner of the San Francisco 49ers, who was found guilty of concealing an extortion attempt in 1998. DeBartolo had agreed to pay $400,000 to the governor of Louisiana Edwin W. Edwards to secure a gambling license. DeBartolo was among the guests at a 2017 pre-inauguration party for Trump.
Ariel Friedler, sentenced to two months in prison for conspiracy to access a protected computer without authorization in 2014.
Paul Pogue, convicted of underpaying his taxes.
David Safavian, convicted of making false statements and obstruction.
Angela Stanton, who was sentenced to home confinement for their role in stealing vehicles.
Tynice Nichole Hall, sentenced to 18 years for allowing her apartment to be used for drug distribution.
Crystal Munoz, sentenced to 12 years for her role in marijuana smuggling.
Judith Negron, convicted for a scheme to defraud the federal government.