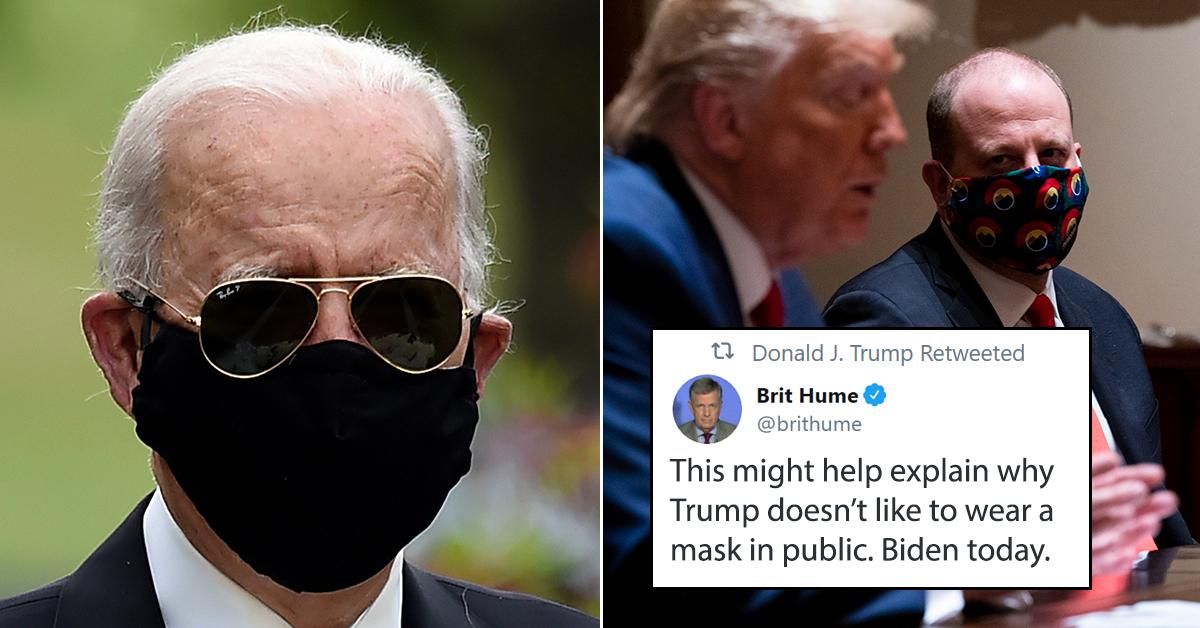 Trump retweets criticism of Joe Biden wearing a mask to a Memorial Day event
By Mark Pygas

May 26 2020, Updated 11:48 a.m. ET
According to reports by the Associated Press, President Donald Trump does not want to be seen wearing a mask in public because it "sends the wrong message." The publication spoke to sources who also claimed that he is afraid that he would look "ridiculous" and that the images would be used in negative campaign ads.
Article continues below advertisement
Despite CDC advice to wear masks anywhere where social distancing is difficult, President Trump had repeatedly flaunted the guidance by not wearing one. This was perhaps most apparent on Memorial Day when President Trump chose not to wear a mask to events, while presidential rival Joe Biden did.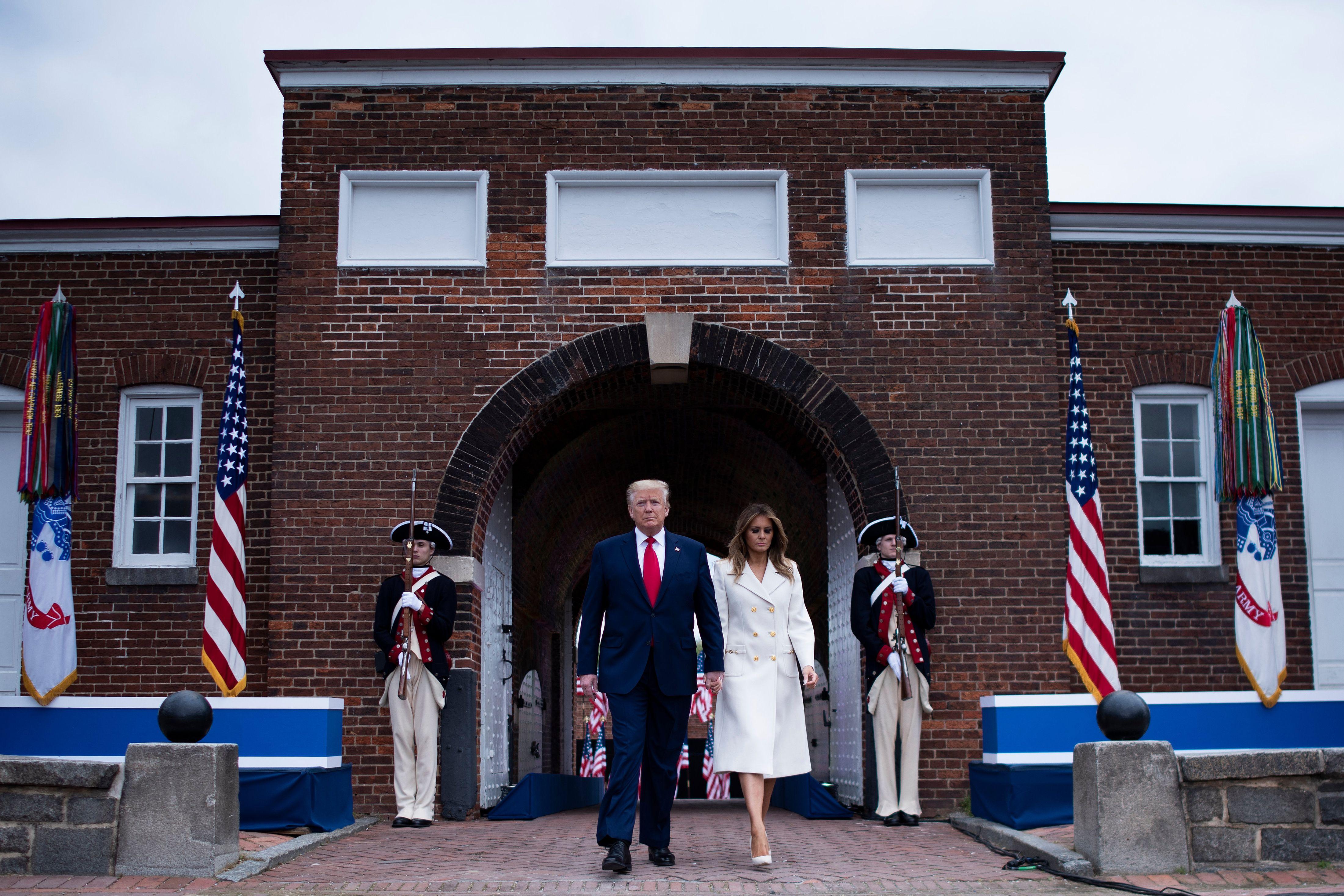 Article continues below advertisement
President Donald Trump and First Lady Melania Trump did not wear a mask to an event at the Fort McHenry National Monument.
In contrast, former Vice President Joe Biden, former Second Lady Jill Biden, and their entourage wore masks as they visited Delaware Memorial Bridge Veteran's Memorial Park.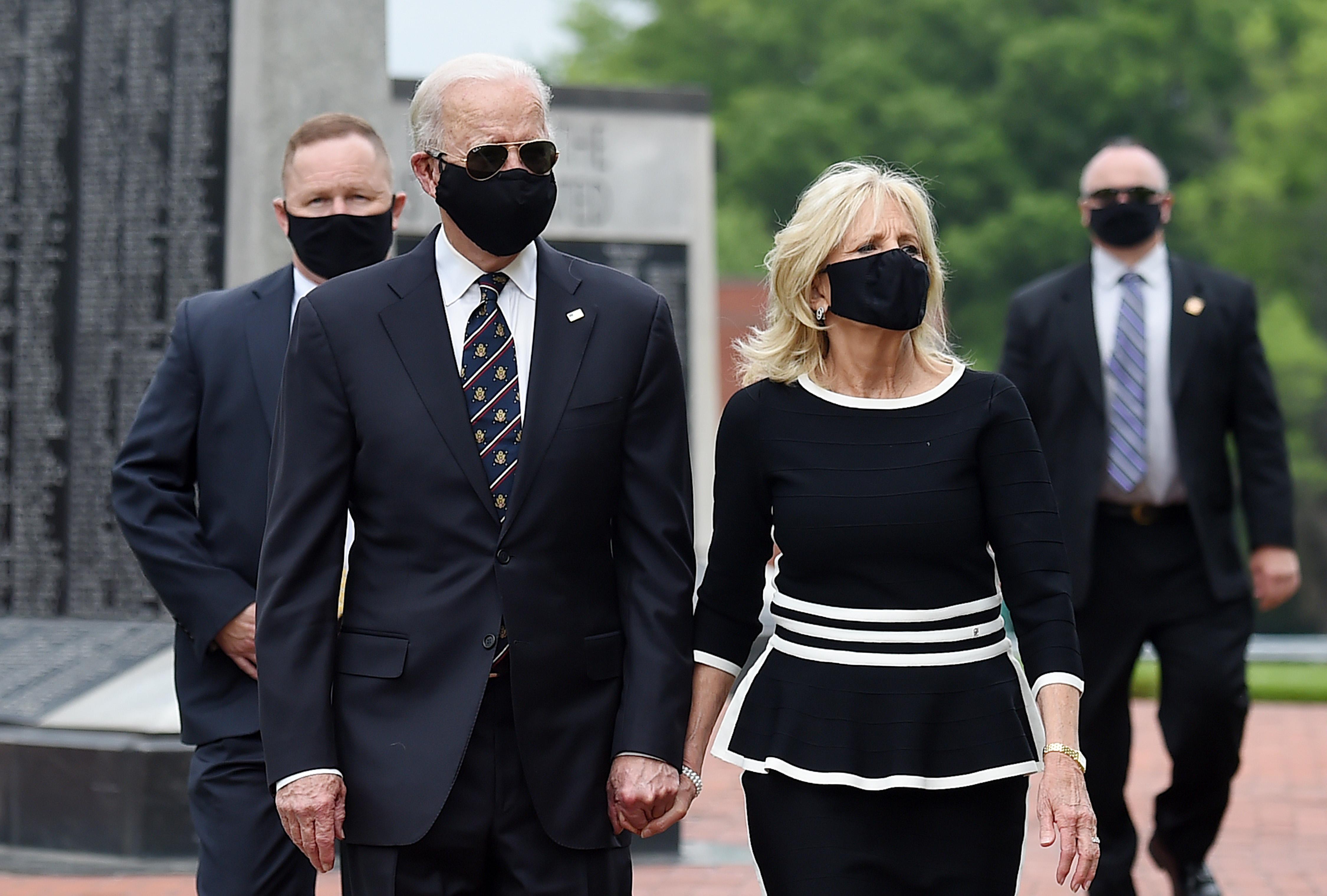 Article continues below advertisement
And on Monday evening, President Trump seemed to confirm the above reports when he retweeted a post from Fox News' Brit Hume, which mocked Biden for wearing a mask to his event.
"This might help explain why Trump doesn't like to wear a mask in public. Biden today," Hume wrote in the tweet that President Trump shared.
Article continues below advertisement
Unsurprisingly, social media had some opinions.
"I mean it's not like there's a pandemic raging and killing Americans," one user wrote. "It's not about looking good, it's about setting a good example which used to be something presidents did."
Article continues below advertisement
Another added: "He looks like a man who is respectful of human life and knows how to model proper behavior. A leader. He also looks cool as hell."
Article continues below advertisement
"Biden is wearing one because science says it stops the spread, and he is being respectful of his fellow Americans," another user wrote. "This saddens me honestly Brit, because I don't agree with your politics, but I respected your PoV before Trump. You have gone down the conspiracy theorist hole."
Article continues below advertisement
While one user asked: "Is this not an attractive enough look for you Brit? Would a ventilator be better?"
Article continues below advertisement
Last week, President Trump did not wear a mask while visiting Ford's Rawsonville Components Plant in Ypsilanti, Michigan, despite it being a requirement.
"Not necessary," Trump said when a reporter asked why he was not wearing a mask. "Everybody's been tested and I've been tested."
Trump went on to claim: "I had one [a mask] on before," in an area that was not visible to reporters, but added, "I didn't want to give the press the pleasure of seeing it."
"I was given a choice, and I had one on in an area where they preferred it," Trump said.
Article continues below advertisement
When Ford's executive chairman was asked "can you confirm the president was told it is OK not to wear a mask in this area," Ford shrugged and said, "It's up to him!"
Ford later clarified in a statement: "Bill Ford encouraged President Trump to wear a mask when he arrived. He wore a mask during a private viewing of three Ford GTs from over the years. The President later removed the mask for the remainder of the visit."
United Automobile Workers, which represents the workers, said in a statement: "Despite some in the President's entourage not following health and safety protocols in the plant today, we want to make it clear that the CDC guidelines have not changed and it is vitally important that our members continue to follow the protocols that have been put in place to safeguard them, their families and their communities."
Article continues below advertisement
"This deadly virus has taken the lives of 25 of our UAW members already and thousands of Americans. These protocols are literally a matter of life and death, and that is why the UAW has been working tirelessly with the companies to ensure that everything that can be done to keep our members and our communities safe."
The best way to prevent contracting or spreading coronavirus is with thorough hand washing and social distancing. If you feel you may be experiencing symptoms of coronavirus, which include persistent cough (usually dry), fever, shortness of breath, and fatigue, please call your doctor before going to get tested. For comprehensive resources and updates, visit the CDC website. If you are experiencing anxiety about the virus, seek out mental health support from your provider or visit NAMI.org.