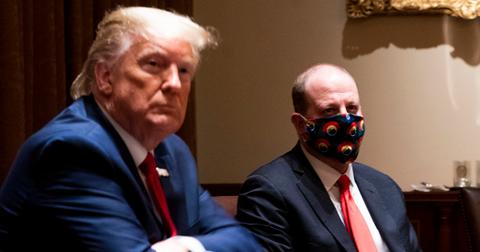 Trump says he won't close the country if a second wave of coronavirus hits
By Mark Pygas

Updated
Countries around the world are carefully beginning to reopen after an initial wave of coronavirus. But if we are not careful, and the rate of transmission increases, then a second wave is very much a possibility.
Article continues below advertisement
In April, Dr. Anthony Fauci told CBS Face The Nation that a second wave of the virus is very much a possibility, especially in fall and winter.
"Unless we get this globally under control, there is a very good chance that it'll assume a seasonal nature. We are struggling to get it under control, and that's the issue that's at hand right now."
"What we're starting to see now... in southern Africa and in the southern hemisphere countries, is that we're having cases that are appearing as they go into their winter season," he said.
"And if, in fact, they have a substantial outbreak, it will be inevitable that we need to be prepared that we'll get a cycle around the second time."
Article continues below advertisement
"It totally emphasizes the need to do what we're doing in developing a vaccine, testing it quickly, and trying to get it ready so that we'll have a vaccine available for that next cycle."
"Hopefully, if in fact we do see that resurgence, we will have interventions that we did not have in the beginning of the situation that we're in right now," Fauci added.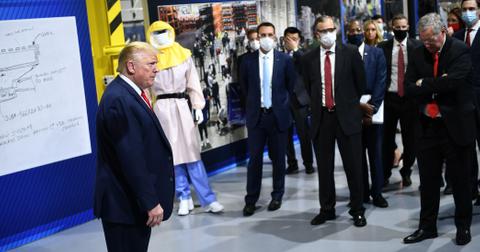 Article continues below advertisement
But on Thursday, President Trump suggested that there would not be a lockdown if there were a second wave of coronavirus.
"People say that's a very distinct possibility, it's standard," Trump said when asked about the possibility for a second wave.
"We are going to put out the fires. We're not going to close the country," Trump added. "We can put out the fires. Whether it is an ember or a flame, we are going to put it out. But we are not closing our country."
Article continues below advertisement
President Trump on possible second wave of coronavirus cases:

"People say that's a very distinct possibility. It's standard. And we're gonna put out the fires. We're not gonna close the country." pic.twitter.com/ZGCxdn6e5W

— NBC News (@NBCNews) May 21, 2020
Trump was visiting Ford's Rawsonville Components Plant in Ypsilanti, Michigan, when he commented. The president started the controversy by not wearing a mask in some areas of the plant, where face coverings are required.
Article continues below advertisement
"Not necessary," Trump said when a reporter asked why he was not wearing a mask. "Everybody's been tested and I've been tested."
Trump went on to claim: "I had one [a mask] on before," in an area that was not visible to reporters, but added, "I didn't want to give the press the pleasure of seeing it."
"I was given a choice, and I had one on in an area where they preferred it," Trump said.
When Ford's executive chairman was asked "can you confirm the president was told it is OK not to wear a mask in this area," Ford shrugged and said, "It's up to him!"
Article continues below advertisement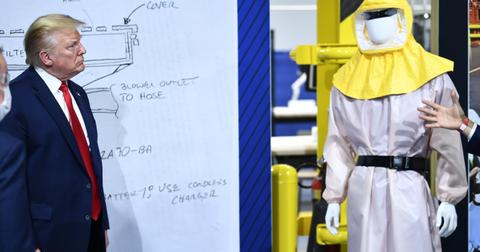 Ford later clarified in a statement: "Bill Ford encouraged President Trump to wear a mask when he arrived. He wore a mask during a private viewing of three Ford GTs from over the years. The President later removed the mask for the remainder of the visit."
Article continues below advertisement
United Automobile Workers, which represents the workers, said in a statement: "Despite some in the President's entourage not following health and safety protocols in the plant today, we want to make it clear that the CDC guidelines have not changed and it is vitally important that our members continue to follow the protocols that have been put in place to safeguard them, their families and their communities."
"This deadly virus has taken the lives of 25 of our UAW members already and thousands of Americans. These protocols are literally a matter of life and death, and that is why the UAW has been working tirelessly with the companies to ensure that everything that can be done to keep our members and our communities safe."
Article continues below advertisement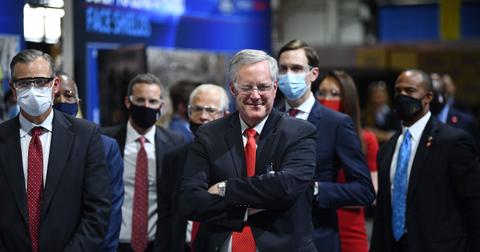 Michigan Attorney General Dana Nessel said before the visit that she would not block Trump's visit under an executive order that prohibits nonessential visits to manufacturing facilities. Nessel did however say that Trump had a "legal responsibility" to wear a mask at the factory.
Article continues below advertisement
"I ask that while you are on tour you respect the great efforts of the men and women at Ford — and across this state — by wearing a facial covering," Nessel wrote.
"Anyone who has potentially been recently exposed, including the President of the United States, has not only a legal responsibility, but also a social and moral responsibility, to take reasonable precautions to prevent further spread of the virus."
House Speaker Nancy Pelosi also also criticized President Trump for not wearing a mask on visits, saying on Wednesday:
"I also am concerned the example that is not being set for the rest of the country, and I'm concerned about those lives because while the president and the vice president may consider it not in their interest to wear a mask, they have doctors around them all the time who can tend to their needs at any given moment."
"But most of the American people who might follow their lead do not have that same opportunity."
The best way to prevent contracting or spreading coronavirus is with thorough hand washing and social distancing. If you feel you may be experiencing symptoms of coronavirus, which include persistent cough (usually dry), fever, shortness of breath, and fatigue, please call your doctor before going to get tested. For comprehensive resources and updates, visit the CDC website. If you are experiencing anxiety about the virus, seek out mental health support from your provider or visit NAMI.org.