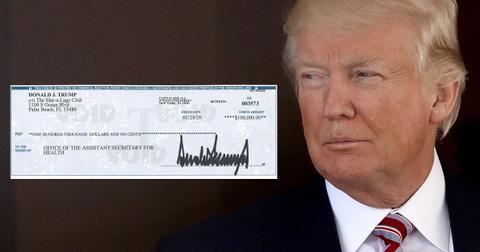 Trump donates fourth quarter salary to help coronavirus response
By Mark Pygas

Updated
President Donald Trump has donated his fourth-quarter salary of $100,000 to the Department of Health and Human Services (HHS) to help combat the spread of coronavirus.
White House Press Secretary Stephanie Grisham shared a photo of the check from Trump to HHS Secretary Alex Azar.
"President @realDonaldTrump made a commitment to donate his salary while in office," Grisham wrote. "Honoring that promise and to further protect the American people, he is donating his 2019 Q4 salary to @HHSGov to support the efforts being undertaken to confront, contain, and combat coronavirus."
Azar showed off the check at a press briefing on the crisis, saying:
"I'm also very pleased to announce that the president of the United States has donated his quarterly check to the Office of the Assistant Secretary of Health at HHS to fund the coronavirus preparedness and response activity. So it's very nice to see that check."
HHS Sec Alex Azar holds up check POTUS donated to HHS to fight Coronavirus. Also, earlier in briefing, Pence reminded press that tomorrow marks one week since Trump put him in charge of response. pic.twitter.com/yUMShCEqVA

— Emily Goodin (@Emilylgoodin) March 3, 2020
It's worth noting that despite this budget, Trump's proposed 2021 budget calls for a 16% reduction in the Centers for Disease Control and Prevention budget and a 10% cut for the HHS. Trump also wants to cut the U.S.'s contribution to the World Health Organization by $65 million, a 40% reduction.
Presidential candidate Bernie Sanders attacked Trump over the cuts on Twitter.
Trump's budget to Congress makes annual funding cuts of:

$167,000,000 to Health Preparedness
$175,000,000 to Centers for Disease Control
$3,000,000,000 to National Institutes of Health

But I'm sure the American people will be just overjoyed by this generous $100,000 donation. https://t.co/0SZs2wQfch

— Bernie Sanders (@SenSanders) March 3, 2020
When he was elected, President Trump pledged to forgo his $400,000 annual salary, choosing to donate the money to charity instead. But while he may not be collecting his salary, Trump has faced criticism from many for not cutting ties with his business empire.
When Trump became president, he decided not to sell or place his business into a blind trust as had been precedent for former heads of state. Instead, he put the company in a trust that his sons lead. This has led many to accuse President Trump of profiting from his office when foreign dignitaries stay at his resorts.
It has also led to massive amounts of taxpayer money being paid to Trump's businesses when the president stays at his own resorts. The Huffington Post estimates that Trump's golf tab currently stands at $133.8 million based on a Government Accountability Office (GAO) report of Trump's first four outings to Mar-a-Lago as president.
Of that enormous figure, at least several million has gone to Trump's business as Secret Service agents and other government officials eat and stay at his hotels and golf courses.
In February, a report by Washington Post journalists revealed that the Secret Service has been paying Trump's resorts as much as $650 a night for rooms. And in some cases, even as much as $17,000 a month for one three-bedroom cottage. As recently as last year, Eric Trump claimed that the Secret Service was being charged as little as $50 a night.
But records obtained by the Washington Post show that the Secret Service spent more than $471,000 in 103 payments at Trump resorts between January 2017 and April 2018 alone. Factoring in all of President Trump's travel across his entire term, the actual number is probably far higher.
ProPublica also reports that the White House paid Mar-a-Lago more than $1,000 for Trump's White House staffers to enjoy over 50 drinks on one night in 2017.