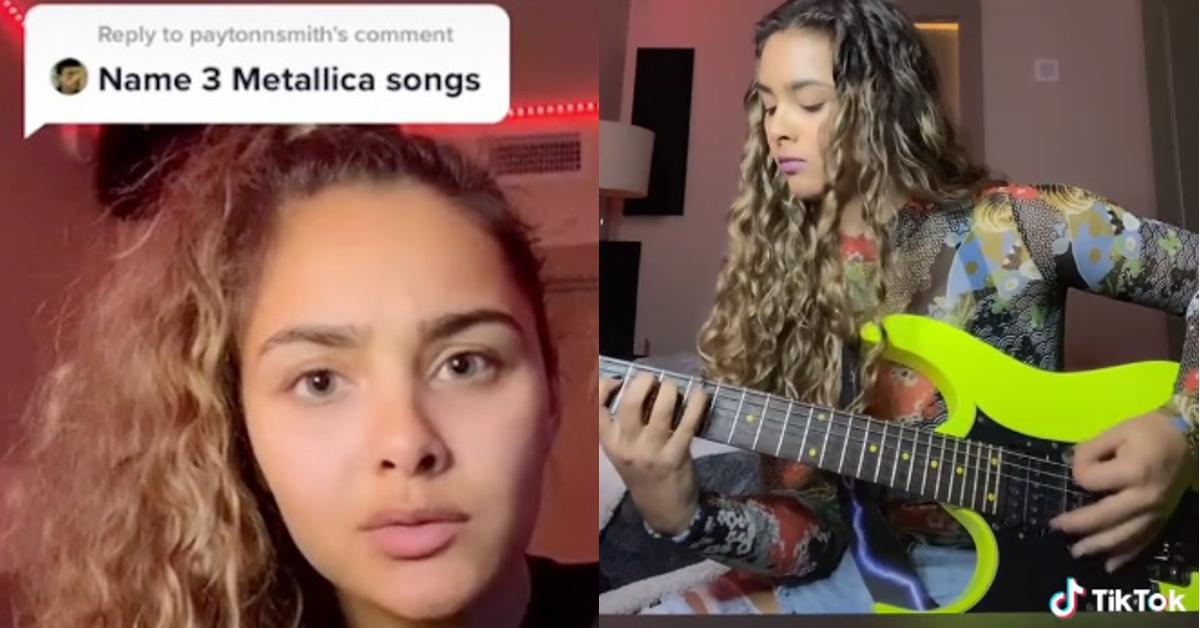 TikTok star busts out guitar solo in response to trolls who challenge her "name three Metallica songs"
By Mustafa Gatollari

Dec. 30 2020, Updated 11:06 a.m. ET
People are quick to point out "posers" on the internet. Justin Bieber was criticized for wearing a "Thrasher" sweater, and who can forget the infamous Kardashian/Slayer t-shirt scandal. When it comes to the metal community, in particular, folks are seemingly very quick to call out posers. However, a group of TikTok users was probably surprised when their call-out Zaria, a prominent member of the video platform, didn't go as planned.
Article continues below advertisement
In one of Zaria's videos, she rocked a Metallica t-shirt and many viewers assumed that the young woman probably knew nothing about the band and couldn't name more than three of their songs. Zaria, instead of rattling off a bunch of names to "prove" her knowledge of the band decided to do her trolls one better.
Being an R&B vocalist and dancer, many people probably assumed that the more metal and "aggressive" tones of Metallica wouldn't be something she'd indulge in. Then there's the fact that there's a certain level of sexism added to the equation: people see a young woman, in makeup, on TikTok, who's an R&B singer, and they assumed she just wore the Metallica t-shirt more as a fashion statement.
Little did her critics know that she could shred on a fretboard like nobody's business.
Article continues below advertisement
So she uploaded a follow-up video to the one that featured a dance routine of hers where she was wearing the Metallica tee, which was a direct response to comments like, "somehow I doubt you like Metallica" and "name 3 Metallica songs."
She said in the reply vid: "My response to you guys is like, 'Really, only three songs? How 'bout I play them on guitar for you!' She then jammed out to "Master of Puppets," "Enter Sandman," and "One."
Article continues below advertisement
But then she went even further with her comeback, "Someone's gonna criticize me for not doing leads, so here's that fun little thing in 'One'." So she went and played one of the blistering solos from "One", which was influenced by Dalton Trumbo's Johnny Got His Gun. If you're unfamiliar with the subject matter, it's fairly brutal and makes for an equally brutal track that requires tons of technical guitar acumen to pull off appropriately.
Watch the handiwork for yourself.
Article continues below advertisement
Suffice to say, there were tons of people who were impressed by Zaria's skills and many exclaimed that while they themselves were surprised with her guitar skills they were also basking in the "glow" of how appropriate her rejoinder to her trolls was.
What's more is that the response to her "shutdown" video was favorable and her fans began clamoring for more guitar playing videos, and Zaria happily obliged.
Article continues below advertisement
The legendary metal band is actually planning on releasing a new album and has been working on material during the COVID-19 pandemic. NME reported that the band's drummer, Lars Ulrich said, "Of all the s*** – pandemics, fires, politics, race problems, and just f***ing looking at the state of the world – it's so easy just to so fall into a depressive state. But writing always makes me feel enthusiastic about what's next."
He followed up by saying, "...there's an opportunity here to still make the best record, to still make a difference. To still do something that not even turns other people on, but turns me on."