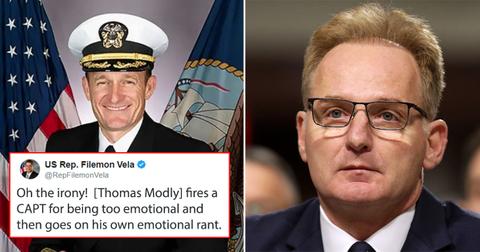 Calls to fire Trump's acting Navy secretary after he calls coronavirus letter Captain 'stupid' to his crew
By Mark Pygas

Updated
Lawmakers are demanding that acting Secretary of the Navy Thomas Modly either resign or be fired after he made crude remarks about the captain of the aircraft carrier USS Theodore Roosevelt to the ship's crew.
Capt. Brett Crozier was relieved of his command last week after he sent a strongly worded letter to the Navy leadership about an outbreak of the disease on his ship. That letter leaked to the media, generating headlines.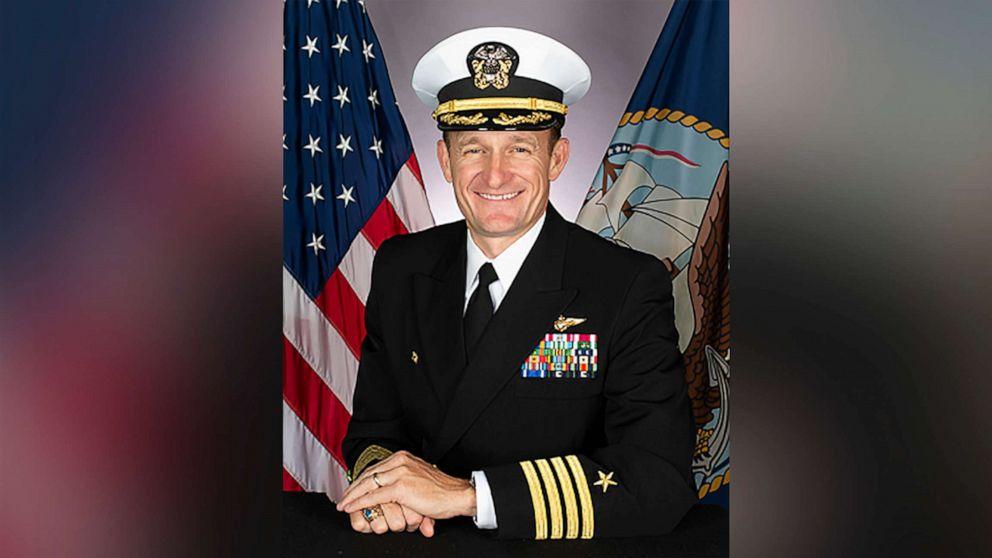 "We are not at war. Sailors do not need to die. If we do not act now, we are failing to properly take care of our most trusted asset — our Sailors," Capt. Crozier wrote in a memo to the Navy's Pacific Fleet. "The spread of the disease is ongoing and accelerating,"
"Decisive action is required. Removing the majority of personnel from a deployed US nuclear aircraft carrier and isolating them for two weeks may seem like an extraordinary measure. This is a necessary risk. It will enable the carrier and air wing to get back underway as quickly as possible while ensuring the health and safety of our Sailors. Keeping over 4,000 young men and women on board the TR is an unnecessary risk and breaks faith with those Sailors entrusted to our care."
At least 93 sailors of the 5,000-strong crew have tested positive for coronavirus. Over 1,000 of the sailors have been checked and moved ashore to Guam.
Acting Secretary of the Navy Thomas Modly relieved Capt. Crozier of his command for sending the letter over "non-secure unclassified email" to a "broad array of people" rather than up the chain of command.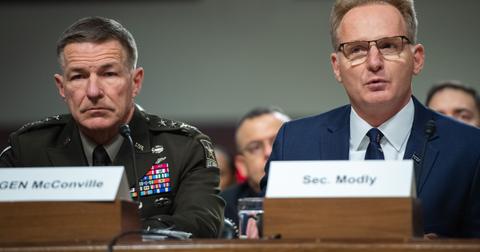 "I have no doubt in my mind that Capt. Crozier did what he thought was in the best interest of the safety and well-being of his crew," Modly said. "Unfortunately, it did the opposite. It unnecessarily raised the alarm of the families of our sailors and Marines with no plans to address those concerns."
But leaked audio of a speech that Modly gave to the aircraft carrier's crew after Crozier's dismissal has now led to criticism. During the 15-minute speech, Modly said that Capt. Crozier was "too naive or too stupid to be the commanding officer of a ship like this."
"The alternative is that he did this on purpose," Modly added.
Modly went on to blame China for the outbreak, accusing Crozier of "betrayal."
The remarks came as a shock to crew members, who were earlier filmed applauding Capt. Crozier as he left the ship following the decision.
"Yeah, that was, uh ... It's almost like we got an ass-chewing. Almost," one crew member can be heard saying in the leaked audio. "And he kind of called us p***ies."
"He was like, 'b****; I said what I said,'" a different crew member added.
One crew member can be heard yelling: "What the f**k."
Now, Democratic lawmakers are calling for Modly to either resign or be fired over the remarks.
Virginia Rep. Elaine Luria, a Navy veteran, wrote in a statement: "Acting Secretary of the Navy Thomas Modly's remarks to the crew show that he is in no way fit to lead our Navy through this trying time. Secretary Esper should immediately fire him."
Connecticut Sen. Richard Blumenthal, a Marine veteran, added: "Modly should be removed unceremoniously for these shocking remarks — especially after failing to protect sailors' safety & health. He has betrayed their trust."
California Rep. Ted Lieu, a colonel in the Air Force Reserve followed suit, writing on Twitter: "Our civilian-controlled military requires our troops to have confidence our civilian leaders always have their best interests in mind. @SECNAV Modly has now lost that confidence. He should resign."
Texas Rep. Filemon Vela wrote: "Modly needs to RESIGN!"
Oh the irony! Listen to this... @SECNAV fires a CAPT for being too emotional and then goes on his own emotional rant.

Modly needs to RESIGN!https://t.co/VUYp7cEX1a

— US Rep. Filemon Vela (@RepFilemonVela) April 6, 2020
Virginia Sen. Tim Kaine added in a statement: "Secretary Modly's comments were completely inappropriate and beneath the office of the Secretary of the Navy." He added that "these dedicated sailors deserve better from their leadership."
Modly stands by the comments, writing in a statement: "The spoken words were from the heart, and meant for them. I stand by every word I said, even, regrettably, any profanity that may have been used for emphasis. Anyone who has served on a Navy ship would understand."
The best way to prevent contracting or spreading coronavirus is with thorough hand washing and social distancing. If you feel you may be experiencing symptoms of coronavirus, which include persistent cough (usually dry), fever, shortness of breath, and fatigue, please call your doctor before going to get tested. For comprehensive resources and updates, visit the CDC website. If you are experiencing anxiety about the virus, seek out mental health support from your provider or visit NAMI.org.