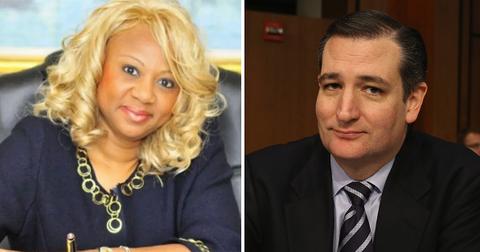 Ted Cruz is getting dragged for not understanding a mandatory vasectomy bill
By Mark Pygas
Last week, a legislator in Alabama introduced a bill that would require men to undergo mandatory vasectomies at their own cost "within one month of his 50th birthday or the birth of his third biological child, whichever comes first."
While the bill is unlikely to go anywhere, the point was to raise attention to Alabama's Human Life Protection Act, which would limit a woman's right to an abortion severely.
But the irony of women forcing a reproductive choice onto men was lost to many, including Senator Ted Cruz of Texas. Cruz took to Twitter to share an article about the bill, along with the caption: "Yikes. A government big enough to give you everything is big enough to take everything...literally! Alabama Democrat proposes bill mandating all men have a vasectomy at age 50 or after third child."
Many Twitter users were quick to point out the purpose of the bill to Cruz, with one explaining: "This bill was not meant to pass; it was introduced to demonstrate how wrong it is to restrict people's reproductive rights. In other words, the argument you're applying to this bill shows how your own views on women's reproductive rights are indefensible!"
While another added: "Wow how awful that the government is trying to interfere with bodily autonomy! What's that feel like?"
And one commenter added: "You really don't pick up on satire, do you? I'll give you a hint: it's meta-commentary about government interference in private healthcare decisions that should be left up to a patient and their doctor."
"But you want women controlled," another concluded. "Got it."
Last year, Republicans in Alabama passed the Alabama Human Life Protection Act which would make performing an abortion and any stage of pregnancy a felony punishable by up to 99 years or life in prison. The only exceptions to the law are when there is a serious health risk to the mother or when the fetus has serious health problems and the child would die shortly after birth. Shockingly, the law did away with exceptions for rape and incest.
A federal judge blocked the law in October, saying that it violates the Constitution. US district judge Myron Thompson said in part:
"Alabama's abortion ban contravenes clear Supreme Case Court precedent. It violates the right of an individual to privacy, to make choices central to personal dignity and autonomy. It diminishes the capacity of women to act in society and to make reproductive decisions. It defies the United States Constitution."
As the bill sits in limbo, one state legislator is attempting to fight fire with fire by introducing a law that would require men to undergo mandatory vasectomies at their own cost "within one month of his 50th birthday or the birth of his third biological child, whichever comes first."
House Bill 238, introduced by Rep. Rolanda Hollis (D) last week, notes that "under existing law, there are no restrictions on the reproductive rights of men."
Hollis told Yahoo that she introduced the bill to "neutralize last year's abortion ban bill, and sends the message that men should not be legislating what women do with their bodies."