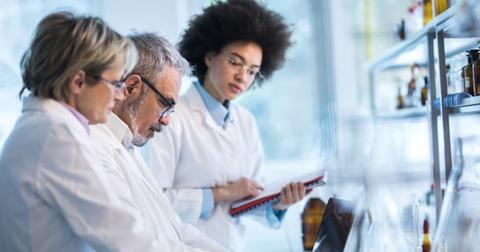 New solar energy storage technology could revolutionize the energy industry
By Sophie Hirsh

Updated
To get away from our society's reliance on fossil fuels, we need to keep innovating new ways to harness and use renewable energy — and a team of scientists from Chalmers University of Technology in Gothenburg, Sweden is doing just that. After nearly 10 years of work, the scientists have discovered a unique way to harness solar energy, put it in storage for up to a decade, and later release it as heat, as reported by Bloomberg. 
To do all that, the team — led by Professor of Chemistry and Chemical Engineering Kasper Moth-Poulsen — developed three new technologies to make that vision a reality: an energy-trapping molecule, an energy storage system (that stores energy in the form of heat), and a laminate coating for windows and fabrics that will store thermal energy, as per Bloomberg.
The laminate coating is actually a liquid molecule comprised of carbon, hydrogen, and nitrogen — that combination, when applied to windows, naturally harnesses and store energy from the sun, the team explained to Bloomberg. That energy remains stored until prompted to discharge the heat.
The scientists have the support of many others in their field — as well as Chalmers University of Technology's campus as their playground. Moth-Poulsen plans to soon cover a building at the school with the invention, Bloomberg reported. 
But now that the team has finally sorted out the technology, they'll need quite a bit of funding (on top of the $2.5 million that's already been put into research) to get things off the ground. Moth-Poulsen said that for the laminate coating to become publicly available in the next three years, and for the storage to become available in the next six years, he needs about $5 million in funding. He told Bloomberg that he's in talks with venture capitalists — so if you are a VC yourself and you want to see this technology take off, maybe get in touch with the professor.
To learn more about the innovation, we spoke with Moth-Poulsen via email. 
"The reason that I am particularly excited about our project is that we created a new material that, just like photosynthesis in plants, stores energy through photochemical transformations in molecules. But unlike in plants, where we need to burn them to get the energy out, we can get the energy back from our molecules without any emissions," Moth-Poulsen tells us. "We have created a zero emission energy cycle where the input is sunlight and the output is heat. Moreover, the material that we make is is made from abundant elements such as Carbon, Hydrogen and Nitrogen."
Additionally, Moth-Poulsen and the team have published a few academic papers on this innovation over the past few years. "This study has demonstrated that NBD [the organic compound norbornadiene] dispersed in a polystyrene matrix can absorb sunlight, and over time release the energy as heat," the authors concluded in one study, published this year on Advanced Science. "This is the first step in making window tinting that contains NBD MOST [molecular solar thermal storage] systems, and shows great promise for implementation of such a technology with the aim of energy saving."
The authors are careful to speak about their technology with phrases like "the first step" and "shows great promise" — further drilling the point that it really will be a while before this technology becomes commercially available. Solar power and other forms of renewable energy are on the rise all around the world, but out-of-the-box innovations like Moth-Poulsen's (assuming it will become affordable enough to implement on a wide scale) really have the potential to help renewable energy overtake fossil fuels — and significantly help stave off the climate crisis.