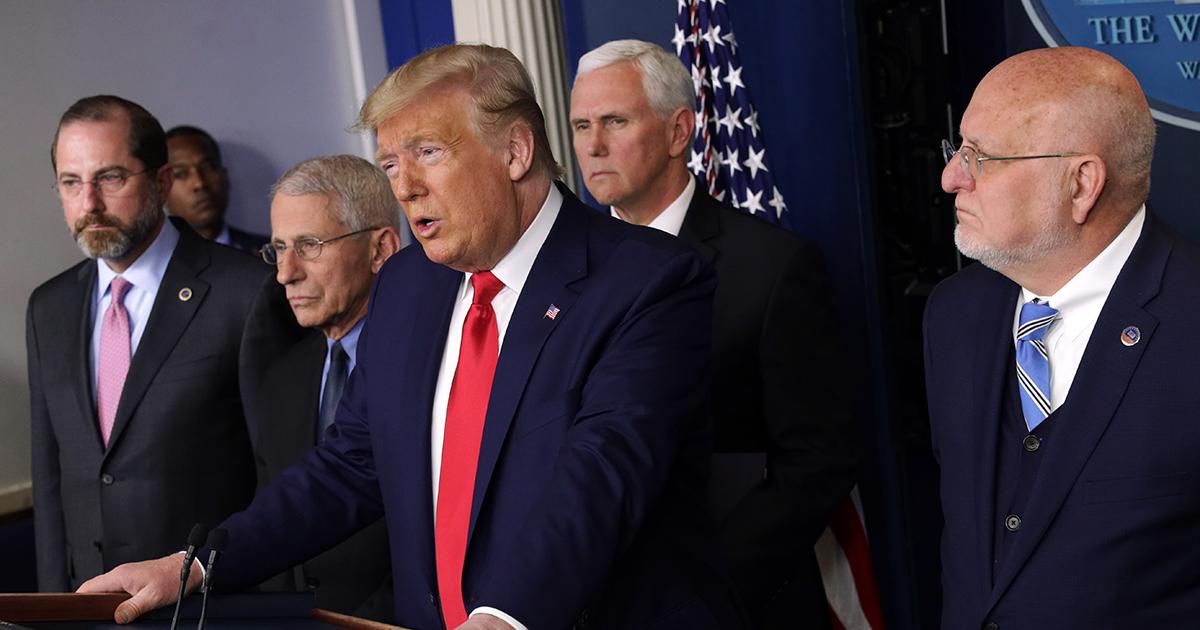 Nearly 200,000 sign petition demanding TV networks stop airing Trump's coronavirus briefings
By Mark Pygas

Apr. 1 2020, Updated 9:17 a.m. ET
President Donald Trump has been criticized for using stating falsehoods as well as attacking the media at daily coronavirus press conferences. Most recently, Trump claimed that the United States would be back up and running by Easter, a claim that he quickly went back on by extending lockdowns to at least the end of April.
Article continues below advertisement
This issue led one National Public Radio station in Seattle, KUOW, to stop airing the briefings live. In a statement, they said the decision was made because of "a pattern of false or misleading information provided that cannot be fact-checked in real-time."
And now, a petition calling on other news organizations to follow suit has attracted over 185,000 signatures.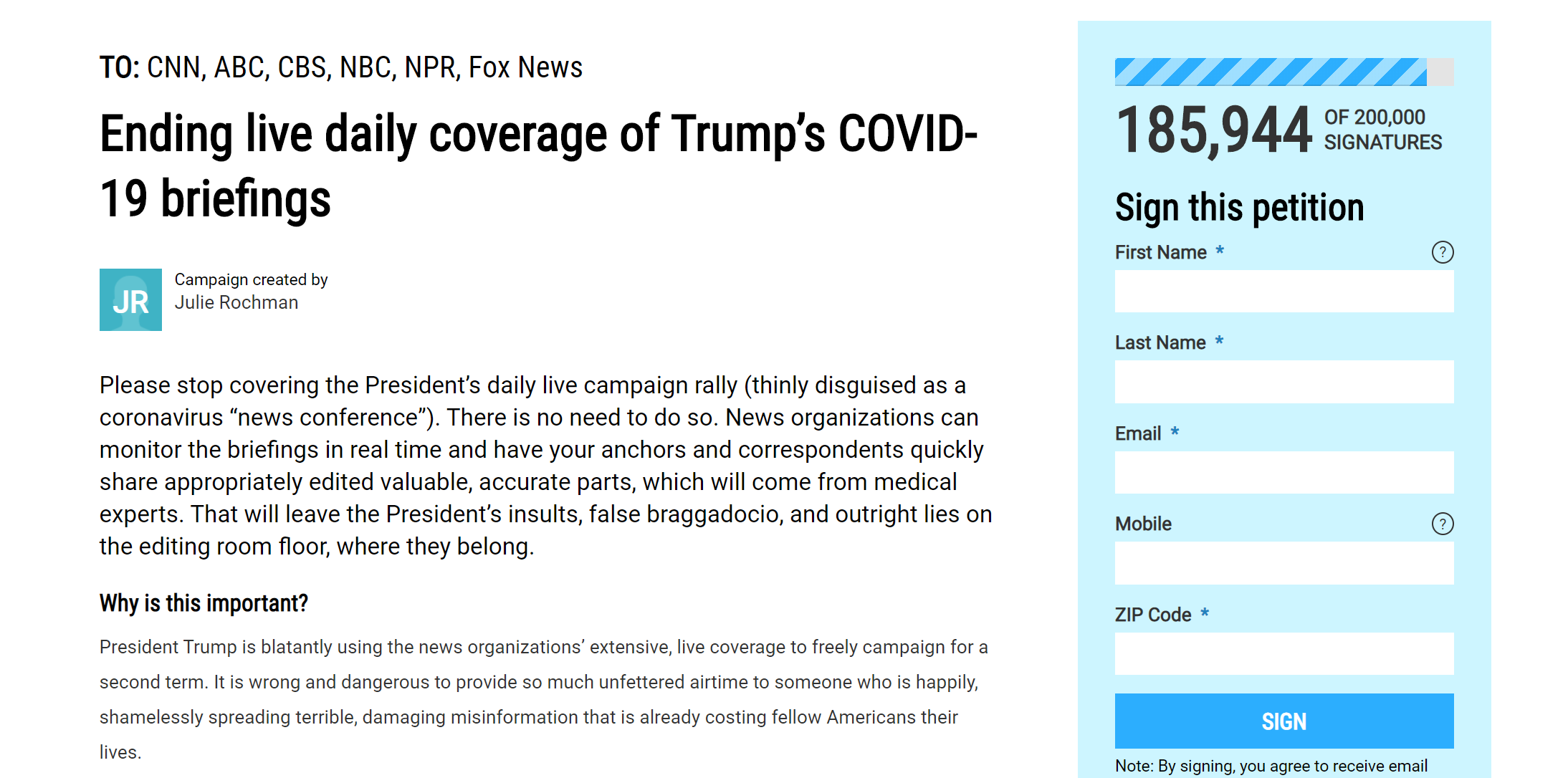 Article continues below advertisement
The petition, created by Julie Rochman of Albuquerque, New Mexico, states: "Please stop covering the President's daily live campaign rally (thinly disguised as a coronavirus "news conference"). There is no need to do so. News organizations can monitor the briefings in real-time and have your anchors and correspondents quickly share appropriately edited valuable, accurate parts, which will come from medical experts. That will leave the President's insults, false braggadocio, and outright lies on the editing room floor, where they belong."
The petition continues: "President Trump is blatantly using the news organizations' extensive, live coverage to freely campaign for a second term. It is wrong and dangerous to provide so much unfettered airtime to someone who is happily, shamelessly spreading terrible, damaging misinformation that is already costing fellow Americans their lives."
Article continues below advertisement
"Please tell national and local media outlets to monitor and then broadcast valid, accurate information from medical experts, rather than feelings and diatribes from the President that only serve his own electoral interests."
Rochman told Business Insider that she's a retired advocate for public health and safety in the property insurance industry and not an activist.
"I'm a retired 58-year-old woman who was pissed off. That's it," Rochman said.
She added: "My whole career has been involved in public safety, public health, and risk mitigation — trying to get people workable, actionable information to make themselves safer."
Article continues below advertisement
The petition follows the "Stop Airing Trump" hashtag on social media, on which users have been calling for the media to stop airing the coronavirus briefings. "Trump actually has no idea that there is a national catastrophe underway," one user wrote. "He's talking about his ratings, Monday Night Football, bringing My Pillow up to talk, talking about his hair and three thousand Americans are dead, hundreds more just today."
Article continues below advertisement
While another added: "When your presidency has descended so low that you feel the need to get a public testimonial from the 'My Pillow' guy — chances are your presidency is so damaged, it is beyond repair."
Article continues below advertisement
According to a report by CNN, President Trump made 33 false claims about coronavirus in the first two weeks of March. Among those were two attempts to blame President Barack Obama for a lack of testing kits.
The best way to prevent contracting or spreading coronavirus is with thorough hand washing and social distancing. If you feel you may be experiencing symptoms of coronavirus, which include persistent cough (usually dry), fever, shortness of breath, and fatigue, please call your doctor before going to get tested. For comprehensive resources and updates, visit the CDC website. If you are experiencing anxiety about the virus, seek out mental health support from your provider or visit NAMI.org.