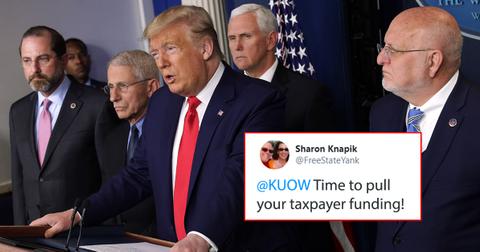 NPR station stops broadcasting White House press briefings because of Trump's 'pattern of false or misleading information'
By Mark Pygas
KUOW, a National Public Radio (NPR) station in Seattle, has decided to stop airing live White House press briefings because of a "pattern of false or misleading information provided that cannot be fact-checked in real-time."
President Trump has been leading the daily briefings given by his coronavirus response team, which is supposed to be lead by Vice President Mike Pence. President Trump has been criticized for stating falsehoods as well as attacking the media at these press conferences.
He was most recently criticized for claiming that the nation could be back up and running by Easter. Experts have long stated that the lockdown could last for several months.
"Our country wasn't built to be shut down," Trump said. "America will again and soon be open for business. Very soon. A lot sooner than three or four months that somebody was suggesting. A lot sooner. We cannot let the cure be worse than the problem itself."
In a series of tweets on Tuesday, KUOW announced that they would stop airing the briefings live over the issue. They wrote:
"KUOW is monitoring White House briefings for the latest news on the coronavirus — and we will continue to share all news relevant to Washington State with our listeners. However, we will not be airing the briefings live due to a pattern of false or misleading information provided that cannot be fact-checked in real-time."
The decision was unsurprisingly met with mixed opinions. One user wrote: "Integrity! Wow, what a concept these days! Thank you!!!"
While another added: "Time to pull your funding. What a propaganda machine and complete waste of good resources."
According to a report by CNN, President Trump made 33 false claims about coronavirus in the first two weeks of March. Among those were two attempts to blame President Barack Obama for a lack of testing kits.
In a press conference earlier this month, Trump said: "The Obama administration made a decision on testing that turned out to be very detrimental to what we're doing, and we undid that decision a few days ago so that testing can take place in a much more accurate & rapid fashion."
Pence later clarified the remarks, stating: "The last administration asserted Food and Drug Administration (FDA) jurisdiction over-testing and the development of tests like this. The president changed that on Saturday."
According to the Washington Post, this statement is false. Glenn Kessler explains that "there was no Obama rule, simply 'guidance' that was never acted on."
When asked what rule Trump and Pence could be referring to, Peter Kyriacopolous, chief policy officer at the Association of Public Health Laboratories, told CNN: "We aren't sure what rule is being referenced."
He added: "There was an intense interest from FDA to pursue regulation of lab-developed tests during the Obama administration, but it never occurred. FDA did a lot of work on this, but there never was a final rule that came out of all that work."
Instead, many have attributed the delay in test kits to mistakes made by the CDC. Neel Patel of MIT Technology Review explains: "On February 5, the CDC began to send out coronavirus test kits, but many of the kits were soon found to have faulty negative controls (what shows up when coronavirus is absent), caused by contaminated reagents."
The best way to prevent contracting or spreading coronavirus is with thorough hand washing and social distancing. If you feel you may be experiencing symptoms of coronavirus, which include persistent cough (usually dry), fever, shortness of breath, and fatigue, please call your doctor before going to get tested. For comprehensive resources and updates, visit the CDC website. If you are experiencing anxiety about the virus, seek out mental health support from your provider or visit NAMI.org.