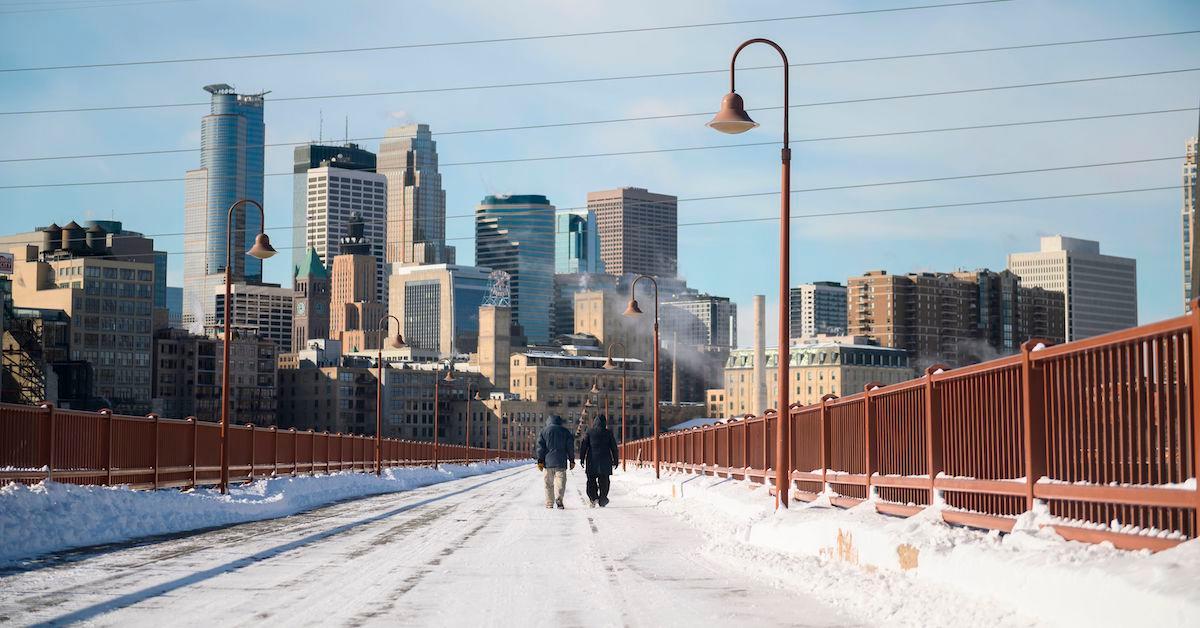 Minnesota governor signs executive order establishing Climate Change Subcabinet
By Sophie Hirsh

Updated
Scientists from all over the world agree the climate is in a state of crisis — and while the Trump administration doesn't seem interested in declaring a national climate emergency anytime soon, local governments are stepping up to the plate. For example, Minnesota's Gov. Tim Walz signed an executive order to take action on the climate crisis on Monday, Dec. 2. Under the executive order, Minnesota is forming a Climate Change Subcabinet and a Governor's Advisory Council on Climate Change, which will both work to reduce Minnesota's greenhouse gas emissions.
"By working collaboratively, we can build resilient communities, promote community prosperity, mitigate risk to our farms and businesses, and create a homegrown clean economy," Walz wrote in the executive order, which was shared on the governor's official website. "Currently, job growth in the clean energy sector is outpacing job growth in the overall economy. Continued leadership on climate change will position Minnesota for long-term economic success."
Climate change threatens the very things that make MN a great place to live. That's why I'm signing this Executive Order to create a Climate Change Subcabinet — bringing state government agencies together to implement bold, collaborative action on climate change. #OneMinnesota pic.twitter.com/iAvUIusk7y

— Governor Tim Walz (@GovTimWalz) December 2, 2019
The executive order also explains how the climate crisis is "an existential threat that impacts all Minnesotans and our ability to thrive." Walz asserted the climate crisis has caused extreme weather events that put public health, the economy, infrastructure, and communities at risk — especially low-income communities. "Climate change is a complex problem, and Minnesota recognizes that the impacts of climate change are disproportionally borne by disadvantaged communities," he wrote. "Disparities exist in Minnesota, including those based on race, gender, geography, and economic status, and they prevent us from reaching our full potential as a state."
To combat this, Walz is establishing a Climate Change Subcabinet, which will identify strategies and policies to get Minnesota on track to reduce the state's greenhouse gas emissions (hopefully to 30 percent less than the state's 2005 levels by 2025, and to achieve 100 percent clean energy by 2050), and to strengthen the "climate resiliency" of natural resources and land across the state. 
The Subcabinet's members will be the directors of more than a dozen Minnesota governmental departments, including the Pollution Control Agency, the Department of Agriculture, the Department of Natural Resources, and the Department of Health. The Subcabinet will be faced with a variety of duties to help achieve the goal of shifting towards clean energy and protecting the state's natural resources, including establishing climate mitigation and resilience policies, ramping up public engagement, building partnerships with Tribal Nations, and more.
We can only combat climate change if we do it together.

Today I was proud to stand with @GovTimWalz as he signed this executive order to bring our state agencies together and put Minnesota at the forefront of innovative solutions to tackle climate change. #OneMinnesota pic.twitter.com/ZDjBF6qI5R

— Lt. Governor Peggy Flanagan (@LtGovFlanagan) December 2, 2019
To manage the Subcabinet, Walz is also establishing a Governor's Advisory Council on Climate Change. The governor will appoint 15 community leaders with various relevant experience to the Advisory Council, and the group will meet four times a year to monitor the Subcabinet's progress and provide guidance.
Minnesota's executive order will go into effect on Dec. 17. Even though the executive order is a small first step, hopefully it will inspire other U.S. governors to implement similar practices in their states. With CO2 levels rising and the Paris Agreement's goals slipping further and further away, there's no time like the present when it comes to fighting the climate crisis.