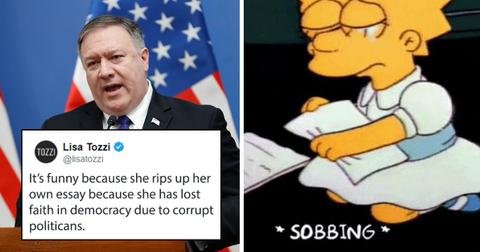 Twitter rips Mike Pompeo over 'Simpsons' tweet aimed at Nancy Pelosi
By Mark Pygas
On Thursday, Secretary of State Mike Pompeo seemingly responded to Nancy Pelosi after she ripped up a copy of President Donald Trump's State of the Union speech.
At the SOTU on Tuesday evening, Pelosi attempted to greet President Trump as he entered the House, though he seemingly ignored her outstretched hand.
Pelosi shrugged as Trump quickly turned around to the podium, and she remained seated for most of President Trump's speech. But after the event had concluded, she was captured ripping apart a print out of the address and throwing the remains on her desk.
As you can imagine, the move led to mixed opinions on social media, with many supporting Pelosi and just as many opposed. One of those appears to have been Pompeo, who tweeted a screenshot from The Simpsons of Lisa Simpson crying as she rips paper.
Pompeo did not provide a caption alongside the image.
But the move prompted a response from Bill Oakley, a writer on The Simpsons, who wrote: "Mr. Secretary of State please do not ever ever ever use Simpsons material in your twitter or watch the show or refer to it in any way."
In a further tweet, Oakley clarified: "To be clear this episode aired before Josh Strangehill and I even worked on the show and was written by the genius George Meyer and I say this to Mr. Pomepo as a FAN of this episode, not someone who worked on it. If he starts using Steamed Hams, then this will become personal."
But it wasn't just Simpsons fans pointing out issues with the tweet. Many were quick to explain that the screenshot comes from an episode titled "Mr. Lisa Goes to Washington."
In the episode, Lisa enters a competition to write an essay about America's greatness and wins a trip to Washington D.C. While there, she witnesses a member of the House accepting a bribe and ends up ripping her original essay in half. She writes another essay about the Capitol's corruption, which leads to the arrest of the member of the House and restores her faith in government.
This point wasn't lost on many Twitter users, with one quoting an article from The Hill: "'The image tweeted by Pompeo is from a Simpsons episode titled 'Mr. Lisa Goes to Washington,' in which Lisa tears up her prize-winning essay about American values after witnessing a corrupt congressman accepting a bribe, shattering her faith in democracy.'"
Another user added: "Lisa was crying because she found out the speech was nothing more than a rhetorical device to justify corruption."
While one concluded: "It's funny because she rips up her own essay because she has lost faith in democracy due to corrupt politicans. It is a good episode. You should watch it."
Another another added: "This screenshot is from an episode where Lisa Simpson goes Washington and sees how petty and dysfunctional US political leaders are after witnessing one take a bribe, so she tears up her essay on what makes America great."