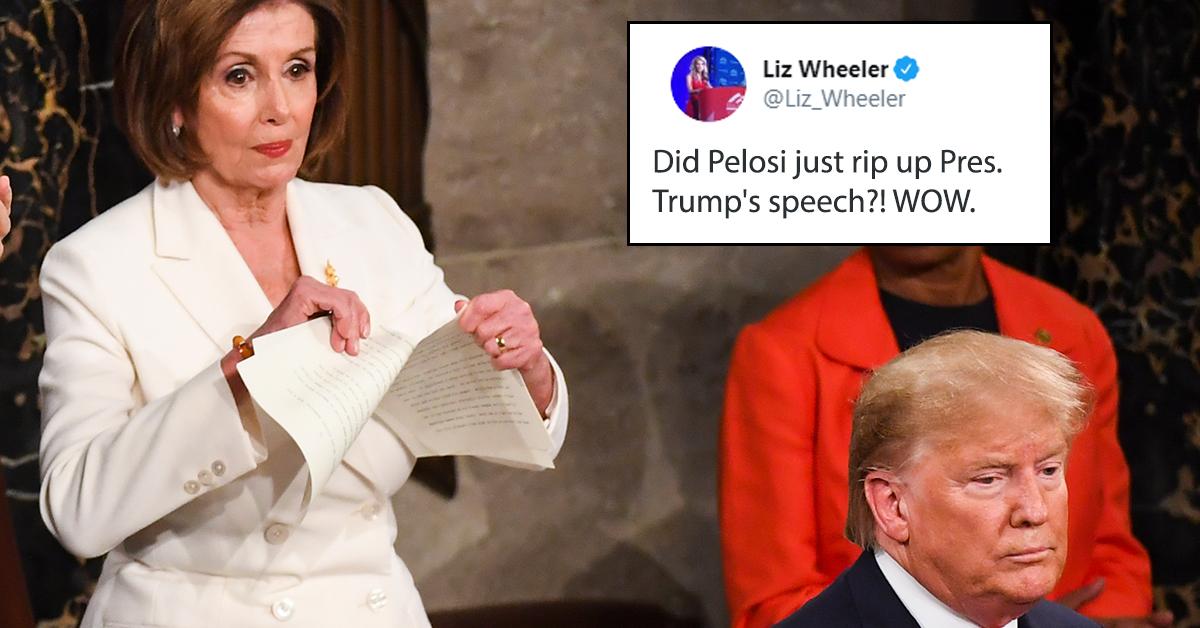 Nancy Pelosi tore up Trump's State of the Union speech after he ignored her handshake
By Mark Pygas

Feb. 5 2020, Updated 8:38 a.m. ET
Last night, President Donald Trump delivered his State of the Union speech in the House chamber. And considering that the House just chose to impeach President Trump, the whole thing was just as awkward as you would expect.
Article continues below advertisement
When Pelosi attempted to greet President Trump as he entered the House, he seemingly ignored her outstretched hand.
Pelosi shrugged as Trump quickly turned around to the podium.
Article continues below advertisement
And the tension didn't end there. Pelosi remained seated for most of President Trump's speech, and when he had concluded, she was captured ripping apart a print out of the address and throwing the remains on her desk.
Article continues below advertisement
The White House responded to the moment on Twitter, writing: "Speaker Pelosi just ripped up: One of our last surviving Tuskegee Airmen; The survival of a child born at 21 weeks; The mourning families of Rocky Jones and Kayla Mueller; A service member's reunion with his family. That's her legacy."
Article continues below advertisement
"The manifesto of mistruths presented in page after page of the address tonight should be a call to action for everyone who expects truth from the President and policies worthy of his office and the American people. The American people expect and deserve a President to have integrity and respect for the aspirations for their children," Pelosi said in a statement.
Unsurprisingly, the moment led to some mixed opinions on Twitter. "Did Pelosi just rip up the speech? My god, Trump is the occupier of the high ground this evening," one user wrote.
Article continues below advertisement
While another added: "Everyone who is complaining about Nancy Pelosi ripping up Trump's speech can take their fake outrage and f**k off. That speech was riddled with lies and ramblef*****y, it was literally trash. What do you do with trash? You rip it up and throw it away."
Article continues below advertisement
One user concluded: "Want to know what it's like being a woman in this country? People attack Pelosi for her "undisciplined" and "unprofessional" rip of the speech while not applying ANY of those standards to a POTUS who has spent his life deceiving people."
Article continues below advertisement
And another added: "I think it was childish for Pelosi to rip up the speech. But anyone who complains about that who hasn't also spent the last four years criticizing Trump's daily taunting and insults is just a hack."