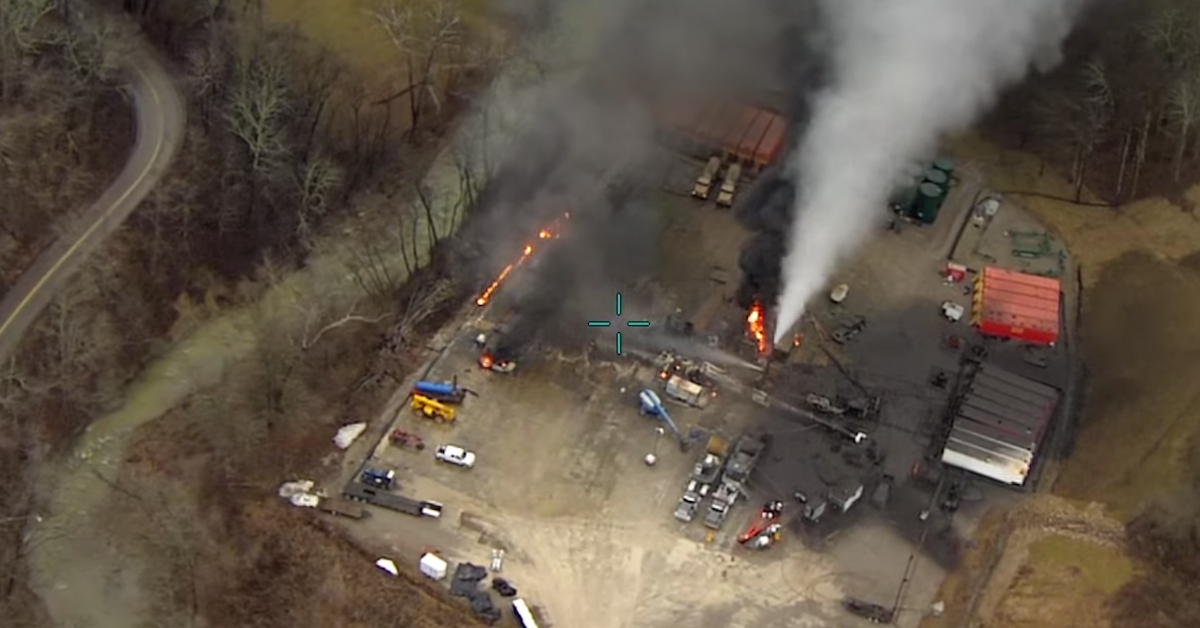 Massive methane leak at Exxon fracking well is one of the U.S.'s worst leaks on record
By Sophie Hirsh

Updated
After analyzing satellite measurements of a February 2018 natural gas well blowout in Ohio, a team of scientists determined that the methane leak was one of the worst the U.S. has ever seen, The New York Times reported. Gas leaks are infamously difficult to measure — and therefore often go unreported — but the recent development of using satellite technology to detect, monitor, and measure gas leaks is a major breakthrough. 
As explained in the study, which was published in the Proceedings of the National Academy of Sciences, new satellite measurement techniques allowed a team of scientists to capture footage of the methane leak and measure it. And the measurements were harrowing — there was a methane emission rate of 120 metric tons per hour. Those emissions are similar to a quarter of Ohio's oil and gas industry's reported annual methane emissions. An even more horrifying way to look at it? This one blowout leaked almost as much methane as the annual human-caused methane emissions of entire European countries, such as France, the Netherlands, and Norway, according to Bloomberg.
The blowout occurred at a fracking site managed by Exxon Mobil subsidiary XTO Energy in Belmont County, Ohio, according to The New York Times. More than 100 people who lived within a mile of the gas leak had to evacuate their homes, and as per the news outlet, it took Exxon workers 20 days to plug the well. 
Now that satellite technology has allowed researchers to measure this massive methane leak, it's highly probable that many other methane leaks have gone undetected in the U.S., meaning human-caused methane emissions may be worse than previously thought.  
"When I started working on methane, now about a decade ago, the standard line was: 'We've got it under control. We're managing it,'" Dr. Steven Hamburg, an Environmental Defense Fund scientist who worked on the project, told The New York Times. "But in fact, they didn't have the data. They didn't have it under control, because they didn't understand what was actually happening. And you can't manage what you don't measure."
Up to 86 times as potent as carbon dioxide, methane is one of the most powerful greenhouse gases on the planet. While most of us primarily associate human-caused methane in the atmosphere with the animal agriculture industry (which is certainly a major cause of methane emissions), a lesser-known significant cause of methane in the atmosphere is methane leaks from natural gas wells, according to the EPA. Additionally, methane accounts for about 10 percent of anthropogenic (human-caused) greenhouse gas emissions in the U.S.