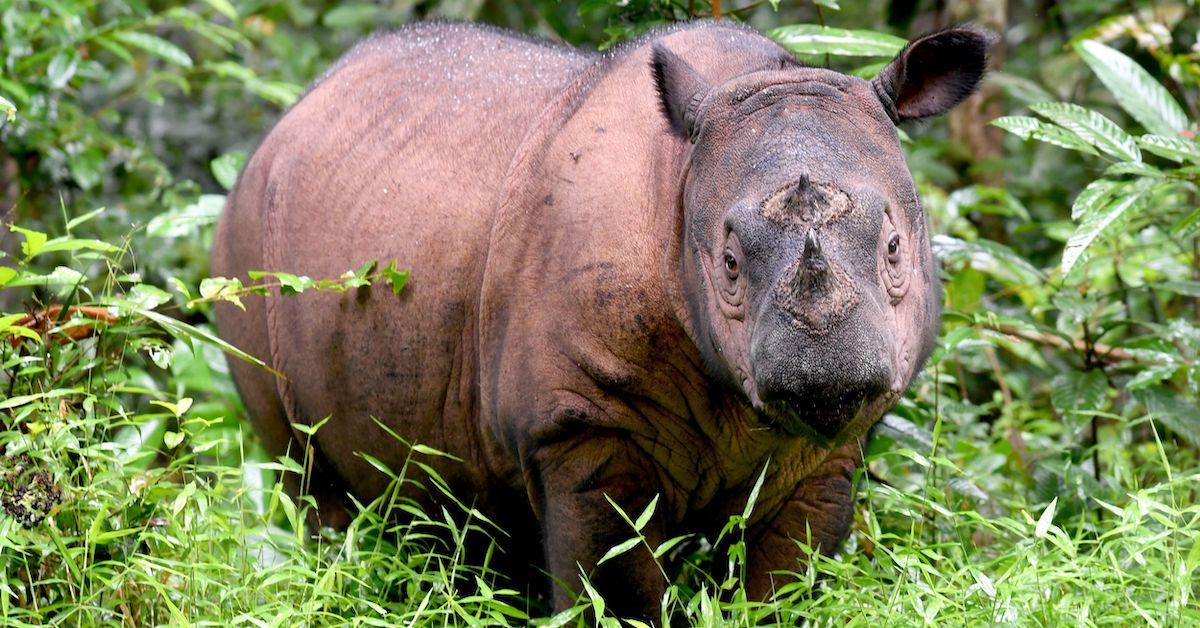 Borneo's final Sumatran rhino dies, brings species to extinction in Malaysia
By Sophie Hirsh

Updated
Malaysia's only remaining Sumatran rhino passed away this week, making the species entirely extinct in the Southeast Asian country. The rhino was living in the state of Sabah on the island of Borneo, which is part of Malaysia. The total global population of wild Sumatran rhinos is now less than 80, all of whom are found on the island of Sumatra.
Article continues below advertisement
The Sumatran rhino, which is the smallest rhino species in the world (both in size and in population), was declared extinct in the wild in Malaysia back in 2015. At that time, only two Sumatran rhinos remained in the country, both of whom were being held captive on a wildlife reserve. The country's final male rhino, Tam, passed away in May 2019 at a little more than 30 years old, The Telegraph reported at the time. Now, six months later, the final female rhino, Iman, has passed away at the age of about 25.
According to The Guardian, Iman had struggled with health issues for the past few years, primarily cancerous uterine tumors, and cancer is what ultimately ended her life this week. She also experienced sudden massive blood loss on several occasions, but managed to push through and stay alive. Interestingly, scientists harvested Iman's egg cells in hopes of artificially inseminating her to repopulate Sumatran rhinos in Malaysia, but it was never fruitful, as per The Guardian. 
Article continues below advertisement
How very sad. Malaysia's last known Sumatran rhino, Iman, died this morning; she'd had cancer https://t.co/NYOpxmgBaM All hopes for the species now rest on Indonesia's Sumatran rhinos on the islands of Sumatra & Kalimantan

— Save the Rhino (@savetherhino) November 23, 2019
"Iman's death came rather sooner than we had expected, but we knew that she was starting to suffer significant pain," Augustine Tuuga, the director of the Sabah wildlife department, said in a statement, according to The New York Times. "Despite us knowing that this would happen sooner rather than later, we are so very saddened by this news," said Christina Liew, Sabah's environment minister, according to the Associated Press.
Article continues below advertisement
According to the World Wildlife Fund (WWF), Sumatran rhinos were previously only found in Borneo and Sumatra; now that Iman has died, the species is only found in Sumatra, a western Indonesian island. 
We're heartbroken by the news that Sumatran rhinos in Malaysia are now extinct.

We can't let other species follow the same fate as Iman. We must do all we can to show our outrage about what is happening to our planet. #AdoptABetterFuture. pic.twitter.com/EfcPvbgNyl

— WWF UK 🌍 register to vote! (@wwf_uk) November 25, 2019
Article continues below advertisement
Why have Sumatran rhinos gone extinct in Malaysia?
As the WWF notes, rhino poaching has grown across Asia and Africa due to the growing demand for rhino horns. According to the organization Save the Rhino, rhino horns are worth up to $65,000 in China and Vietnam, where some people grind up and consume the horns, in hopes that they will cure ailments such as headaches and food poisoning, or work as aphrodisiacs. (Rhino horns are primarily keratin, the same protein that makes up hair, nails, and hooves, so it's pretty unlikely that any human actually needs to ingest a rhino horn.) Others simply purchase the rhino horns from the illegal wildlife trade as a status symbol.
Additionally, habitat loss has hurt Sumatran rhino populations — things like road construction, agricultural development (typically for rice and coffee beans) by illegal settlers, and invasive species have destroyed rhino habitats, according to the WWF. Not to mention, the WWF also believes protection measures for the rhinos have been insufficient — so for that reason, the international organization is working to monitor, manage, and protect Sumatran rhinos; the WWF is also working with governments to create long-term recovery plans to protect Sumatran rhinos.