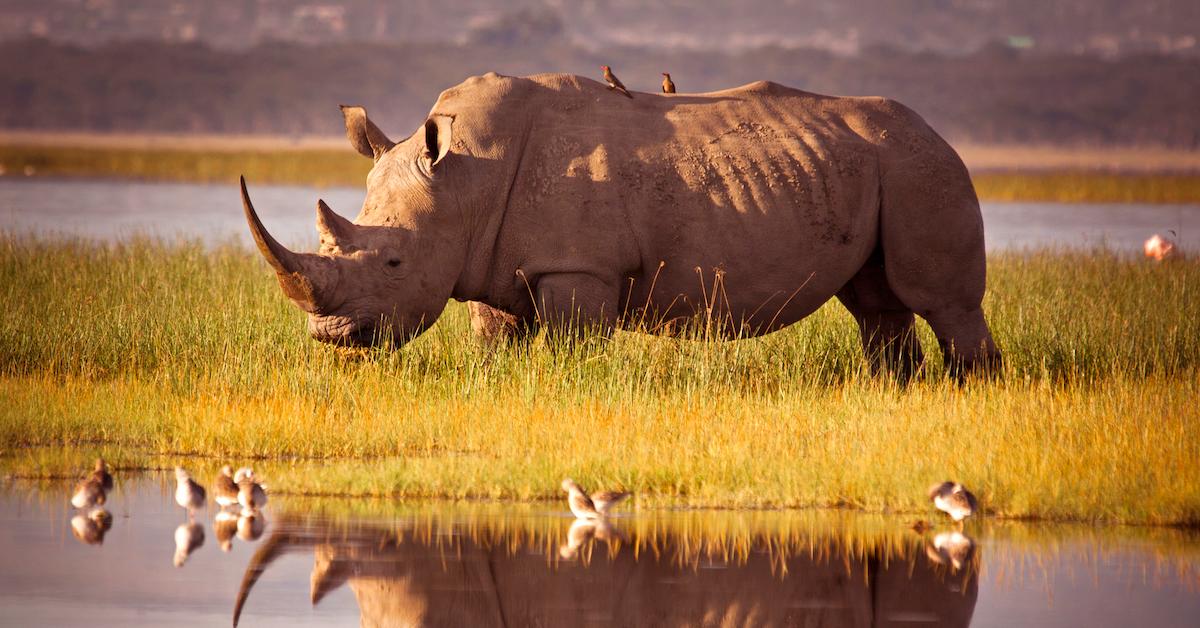 Could this fake rhino horn stop poaching?
By Sophie Hirsh

Updated
Rhino horn poaching is still a rampant issue in Africa — and a group of researchers are hoping to throw poachers off the trail with a new invention. As reported by the BBC, university researchers have created a faux rhino horn. The group believes their technology is legitimate and affordable enough that it could potentially be used to fool poachers; however, some rhino protection advocates do not think this is the right solution. 
Article continues below advertisement
Zoologists from the University of Oxford and molecular scientists from Fudan University in Shanghai, China are responsible for the mock rhino horn, and the researchers detailed their project in a study published in the journal Nature. As the researchers observed, a steady demand for rhino horns is increasing poaching rates, which is hurting the endangered rhino population. So, to combat that, they constructed mock rhino horns made from quite interesting materials: horse tail hair and regenerated silk.
Scientists have developed a fake rhino horn using horsehair, in a bid to create "credible fakes" to flood the market and reduce demand for the material. https://t.co/R0Udbn5Nkb

— CNN (@CNN) November 11, 2019
Article continues below advertisement
Rhino horns are primarily made from keratin, a protein found in hair, fingernails, and hooves, according to the U.S. Fish and Wildlife Service. More specifically, the rhino horn, which grows on the animal's nose, is actually a tuft of tightly packed hair, glued together by "exudates from the sebaceous glands," according to the study. 
The scientists bundled together hairs from horse tails, and glued them together with a "bespoke matrix of regenerated silk mimicking the collagenous component of the real horn," as explained in the study. "This approach allowed us to fabricate composite structures that were confusingly similar to real rhino horn in look, feel and properties," they added.
Article continues below advertisement
The study noted that horses are "the rhino's ubiquitous near relative," so it makes sense that they chose horses for the experiment. However, it's unfortunate that to fight exploitation towards one species (rhinos), the researchers chose to exploit two others (horses and worms). If the researchers develop future iterations of this project, hopefully they will experiment with synthetic or lab-grown alternatives, so that no animals are used.
Fake rhino horn invented to ruin poachers' market. By releasing the chemical ingredients and method for anyone to be able to make it - even greedy poachers can turn their attention away from the rhino. @BBCRadio4 Start The Week https://t.co/mrMRrhQEAH

— Helping Rhinos 🦏 (@HelpingRhinos) November 11, 2019
Article continues below advertisement
All that being said, what do the researchers intend to do with this rhino horn recreation? "We leave it to others to attempt to take our technology further and perhaps even go so far as to fool punters into buying it in replacement or indeed in preference to the real, and extremely expensive, rhino horn," they wrote in the study. "Whether flooding the market with confusing horn copies will ultimately lead to saving rhinos roaming in the wild remains to be seen."
Save the Rhino is not so sure this invention would really fight rhino poaching. The BBC spoke with the organization's deputy director John Taylor, who believes flooding the market with fake horns runs the risk of expanding the market and increasing demand for rhino horns, which would actually increase rhino poaching. "There is no substitute for anti-poaching measures at one end and reducing demand at the other," he told the BBC.
Article continues below advertisement
Hopefully the rhino poaching trade will soon slow down, and it will be interesting to see if this new faux rhino horn will have anything to do with it.