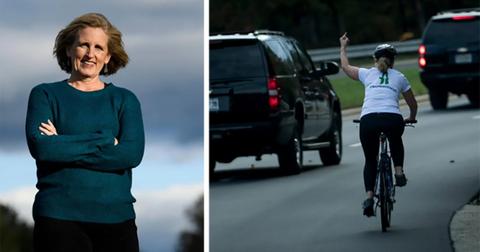 The woman who was fired for flipping off Trump's motorcade just won an election
By Mark Pygas

Updated
People across the United States took to the polls on Tuesday. In Kentucky, Democrat Andy Beshear was able to unseat Trump-ally Governor Matt Bevin. While in Virginia, voters also handed control of the state's General Assembly to Democrats.  
One of the less notable races was for the Loudoun County Board of Supervisors. But this local race is getting national coverage because of the person who won it. Juli Briskman was fired from her job after the press caught her flipping off President Trump's motorcade in 2017.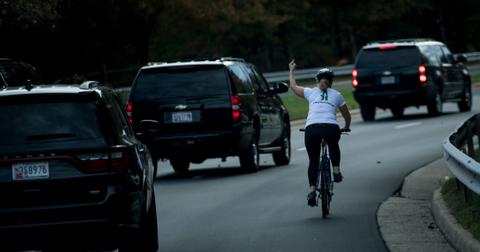 And apparently she's put that political frustration to good use, beating the incumbent Republican in her district with 52.4% of the vote with 99% of precincts reporting results. 
Briskman has lived in the county, which borders Washington D.C., for years. She briefly went viral in 2017 when she was caught flipping off the SUVs escorting President Donald Trump as he departed the Trump National Golf Course. 
Briskman told Buzzfeed News in 2018 that she was mad at President Donald Trump's plan to end Deferred Action for Childhood Arrivals (DACA) and the federal government's response in Puerto Rico following Hurricane Maria. 
"I don't employ that gesture very often but I wanted to express my opinion, and I was faced with tinted, bullet-proof glass, and I was assuming the person in the car was who I thought it was," Briskman said.
But the gesture cost Briskman her job. She was forced to resign by federal contractor Akima.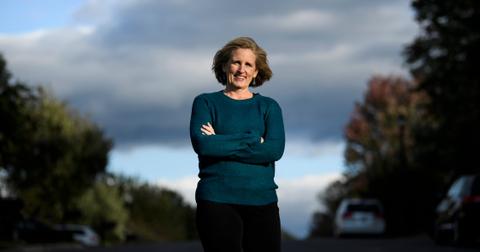 Briskman sued the firm in 2018, alleging that the company forced her to resign because they were afraid President Donald Trump would retaliate by ending their contracts. She argued that the move violated her freedom of speech, and eventually won severance. 
Briskman then designed to run for a seat on the Loudoun County Board of Supervisors as a democrat. She campaigned on promises to better fund local schools and expand green space in the community. She said her opponent, a Trump supporter, didn't reflect the local community. 
The 52-year-old, single, suburban mom of two teenagers, told the Washington Post that even after the mean comments she received online from President Trump's supporters, she was committed to running for office.
"It's not like I can run against him," she said. "But I can run." 
In Virginia as a whole, voters also handed control of the state's General Assembly to Democrats. Democrats in the state now control the state House and Senate as well as the governor, giving them the ability to pass bills into law fairly easily.  
Democrats fought the election on a promise of Medicaid expansion and tighter gun control. 
Senate Republican Majority Leader Tommy Norment said in a statement:
"Today, the people of Virginia made their voices heard by voting in elections that were hard-fought and spirited.  Obviously, tonight's results were not what we wanted. But, we respect the judgment of the voters when we prevail and on those occasions when we do not."