Ali Meyer turned 40 last year. To commemorate the occasion, she got her first mammogram, a routine breast exam all women should start getting when they turn 40. As a journalist, Ali thought it would be helpful to livestream her first mammogram. It would raise awareness about the procedure and remind other women to schedule their own appointments.
She never expected that her first mammogram would be irregular and that she would be diagnosed with breast cancer that day, while streaming on Facebook Live. But that's what happened.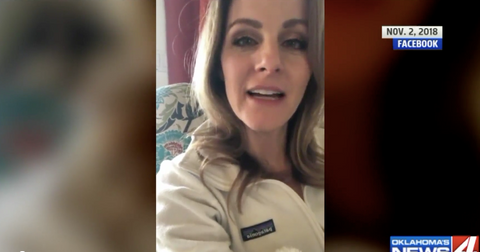 Ali Meyer is a journalist with Oklahoma News 4, and she recently did a segment in which she recalled her harrowing cancer diagnosis on Facebook Live. "I turned 40 years old last year, and I felt great," she said. About six months after her 40th birthday, she scheduled her first mammogram.
"I agreed to have the screening test on Facebook Live because I thought it might remind some women to schedule theirs," she said. She had been working with Claire Turmelle, the marketing coordinator at the Stephenson Cancer Center, on another story about breast cancer awareness, and Claire thought live-streaming the mammogram was a great idea.
"I thought this would be easy," Turmelle tells KFOR. "No big deal. Thirty minutes tops. I made the appointment at one of our Breast Health Network locations, and I thought we'd be in and out." Both Ali and Claire were convinced it would be a routine procedure, but that didn't turn out to be the case.
In a portion of the livestream shared in Ali's news segment, she hesitantly says, "Hey everyone. All right. So I was hoping for a routine little mammogram, and that's not how this went." Dr. Richard Falk found cancerous calcifications in her right breast. Ali explains that she had no reason for concern before she went in for the test. "No lumps; no family history; no reason at all to think that my baseline baseline mammogram would turn my world upside down," she said.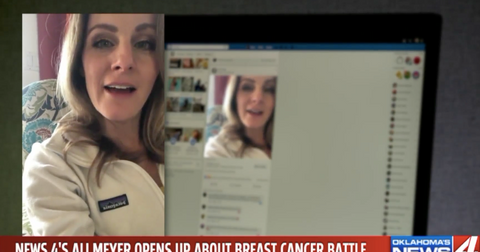 "I will never forget that day. I will never forget telling my husband and my girls after they got off the bus that afternoon," she said. Ali then made the conscious decision to share the details of her diagnosis on Facebook. She got genetic testing that confirmed that she did not have the genetic mutations for breast cancer.
Ali's official diagnosis was non-invasive ductal breast cancer. Luckily, it is one of the most survivable forms of breast cancer. However, she was told her entire right breast had to be removed to get rid of all the cancer. "I was devastated about that recommendation," Ali said. "Two months after that first mammogram, I walked into Lakeside Women's Hospital for right side, skin sparing, nipple sparing mastectomy."
Ali reiterates, "My surgical options, my recovery, and my outcome were all better because my mammogram found the cancer before I even knew it was there." That is the importance of getting your routine mammogram.
"I will never stop having mammograms," Ali said. "I will never stop telling women to take care of their bodies and schedule their mammogram." As tough as it must have been for Ali to share her diagnosis with her Facebook audience, it set such a clear example of how important it is for women to get mammograms starting when they turn 40, whether or not they believe there is a risk of breast cancer.
Claire Turmelle told Ali, "I think you showed people a really strong and powerful path for dealing with breast cancer. Being informed, getting opinions, knowing your options, and then also showing women not every journey is the same."
It's been a year since Ali was diagnosed with breast cancer on Facebook Live, and she is once again using her very personal story to spread awareness and share the reality of what it means to be a person with breasts. "This year," she said, "I had my second, annual 3D screening mammogram. I am thrilled and relieved to tell you my mammogram was clear, showing no signs of breast cancer."
More From Megaphone
.

News

Hungarian Prime Minister Viktor Orbán announced that 10 trees will be planted for every baby born.

.

News

Baby boomers tend to be more environmentally friendly than Millennials and those in Generation Z, according to a new survey.