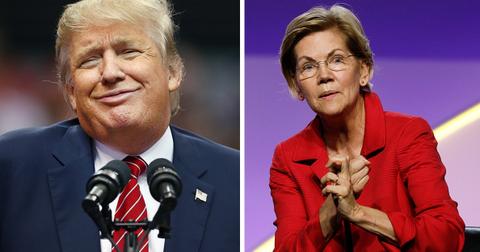 Elizabeth Warren introduces bill to redirect funding from Trump's border wall to combat coronavirus
By Mark Pygas
Coronavirus is now spreading globally. In Italy, 528 people are infected, and 14 have died, with the Italian prime minister quarantining a dozen towns and over 50,000 people in an attempt to slow the spread of the disease. A hotel in the Canary Islands has also been put into lockdown after an Italian doctor was diagnosed with the disease.
President Donald Trump's response to dealing with the coronavirus in the United States has attracted criticism from many. His decision to appoint Vice President Mike Pence to oversee the crisis has been condemned, with many pointing out Pence's poor history when it comes to dealing with health issues.
Critics have also pointed out that the Trump administration fired the U.S. pandemic response team in 2018 to cut costs. The Centers for Disease Control and Prevention has also seen its budget slashed in recent years.
Earlier this week, President Trump asked Congress for $2.5 billion to address the coronavirus outbreak. Senate Minority Leader Charles Schumer has requested $8.5 billion.
And if Senator Elizabeth Warren has her way, that money could come from Trump's border wall.
On Thursday, Warren introduced a bill that would redirect money from the wall to combating coronavirus.
"Rather than use taxpayer dollars to pay for a monument to hate and division, my bill will help ensure that the federal government has the resources it needs to adequately respond to this emergency," Warren said in a statement.
President Trump responded to his critics on Friday morning, writing on Twitter: "So, the Coronavirus, which started in China and spread to various countries throughout the world, but very slowly in the U.S. because President Trump closed our border, and ended flights, VERY EARLY, is now being blamed, by the Do Nothing Democrats, to be the fault of 'Trump'."
Donald Trump Jr. responded to Warren's plan directly, writing: "I understand that lying about circumstances is your thing, but it's probably not a great time to be attacking border security. Your open borders policies would spread the pandemic faster than MSNBCNN seems to want it to spread for their political gain."
After promising that Mexico would pay for the wall along the United State's southern border throughout his presidential campaign, President Donald Trump ended up declaring a national emergency to redirect $3.6 billion from military construction projects.
A further $601 million has been redirected from the Treasury Department's forfeiture fund, while the Pentagon provided a further $2.5 billion from other priorities.
And earlier this month, the White House took a further $3.8 billion from the Pentagon. The declaration came after President Trump was unable to secure $13.3 billion from Congress.