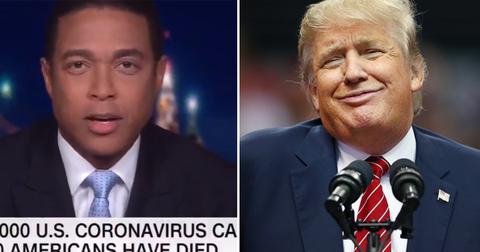 Don Lemon calls out Trump's 'obsession' with Obama during scathing on-air commentary
By Mark Pygas

Updated
CNN host Don Lemon dedicated a minute of his show on Sunday asking President Donald Trump why he can't seem to get former President Barack Obama out of his head.
Over the weekend, President Trump retweeted an unproven claim from a podcaster that former President Barack Obama was involved in the counterintelligence investigation into the Trump campaign's supposed Russia ties.
CNN White House Correspondent took to Twitter to criticize the claim, writing: "No, there is no evidence pointing to President Obama running the counterintelligence investigation into links between the Trump campaign and Russia. But the President just retweeted that baseless claim about his predecessor."
No, there is no evidence pointing to President Obama running the counterintelligence investigation into links between the Trump campaign and Russia.
But the President just retweeted that baseless claim about his predecessor. pic.twitter.com/O6Ojf53Dc9

— Jeremy Diamond (@JDiamond1) May 3, 2020
The retweet comes as Republicans are looking into "troubling details about the politicization and misconduct at the highest levels of the FBI during the Obama-Biden administration," according to Fox News.
Unsealed documents seem to suggest that Peter Strzok, former head of FBI counterintelligence, ordered the investigation of former national security adviser Michael Flynn to remain open even as it was slated to be closed because the FBI lacked "derogatory" information.
There remains no proof that Obama was involved in the investigation, as the tweet that Trump retweeted suggests.
CNN host Don Lemon addressed the retweet and suggested that President Trump is obsessed with Barack Obama during his show on Sunday.
"What is it about President Obama that really gets under your skin?" Lemon asks. "Is it because he's smarter than you? Better-educated? Made it on his own? Didn't need daddy's help? Wife is more accomplished? Better looking? I don't know, what is it? What is it about him? That he's a Black man that's accomplished being president? That he punked you on the whole birth certificate thing? What is it about him? Just wondering."
Lemon said that the retweet was "a new low from a president who goes low all the time" and accused Trump of a "shameless attempt" to distract the public from his coronavirus response.
Lemon's attack of Trump comes after President Trump called the anchor "the dumbest man on television."
I must admit that Lyin' Brian Williams is, while dumber than hell, quite a bit smarter than Fake News @CNN "anchorman" Don Lemon, the "dumbest man on television". Then you have Psycho Joe "What Ever Happened To Your Girlfriend?" Scarborough, another of the low I.Q. individuals!

— Donald J. Trump (@realDonaldTrump) April 30, 2020
Trump has repeatedly blamed Obama for a slow coronavirus response that has led to over 1.2 million confirmed cases and 69,000 deaths in the United States.
Back in March, Trump blamed Obama for a delay in getting coronavirus testing online. In a press conference, Trump said: "The Obama administration made a decision on testing that turned out to be very detrimental to what we're doing, and we undid that decision a few days ago so that testing can take place in a much more accurate & rapid fashion."
Vice President Pence later clarified the remarks, stating: "The last administration asserted Food and Drug Administration (FDA) jurisdiction over-testing and the development of tests like this. The president changed that on Saturday."
According to the Washington Post, that statement was false. Glenn Kessler explains that "there was no Obama rule, simply 'guidance' that was never acted on."
When asked what rule Trump and Pence could be referring to, Peter Kyriacopolous, chief policy officer at the Association of Public Health Laboratories, told CNN: "We aren't sure what rule is being referenced."
He added: "There was an intense interest from FDA to pursue regulation of lab-developed tests during the Obama administration, but it never occurred. FDA did a lot of work on this, but there never was a final rule that came out of all that work."
Instead, many have attributed the delay in test kits to mistakes made by the CDC. Neel Patel of MIT Technology Review explains: "On February 5 the CDC began to send out coronavirus test kits, but many of the kits were soon found to have faulty negative controls (what shows up when coronavirus is absent), caused by contaminated reagents."
As a result, the kits couldn't be used, and the CDC was slow to get testing online. This shortage meant that in the early stages of the outbreak, tests were reserved for people who had been outside the country recently and those who had come into contact with a confirmed case of coronavirus.
The best way to prevent contracting or spreading coronavirus is with thorough hand washing and social distancing. If you feel you may be experiencing symptoms of coronavirus, which include persistent cough (usually dry), fever, shortness of breath, and fatigue, please call your doctor before going to get tested. For comprehensive resources and updates, visit the CDC website. If you are experiencing anxiety about the virus, seek out mental health support from your provider or visit NAMI.org.