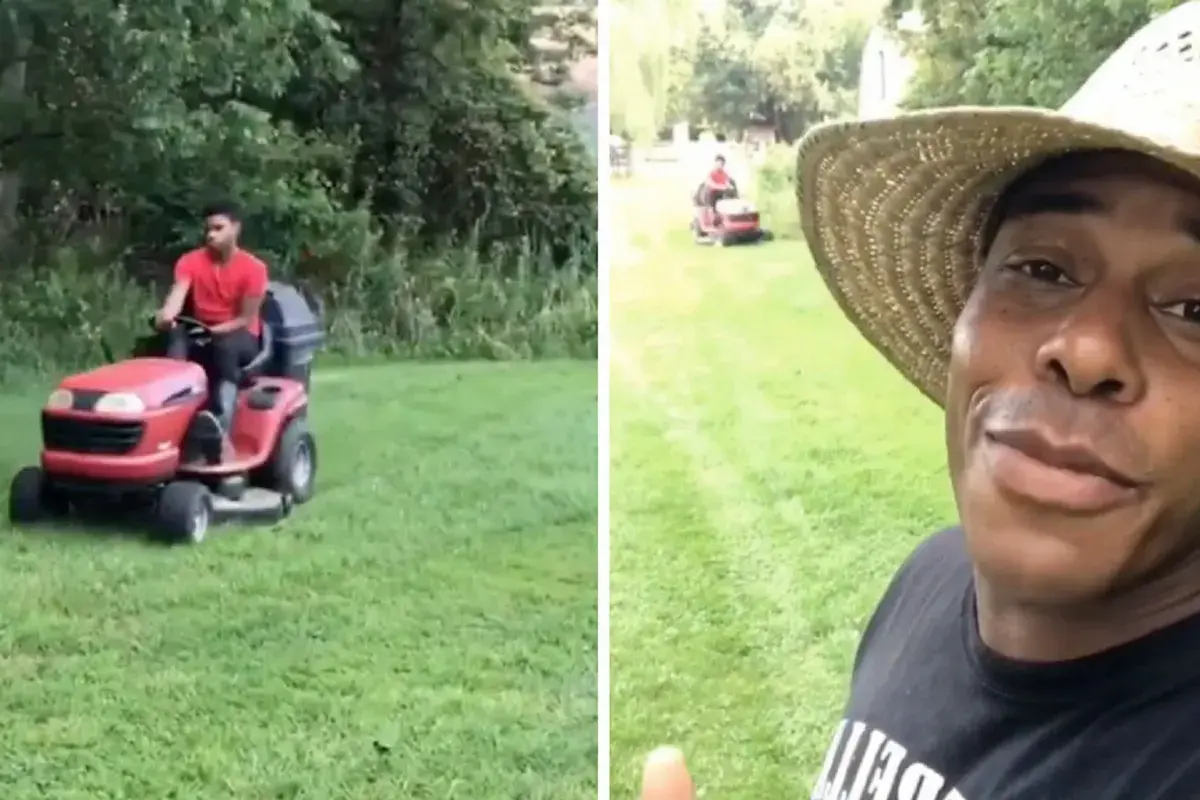 Dad gives a beautiful explanation of why it's ok that his son mows the lawn 'wrong'
By Tim Mercer

Aug. 20 2020, Updated 10:39 a.m. ET
"Think about the honor of the opportunity," B.A. Sheppard says in his viral video, which is the perfect way to think about things during this pandemic. His son is mowing the lawn and he seized the moment to remind us all of the importance of individuality and doing things not necessarily the "right way," but the way that feels right for you.
Article continues below advertisement
"This young man coming toward me in this lawn mower, that's my son," Sheppard says, smiling into the camera. "He's cutting the grass and zig zagging all over the place. And you know what? Its perfectly fine."
"While I might have cut in a certain pattern, he's doing his thing in the way that he wants to do it. And it's totally okay. He is getting the grass cut. It may not be dad's way, but he's getting it done. And therein is the honor of the opportunity."
Article continues below advertisement
Sheppard continues by saying that being able to give his son space where he can figure out how he wants to get things done is a great privilege. "As a young man, I don't need him doing things exactly the way I did it," he says.
Article continues below advertisement
"Right now, it seems like he's just cutting grass. But in my mind, because I know my son wants to be an engineer, I see his mind at work and I know that what he is producing now… it's going to help him in the future."
I walk to the beat of a different drummer, so Sheppard's words are very personal to me. When I was fifteen, I started playing guitar and writing music. I knew I wanted to be a musician and there was no way anyone was going to talk me out of it. Learning that your son wants to make music for a living isn't exactly what every parent wants to hear. But my parents always supported me. Always.
Article continues below advertisement
The path I chose was not an easy one, but I knew it. I cannot imagine what it would have been like if my parents shamed me into working in an office or becoming a lawyer or doctor because that is what they wanted for me. I would have constantly been looking out the metaphorical window wondering what could have been. That is no way to live life.
My mother Ellie, 79, and my father Peter, who will be turning 81 years old this month, had the wisdom, patience and the compassion to stand behind me every step of the way. It's the same way that this father sees his son. Sheppard concludes by giving us all a beautiful task.
He challenges us to look for the honor in the opportunity of relationships that you have. I'm grateful to my parents for always supporting me and allowing me to march to that beat the way I wanted to. It allowed me to be the man I am today. For all the children out there, this video is an inspiration and reminder to find your path and not to live in the shadows of what others think you should do or be. Always, be yourself.