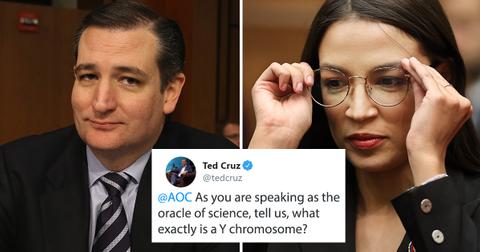 AOC roasted Ted Cruz after he asked her what a Y chromosome is
By Mark Pygas

Updated
Coronavirus is now spreading globally. In Italy, 528 people are infected, and 14 have died, with the Italian prime minister quarantining a dozen towns and over 50,000 people in an attempt to slow the spread of the disease. A hotel in the Canary Islands has also been put into lockdown after an Italian doctor was diagnosed with the disease.
President Donald Trump's response to dealing with the coronavirus in the United States has attracted criticism from many. His decision to appoint Vice President Mike Pence to oversee the crisis has been condemned, with many pointing out Pence's poor history when it comes to dealing with health issues.
Representative Alexandria Ocasio-Cortez was among those who criticized the move, writing on Twitter: "Mike Pence literally does not believe in science. It is utterly irresponsible to put him in charge of US coronavirus response as the world sits on the cusp of a pandemic. This decision could cost people their lives. Pence's past decisions already have."
That prompted a response from Senator Ted Cruz, who asked Ocasio-Cortez: "As you are speaking as the oracle of science, tell us, what exactly is a Y chromosome?"
Cruz went on to ask Ocasio-Cortez a series of other questions.
The problem? Ocasio-Cortez knows what she's talking about and she has the receipts. She responded by writing:
"Sen. Cruz, while I understand you judge people's intelligence by the lowest income they've had, I hold awards from MIT Lincoln Lab &others for accomplishments in microbiology. Secondly, I'm surprised you're asking about chromosomes given that you don't even believe in evolution."
She went on to sign the tweet: "Sincerely, an Intel global finalist; a fmr multi-year intern for Sen. Kennedy; a cum laude dual major in Economics & International Relations; a fmr Educational Director for national organization; Who to you is "just a bartender. And also your colleague."
Unsurprisingly, the exchange led to some mixed reactions on Twitter.
"Lmao he thinks he's smart because he knows what a Y chromosome is," one user asked. "That's like 4th grade biology."
"C**p, I thought this was the AOC parody page," another added. "She's actually serious and thinks she's 'smart.' That's just beautiful."
Others reacted with GIFs.