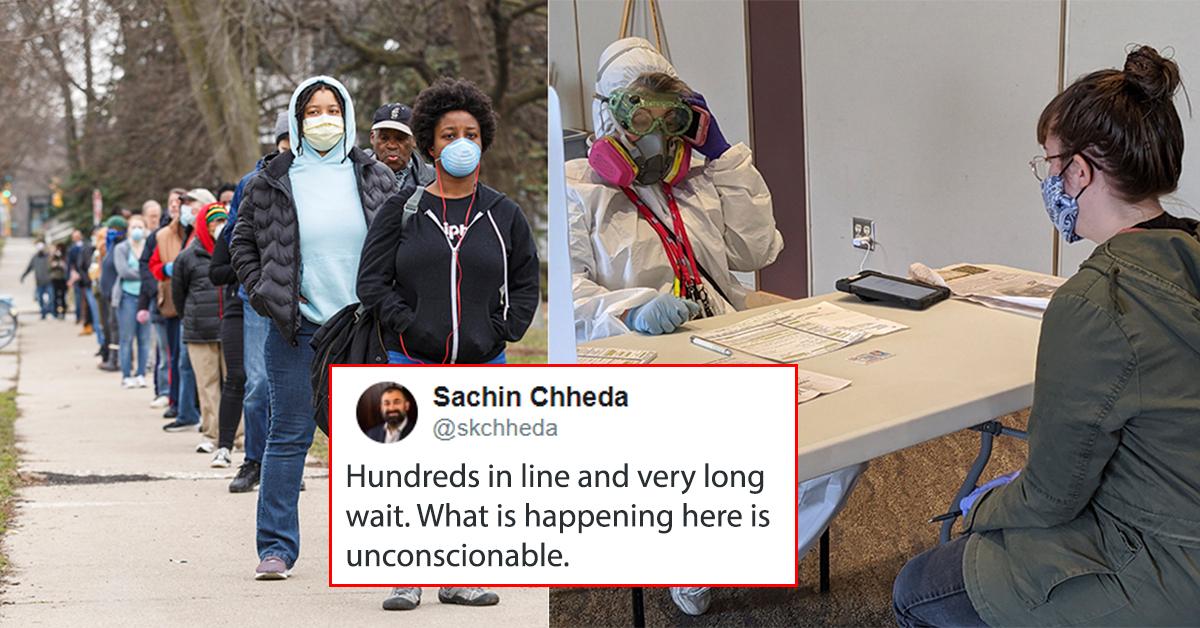 Wisconsin's election was an absolute disaster and downright dangerous
By Mark Pygas

Apr. 8 2020, Updated 8:34 a.m. ET
Given the coronavirus pandemic, most states have been delaying the Democratic and Republican primaries, along with some local elections, until later in the summer or moving entirely to postal ballots.
Article continues below advertisement
Wisconsin, however, defied its own lockdown to vote on the primaries, local offices, and a seat on the state's Supreme Court. Democratic governor Tony Evers had attempted to delay the votes but was blocked by state Republicans. The matter eventually made it to the state's Supreme Court, who sided against Evers.
"No Wisconsinite should ever have to choose between exercising their constitutional right to vote and being safe, secure, and healthy," Gov. Evers said.
Wisconsin Republican county chairman Jim Miller told the New York Times: "If you can go out and get fast food, you can go vote curbside. It's the same process."
Article continues below advertisement
But because of the virus, polling stations were hugely reduced in numbers. In Milwaukee, the state's most populous city, the number of polling places was decreased from 180 to just five. And that showed in incredibly long queues that could be downright dangerous in the current situation.
Social media users took to Twitter and Facebook to share photos from their polling stations, which were so cramped that many were unable to follow CDC advice to stay six feet apart from others.
"So glad to see that 6 ft of social distancing is taking place," one user wrote. "Wisconsin Primary is a HOT MESS."
Article continues below advertisement
Journalist Matt Smith shared a video from the only polling place in the entire city of Waukesha, which has a population of 72,000.
Article continues below advertisement
"Wisconsin voters are risking their lives to vote," another user wrote.
Article continues below advertisement
While another added: "Six blocks from the poll's entrance, 360 voters wait in an unmoving line at Riverside High School in Milwaukee."
Article continues below advertisement
Poll workers wore protective gear in an attempt to limit the spread of coronavirus.
Article continues below advertisement
"We've made it only of the parking structure, but at this rate, we'll all have fevers from standing in the cold before we count a single ballot," another vote added.
Article continues below advertisement
Omar Jimenez, a correspondent for CNN, shared this video of one incredibly long line.
Article continues below advertisement
Another user added: "My friend Erin Stilp took this video, her sister-in-law is in line. This is at Riveraide HS in Mke. This is my normal polling place, but I voted absentee. Hundreds in line and very long wait. What is happening here is unconscionable."
Article continues below advertisement
Before the election, Wisconsin had recorded more than 2,500 coronavirus cases and 92 deaths. There's no telling whether scenes like those above will increase those numbers.
The best way to prevent contracting or spreading coronavirus is with thorough hand washing and social distancing. If you feel you may be experiencing symptoms of coronavirus, which include persistent cough (usually dry), fever, shortness of breath, and fatigue, please call your doctor before going to get tested. For comprehensive resources and updates, visit the CDC website. If you are experiencing anxiety about the virus, seek out mental health support from your provider or visit NAMI.org.