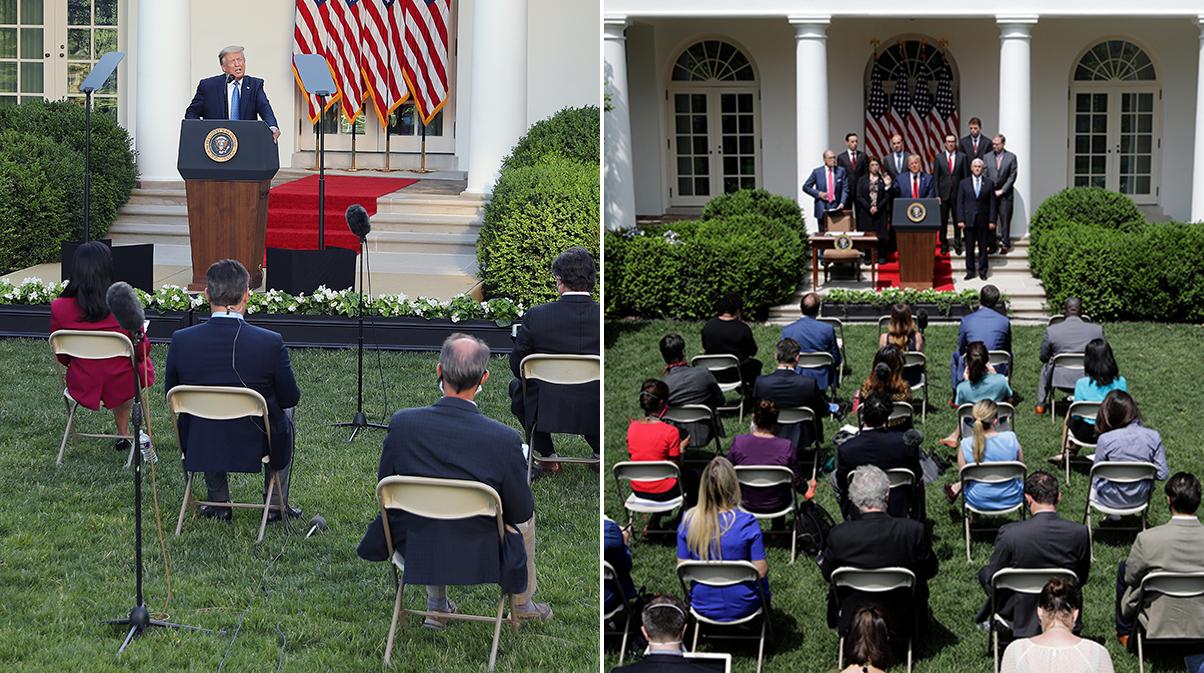 White House forces reporters to ditch social distancing because 'it looks better'
By Mark Pygas

Jun. 8 2020, Updated 12:42 p.m. ET
The White House ditched social distancing for reporters attending a Friday briefing in the Rose Garden because "it looked better," according to a report by the Associated Press.
Article continues below advertisement
If you've watched recent press briefings, you will probably have noticed that reporters have been spaced six feet apart from each other to adhere to the CDC's social distancing guidelines. Earlier this year, when the weather was colder, that meant that fewer reporters were allowed into press briefings. Briefings have now moved into the Rose Garden, which offers a lot more space.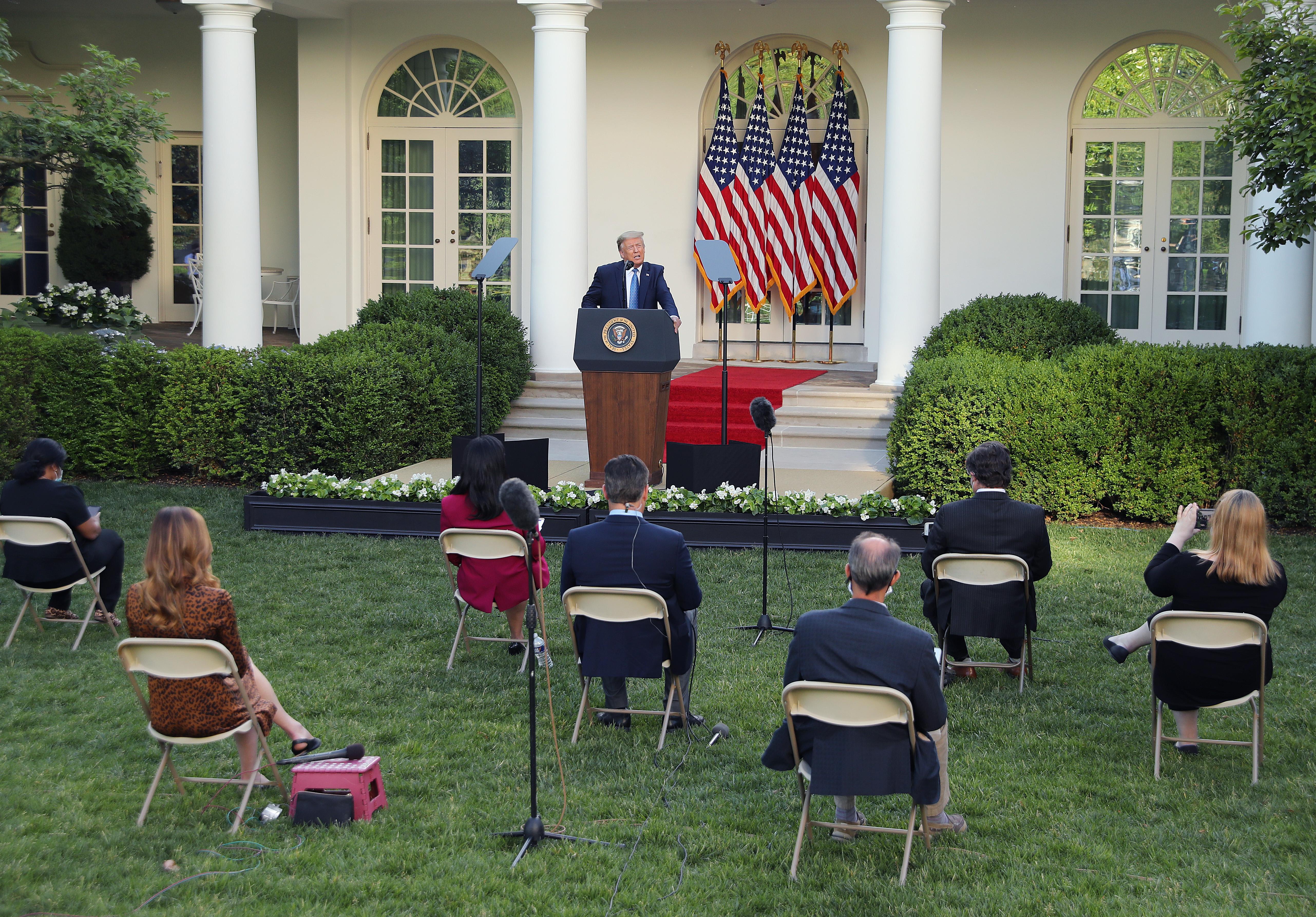 Article continues below advertisement
But shortly before a briefing on Friday, aides to President Donald Trump moved the spaced chairs together so that reporters were sitting closer together.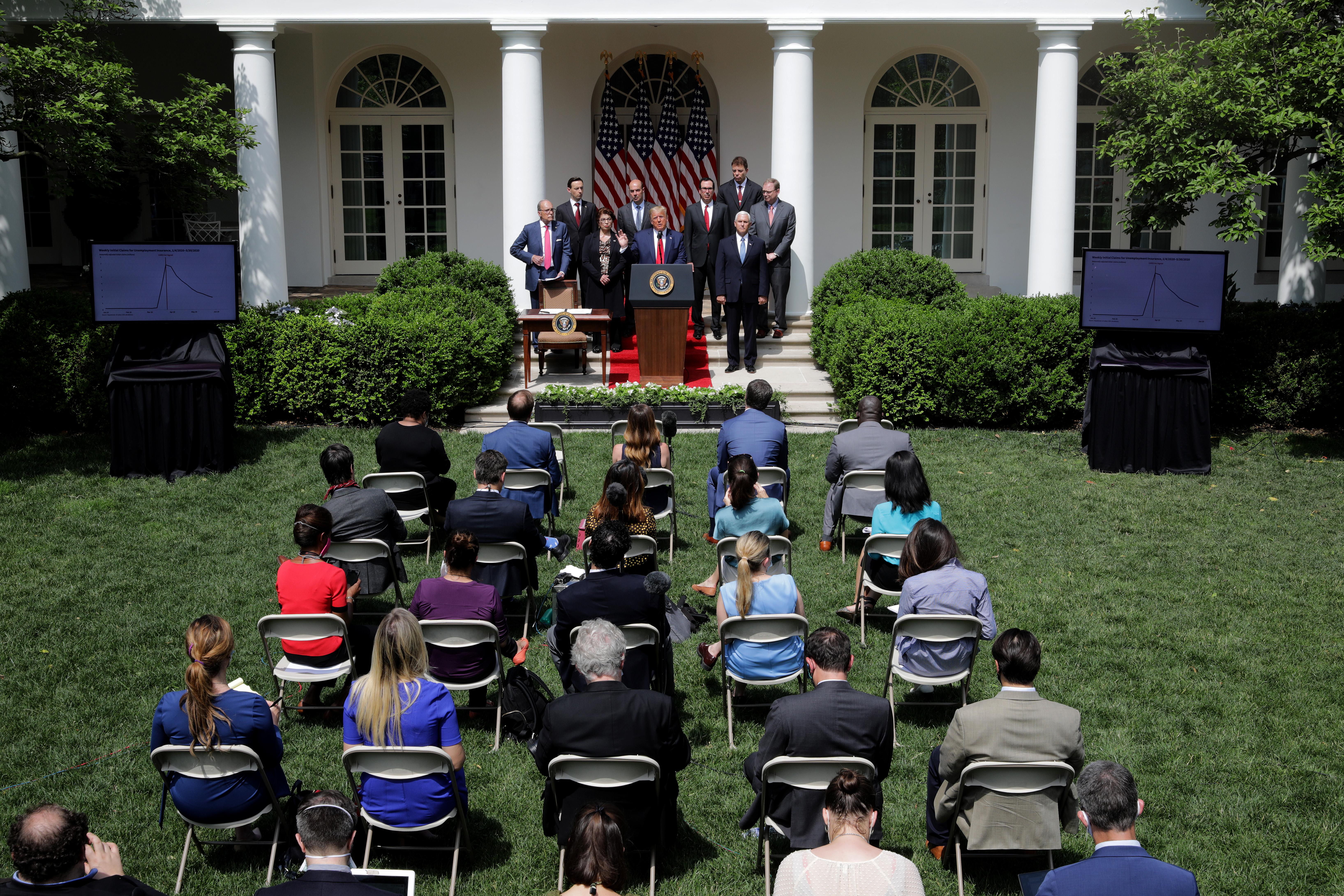 Article continues below advertisement
Unsurprisingly, this led to a great deal of criticism because coronavirus cases continue to rise in some states, even as the nation begins to reopen.
The decision "needlessly put reporters' health at risk," Jonathan Karl of ABC News, president of the White House Correspondents' Association, said.
"The chairs were initially positioned in a way that was consistent with social distancing guidelines but were moved closer together by White House staff shortly before the event started."
"When we asked for an explanation, the White House press office told us the decision to move the chairs close together was made because 'it looks better.'"
Article continues below advertisement
"The health of the press corps should not be put in jeopardy because the White House wants reporters to be a prop for a 'news conference' where the president refused to answer any questions," Karl said.
White House spokesman Judd Deere told the Associated Press that he decided to move the seats closer together.
"It looks better," Deere said. "I would remind you that those in the (press) pool are tested, everyone is temperature-checked and asked if they have had symptoms."
President Donald Trump noticed the change during the conference and remarked: "I noticed you're starting to get much closer together. Looks much better, I must say."
Article continues below advertisement
Reporters were quick to point out the move on social media, with Jim Acosta of CNN stating: "The news conference was initially set up for social distancing. Then the WH rearranged the chairs."
"During the President's speech, he suggested that it was our choice to sit closer together," Weijia Jiang of CBS added. "We sit in the seats the White House sets up for us."
"I was in the Rose Garden today and our seats were really close together. We were wondering why they were so close... [Trump] was using us as props... Literally violating social distancing policies, because they are thinking about the optics," Yamiche Alcindor of PBS told MSNBC.
Article continues below advertisement
Later in the day, President Donald Trump disregarded social distancing guidelines when he called an employee at Puritan Medical over to take a photograph with him.
"I'm not supposed to do this," Trump remarked.
Article continues below advertisement
The best way to prevent contracting or spreading coronavirus is with thorough hand washing and social distancing. If you feel you may be experiencing symptoms of coronavirus, which include persistent cough (usually dry), fever, shortness of breath, and fatigue, please call your doctor before going to get tested. For comprehensive resources and updates, visit the CDC website. If you are experiencing anxiety about the virus, seek out mental health support from your provider or visit NAMI.org.