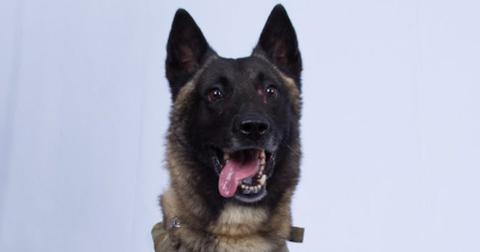 President Trump declassified a photo of the US military dog who took down Baghdadi
By Mark Pygas
All dogs are good boys, but some are good-er boys than others. On Saturday, a U.S. Special Operations team conducted a raid against ISIS leader Abu Bakr al-Baghdadi. The raid was successful, with an announcement by President Donald Trump early on Sunday morning.
During the announcement, President Trump stated that the only injury on the U.S. side was to a U.S. military dog. "Our K-9, as they call — I call it a dog, a beautiful dog, a talented dog — was injured and brought back," President Trump told reporters.
Since then, pretty much everyone has wanted to see the dog. But all efforts by reporters were rebuked because the dog's name was classified. That is until now.
On Monday, President Trump wrote in a tweet: "We have declassified a picture of the wonderful dog (name not declassified) that did such a GREAT JOB in capturing and killing the Leader of ISIS, Abu Bakr al-Baghdadi!"
While military officials didn't give up any information on the dog's role, or how he was injured, President Trump said on Sunday that several dogs had chased Baghdadi down before he ignited an explosive vest.
Pentagon officials said on Monday that the dog returned to active duty on Monday, suggesting that the injuries were pretty minor.
US Army Gen. Mark Milley, chairman of the Joint Chiefs of Staff, told Business Insider that the dog is still in an active combat zone, and his identity won't be revealed. Newsweek reporter James LaPorta, however, reported that the dog's name is Conan, named after the comedian.
US officials also told ABC News that it was a Belgian Malinois, a common breed used by the United States military.
President Trump's reveal of the dog prompted many others on Twitter to "declassify" their dogs.
"I have declassified a picture of the wonderful dog (name not declassified) that did such a GREAT JOB in the park this morning," journalist Rory Cellan-Jones wrote.
Another user added: "I'm declassifying a picture of my dog (name not declassified kinda sorta) who is busy practicing doga when not barking over the wall at the neighbor's Frenchie to share neighborhood gossip about the crows, the wind, and that nasty Corgi around the corner."
"DECLASSIFYING this picture of my dog (name also DECLASSIFIED: George)," another commenter wrote. "He isn't a war hero, but he does a remarkably good job sleeping like a human sleeps."
More From Megaphone
.

News

Hungarian Prime Minister Viktor Orbán announced that 10 trees will be planted for every baby born.

.

News

Baby boomers tend to be more environmentally friendly than Millennials and those in Generation Z, according to a new survey.