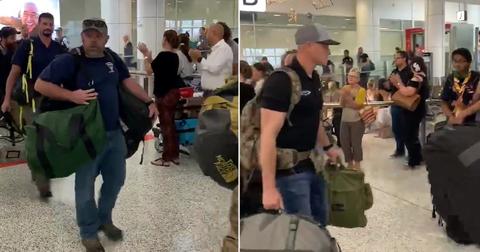 U.S. firefighters cheered as they arrive in Australia to combat wildfires
By Mark Pygas
American firefighters were met with applause from large crowds as they arrived in Sydney, Australia, to help combat massive wildfires that have burned more through than 12.35 million acres burned nationwide.
The National Interagency Fire Center, which is organizing the effort, said that "roughly 100 firefighters" had been sent in December and early January. A further 50 to 60 are flying out this week.
The effort is the first time since 2010 that the United States has sent firefighters to help battle wildfires in Australia, and highlights just how serious the situation is.
At least 1,000 homes have been lost, and thousands have been forced to flee from their homes as evacuation orders are put in place. And according to some estimates, upwards of one billion animals have perished in the fires.
Shane Fitzsimmons, the commissioner of New South Wales Rural Fire Service, shared a video of the greeting that one group of firefighters received after their long flight.
He wrote: "Coming through, all gathered gave a spontaneous & lengthy round of applause, reflecting the gratitude & admiration we all have for their generosity."
Other Twitter users who happened to be in the airport at the time shared their photographs of the moment, with one user writing: "I happened to return to Sydney this morning right as 21 American and Canadian firefighters arrived to help with fires. Officials thanked them. Australians in the airport clapped and cheered."
And the effort already seems to be paying off. Brian Stearns, a volunteer from Michigan, saved a young kangaroo joey from the flames earlier this week.
Most of the Australians battling the wildfires are unpaid volunteers, working incredibly long days. Earlier this week, Australian Prime Minister Morrison thanked the United States, New Zealand, Canada, and Singapore for their help on the ground.
The tiny Pacific island of Vanuatu pledged almost A$250,000 to help those who have been forced to flee from their homes, while Papua New Guinea has placed 1,000 soldiers and firefighters on standby should Australia request their help.