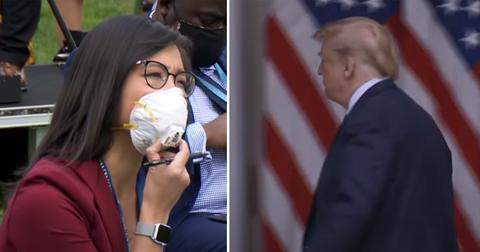 Trump walks out of coronavirus briefing after telling Asian American reporter to 'ask China' why Americans are dying
By Mark Pygas

Updated
President Donald Trump abruptly ended his coronavirus briefing on Monday, after he got into a spat with a Chinese-American reporter.
Weijia Jiang of CBS, who has previously clashed with the president, asked President Trump: "You've said many times that the US is doing far better than any other country when it comes to testing. Why does that matter? Why is this a global competition to you when every day Americans are losing their lives and we're still seeing more cases, every day?"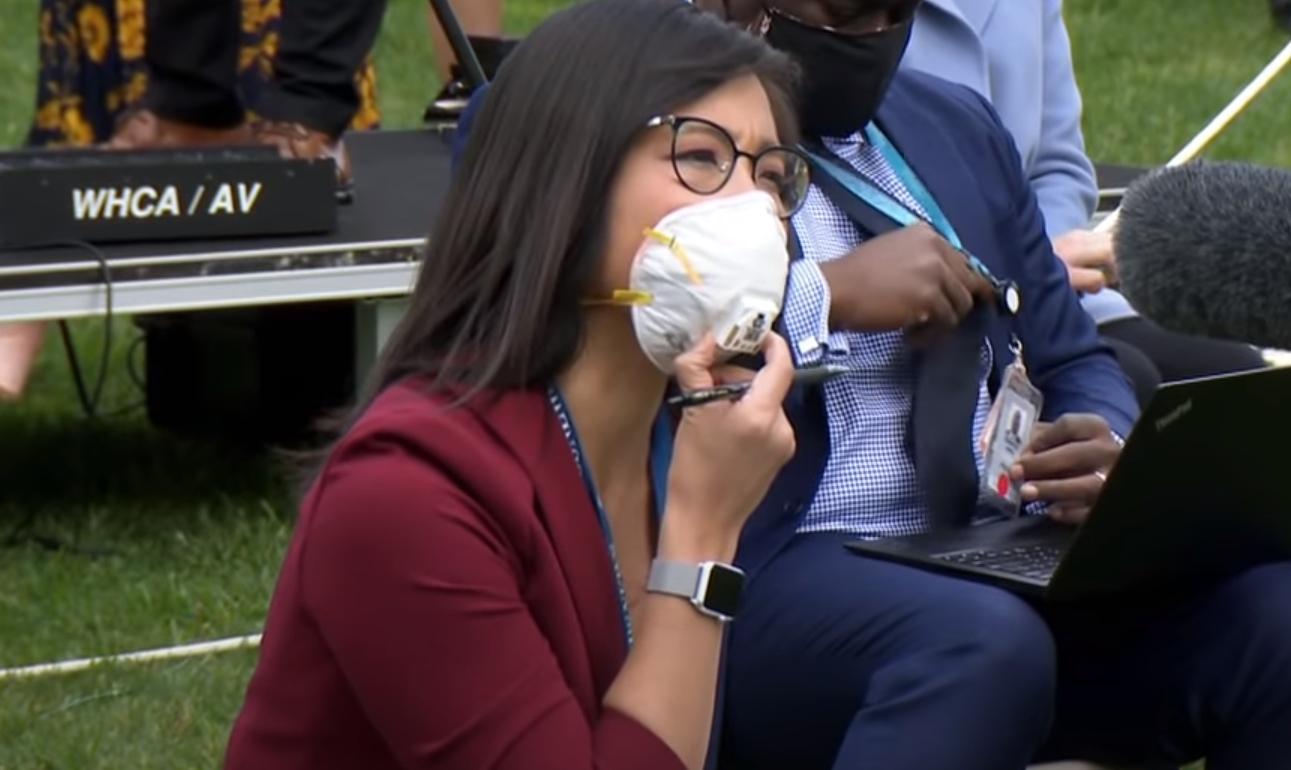 Trump responded: "They're losing their lives everywhere in the world and maybe that's a question you should ask China - don't ask me, ask China that question. When you ask them that question you may get a very unusual answer."
Jiang, who is Chinese-American, looked shocked by the answer. President Trump then pointed to CNN's Kaitlan Collins, who asked Jiang if she wanted a follow-up question.
Jiang asked: "Why are you saying that to me - specifically - that I should ask China?"
"I'm not saying it specifically to anybody, I'm saying it to anybody that asks a nasty question," Trump responded.
"That's not a nasty question," Jiang answered.
Trump then pointed to Yamiche Alcindor of PBS for questions, bypassing Collins. When Collins said that she still had questions, Trump said: "I did [call on you], and you didn't respond, and now I'm calling on the young lady in the back."
President Trump then called an end to the briefing, walking out of the Rose Garden.
Trump has repeatedly blamed China for the coronavirus pandemic, saying that they did not warn the world quickly enough and silenced whistleblowers like Dr. Li Wenliang, who tried to warn colleagues about the outbreak.
This isn't the first time that Jiang and Trump have traded blows. In April, Jiang criticized President Trump for holding rallies with thousands of people in February as coronavirus spread through the population like "wildfire." Jiang asked why the President had waited to March 16 to implement social distancing.
During the debate that followed, Trump told Jiang to "keep your voice down."
President Trump told her "nice and easy, just relax" then asked her "who are you with?" and demanded that Joang tell him the number of cases of coronavirus in the United States since he banned travel between China. When Jiang pressed him on whether he knew coronavirus was going to spread and become a pandemic, Trump responded: "Keep your voice down, please. Keep your voice down."
In a New York Post interview last week, President Trump said that Jiang and her colleague Paula Reid were not a "Donna Reed."
The president added: "Paula Reid, she's sitting there and I say, 'How angry. I mean, what's the purpose?' They're not even tough questions, but you see the attitude of these people, it's like incredible."
"President Trump tells New York Post I am nothing like 50's American archetypal mom Donna Reed," Reid responded on Twitter. "Fact-check: True."
Unsurprisingly, the latest spat led to quite a bit of criticism of President Trump.
"Chinese Americans, like many Americans of every other race, are far more angry at Trump for botching the response to the coronavirus pandemic," one user wrote. "Scapegoating Asian Americans and dismissing a Chinese American reporter by telling her to go 'ask China' is a shameful attack on us all."
While others accused Jiang of "race baiting."
Trump says "Don't Ask Me, Ask China" and then this Asian race baiting reporter says "Why are you saying that to me.."

These people are insufferable race baiting morons, who have nothing but the race card.. It's disgusting, & shameful for the press in America to be this corrupt!

— Matt Couch 🎙 (@RealMattCouch) May 11, 2020
The best way to prevent contracting or spreading coronavirus is with thorough hand washing and social distancing. If you feel you may be experiencing symptoms of coronavirus, which include persistent cough (usually dry), fever, shortness of breath, and fatigue, please call your doctor before going to get tested. For comprehensive resources and updates, visit the CDC website. If you are experiencing anxiety about the virus, seek out mental health support from your provider or visit NAMI.org.