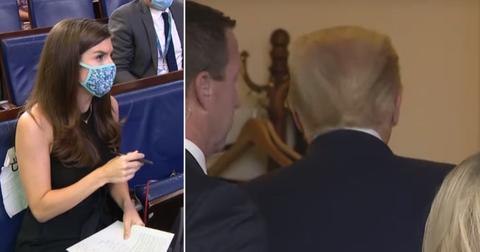 Trump walked out of a press briefing after being asked why he shared Stella Immanuel video
By Mark Pygas

Updated
President Donald Trump has attracted plenty of criticism after retweeting a video from "America's Frontline Doctors." The group, many of whom are not doctors, were featured in a video by the right-wing Breitbart claiming that hydroxychloroquine is a "cure" to coronavirus and that masks do not help to reduce the spread of coronavirus.
Article continues below advertisement
Numerous studies from various countries have shown that hydroxychloroquine, a drug that President Trump admitted he was taking to prevent a coronavirus infection, could be dangerous to use in coronavirus patients. As a result, the FDA revoked its emergency use authorization for the drug.
"The FDA determined that chloroquine and hydroxychloroquine are unlikely to be effective in treating COVID-19," the agency wrote. They also noted that the drug had led to "ongoing serious cardiac adverse events and other potential serious side effects" in some patients.
Studies have also shown that masks can help to reduce the spread of coronavirus.
Article continues below advertisement
Among the dozen or so actual doctors in the group, two are ophthalmologists. None of them are epidemiologists, virologists, or infectious disease experts.
Pediatrician and Christian minister Dr.Stella Immanuel is also a member of the group, founded just a few weeks ago. Immanuel has attracted the most global attention after video from her "Firepower Ministries" church sermons went viral online. The videos showed that she believes women can be impregnated by fantasizing about movie stars, doctors are making medicine from alien DNA, and that there is a vaccine that stops you from becoming religious.
Despite the dangerous misinformation shared by the group, Donald Trump Jr. decided to share the video. President Trump subsequently retweeted the video.
After the video was taken down by Facebook, YouTube, and Twitter, Donald Trump Jr. was suspended from Twitter for 12 hours.
Article continues below advertisement
BREAKING: @Twitter & @jack have suspended @DonaldJTrumpJr for posting a viral video of medical doctors talking about Hydroxychloroquine.

Big Tech is the biggest threat to free expression in America today & they're continuing to engage in open election interference - full stop. pic.twitter.com/7dJbauq43O

— Andrew Surabian (@Surabees) July 28, 2020
CNN journalist Kaitlan Collins asked President Trump why he retweeted the video during the Tuesday coronavirus press briefing. The exchange ended when President Trump walked out of the press conference.
Article continues below advertisement
"I thought her voice was an important voice, but I know nothing about her," President Trump says of the video he retweeted where a woman claims masks don't work & there's a cure for Covid-19. Instead of explaining the contradiction given he's endorsed masks, Trump left the room. pic.twitter.com/k8jKdrI1oz

— Kaitlan Collins (@kaitlancollins) July 28, 2020
Collins asked: "Mr. President, the woman that you said is a great doctor in that video that you retweeted last night said masks don't work and there is a cure for COVID-19, both of which health experts say is not true. She's also made videos saying that doctors make medicine using DNA from aliens, and that they're trying to create a vaccine to make you immune from becoming religious. So what's the logic in retweeting that?"
Article continues below advertisement
President Trump responded: "Well, maybe it's a saying, maybe it's not. But I can — I can tell you this: She was on air, along with many other doctors. They were big fans of hydroxychloroquine, and I thought she was very impressive in the sense that, from where she came —"
Collins added: "It's misinformation."
The president continued: "— I don't know which country she comes from, but she said that she's had tremendous success with hundreds of different patients. And I thought her voice was an important voice, but I know nothing about her."
Article continues below advertisement
Collins responded: "But she said masks don't work. And last week, you said masks —"
Trump then attempted to ask another journalist for their question, but Collins once again asked: "Well, real quick. Last week, you said masks —"
That prompted President Trump to leave the room as he added: "Okay. Thank you very much, everybody. Thank you."