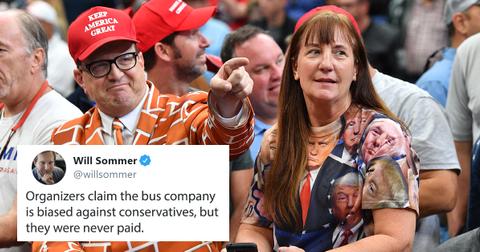 Trump supporters accuse bus company of 'deep state' plot to strand them, turns out they didn't pay
By Mark Pygas
On Thursday, a couple of hundred supporters of President Donald Trump protested outside of Congress as part of the "March for Trump." The march opposed impeachment investigations by House Democrats, which began after two whistleblowers filed complaints against President Donald Trump after a phone call during which President Trump pushed Ukranian President Volodymyr Zelensky to investigate Joe Biden.
But according to organizers, there should have been more supporters at the rally. Some supporters are accusing a bus company of a "deep state" conspiracy after they failed to pick up some protesters.
The problem? Organizers simply never paid for the buses.
The Daily Beast reports that as some would-be attendees gathered at various spots throughout the East Coast waiting for buses to take them to Washington, those buses never showed up.
Several protesters at the event were quick to accuse US Coachways of a "deep state" conspiracy. Reporter Zachary Petrizzo, who was at the event, tweeted:
"A group of the demonstrators began yelling at me for not asking about their bus ordeal, (??) supposedly a bus company canceled on them last minute— so now according to demonstrators its proof the 'deep state exists.'"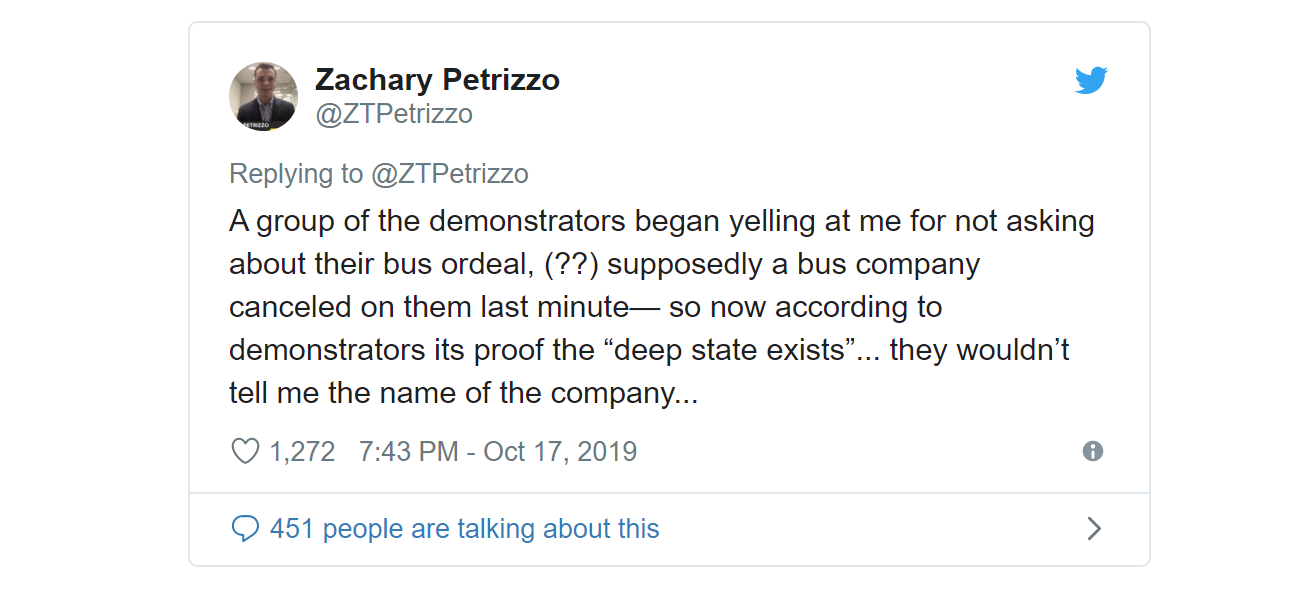 The official Women for Trump Twitter account also got in on the action, tweeting: "While some may be trying to sabotage our efforts, we will not be deterred."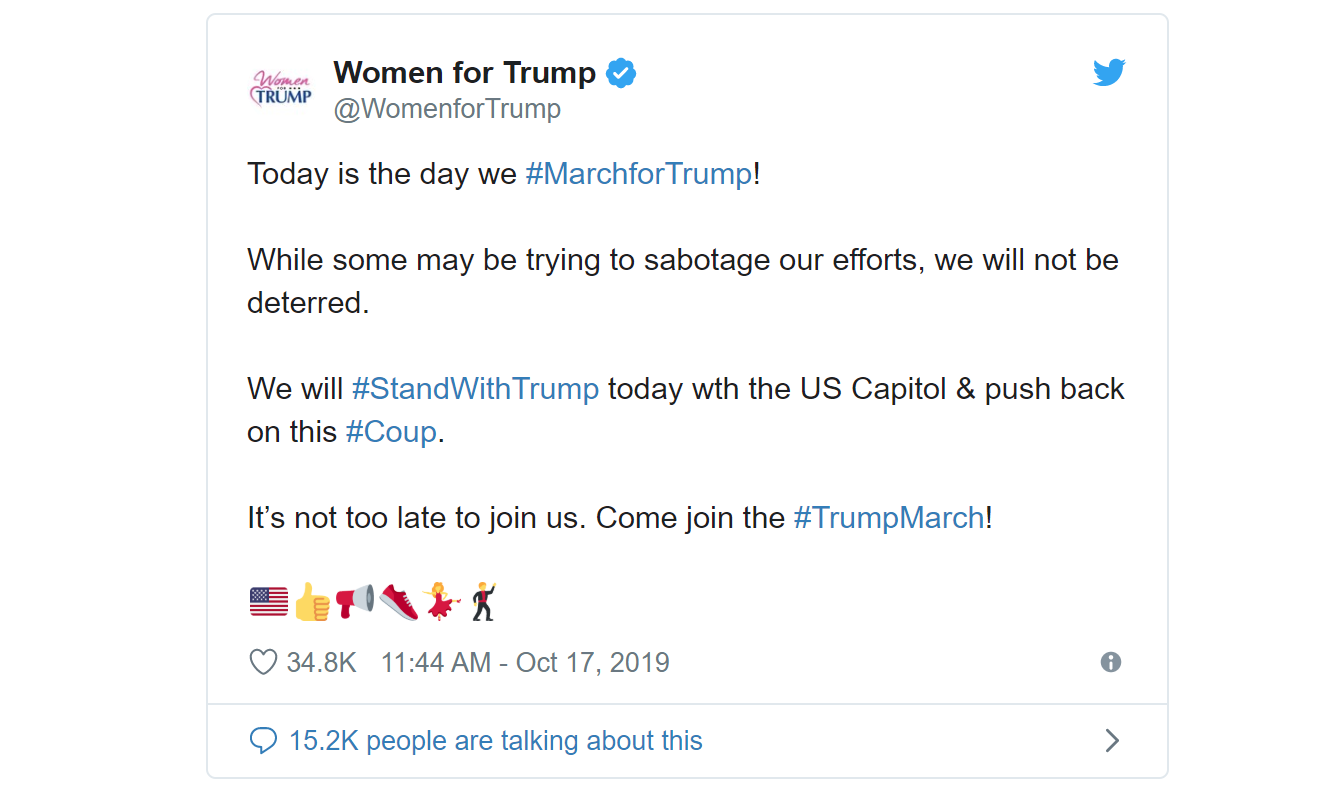 But according to Joseph Heap, US Coachways' chief marketing officer, the company wasn't paid off by the deep state. In fact, they weren't paid by anyone. Heap told The Daily Beast that the buses were cancelled due to a series of declined credit card payments.
"We want to get people down there," Heap said. "But unfortunately, payment is required"
Daily Beast reporter Will Sommer explained that the company had let the protestors order the buses on 8 hours notice, but were not paid the over $10,000 they were owed.
That didn't stop One America News personality Jack Posobiec, who spoke at the event, from blasting the company, saying:
"I hear there was a buses issue today. The company refused to work with folks."
Posobiec went on to compare the issue to social media companies "de-platforming" conservative viewpoints.
Women for America First, which organized the event, accused the company of stopping "hundreds of Americans from exercising their first amendment rights" in a press release.
"Last night, less than two hours before our first chartered buses were supposed to leave for DC, we were informed that the bus company was cancelling all of our buses—including ones that were fully paid for," they said.
"This move left hundreds of grassroots activists stranded and unable to attend the Anti-Impeachment rally today in front of the Capitol. We are incredibly disappointed at US Coachways, their actions prevented hundreds of Americans from exercising their first amendment rights and to have their voices heard."
Twitter users were quick to blast Women for America First on Twitter following the revelation, with one user writing:
"Yep, deep state conspiracy. Try to book a bus with a invalid credit card. Typical Trump fashion to find an imaginary boogie man to blame. Look around. Few people are with you in your cause. Fewer women are behind you. You're just, plain misguided and foolish."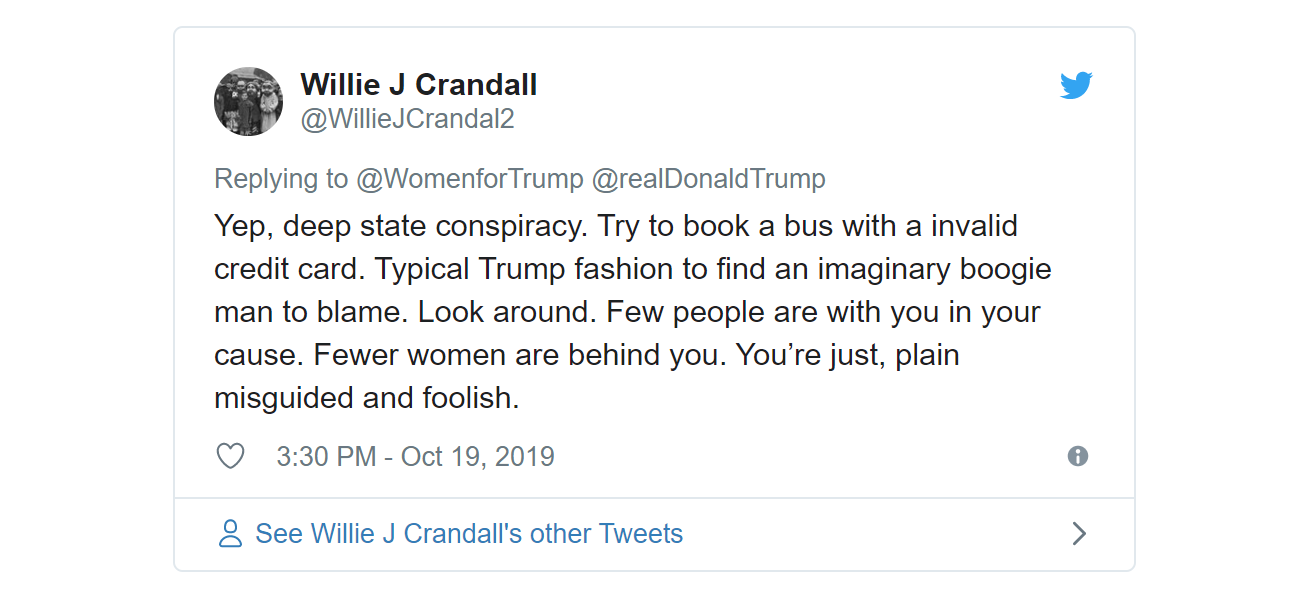 While another wrote: "Like those supporters were left at their meeting place because the bus company wasn't paid, and they blame the bus company as part of a deep state. GUESS WHAT, TRUMP DOESN'T PAY HIS BILLS."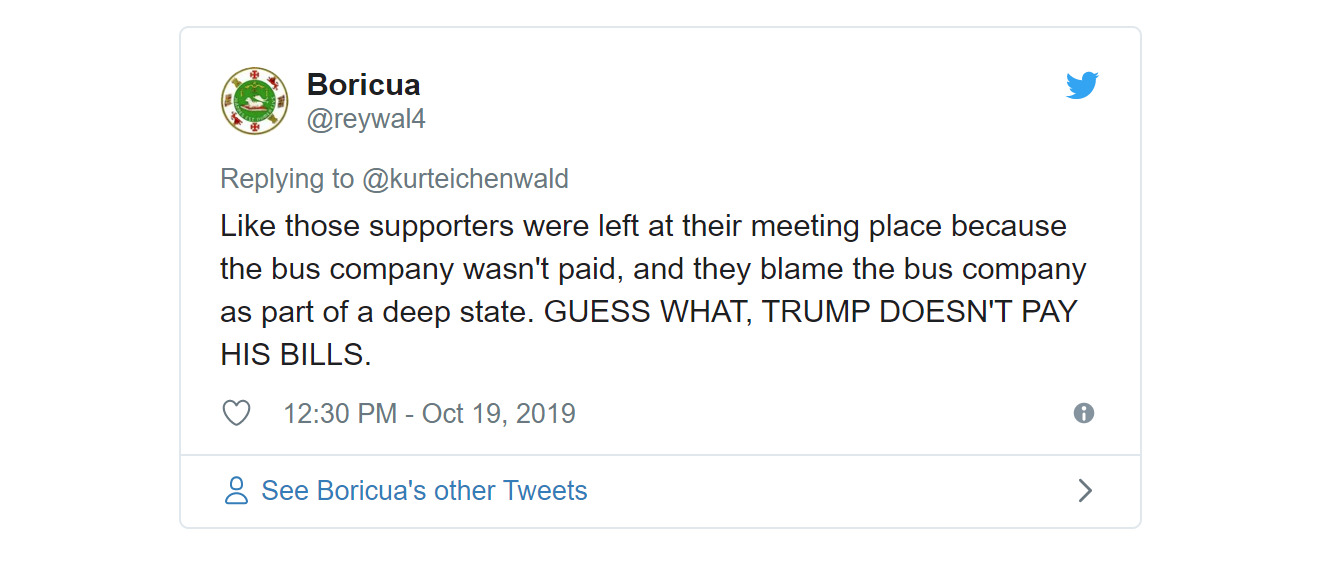 More From Megaphone
.

News

Hungarian Prime Minister Viktor Orbán announced that 10 trees will be planted for every baby born.

.

News

Baby boomers tend to be more environmentally friendly than Millennials and those in Generation Z, according to a new survey.