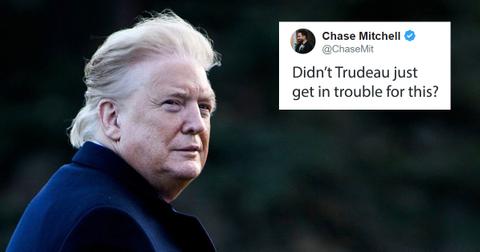 Trump claims viral photo of his tan line is 'fake news' after it becomes a meme
By Mark Pygas
You would think that even over the weekend, the leader of the free world would have better things to do than comment on a photo of him that had gone viral. On Saturday, photos appearing to show President Donald Trump's tan line became Twitter's latest meme.
The photos, taken by members of the White House press pool, show President Trump returning walking away from Marine One on the South Lawn of the White House as he returned from a trip. And as you can see, President Donald Trump's tan line is visible as the wind blows his hair.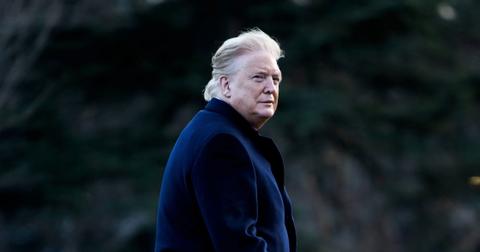 Photos of the moment quickly went viral on social media, spawning plenty of memes.
"Didn't Trudeau just get in trouble for this," one user joked, referring to a recent controversy surrounding Prime Minister Justin Trudeau.
And on Saturday, President Donald Trump took time out of his day to address the photos. "More Fake News," President Trump wrote. "This was photoshopped, obviously, but the wind was strong and the hair looks good? Anything to demean!"
President Trump specifically shared a photograph that originated from the @photowhitehouse Twitter account. The account is run by photographer William Moon, who claims to be a White House correspondent and journalist, though he's not on the White House's press lists.
Moon shared a black and white photo of the moment, and while the tan line is starker in greyscale, Moon claims it wasn't photoshopped and that he only used Apple's photo app to adjust the colors.
"This picture was never photoshopped, but used the Apple smartphone's photo app to adjust the color of the picture," Moon wrote in a further tweet.
Moon also shared the unmodified version of the photo.
A Washington Post investigation into Moon's photograph concluded that a bronzer, or artificial tanner, led to the orange hue on Trump's face rather than Photoshop.
President Donald Trump acknowledging the photograph only seemed to make things worse, resulting in even more memes using the photograph.
"Me after watching exactly one makeup YouTube," one user joked.
While this user mixed the moment with the meme of the girl watching a house burn down.
One user added: "As much as i love the Irishman, I will admit that the CGI really took me out of this particular moment."
"Who wore it best?" another user asked.
"What do you think they're going to call this collab," one commenter joked.
One Instagram user compared the makeup to being straight out of Cats.
While this user thinks they might now what happened.