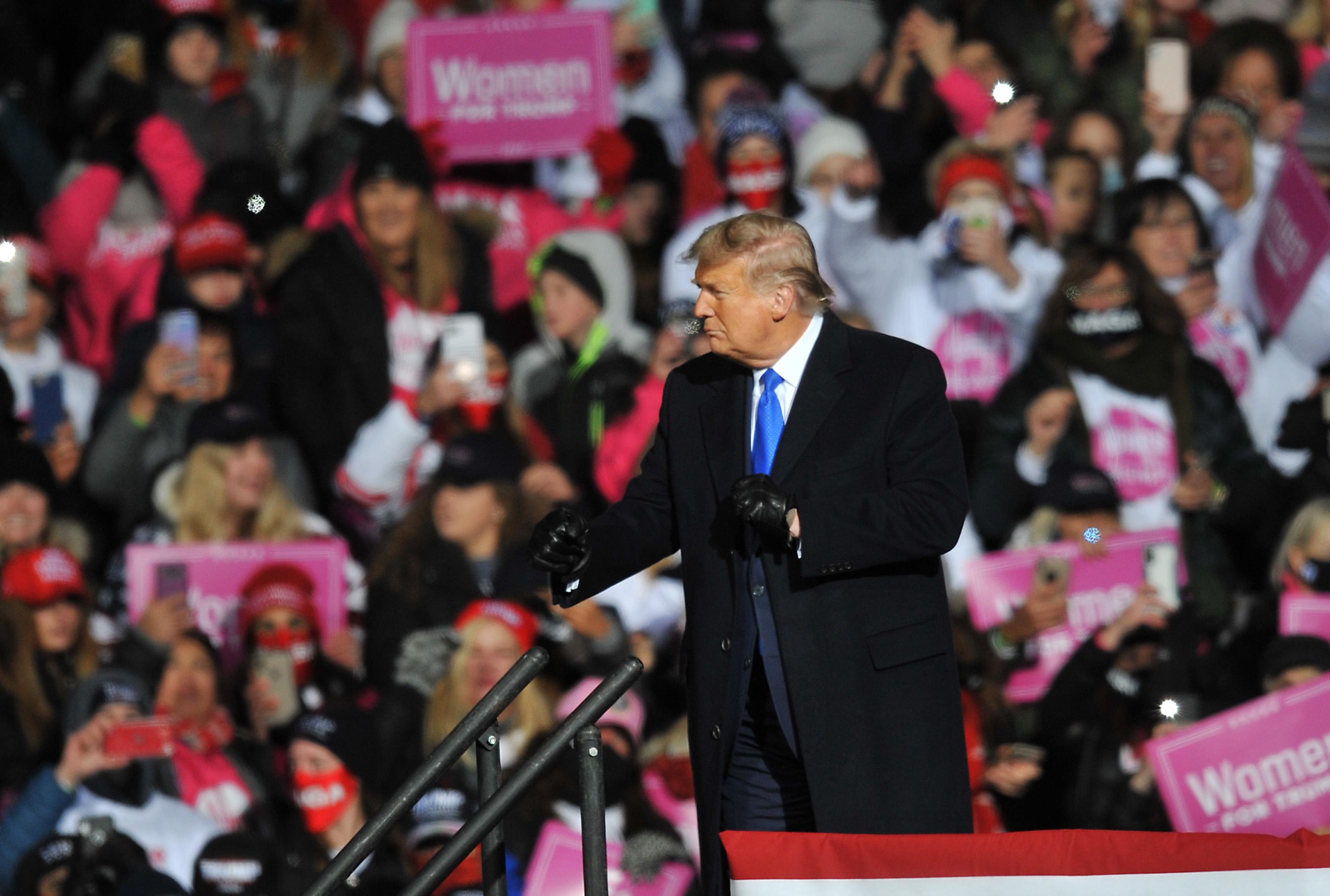 Thousands of Trump supporters were stranded in freezing temperatures after a rally in Nebraska
By Mark Pygas

Oct. 28 2020, Updated 8:47 a.m. ET
Thousands of President Donald Trump supporters were left stranded in freezing temperatures for hours after a campaign event in Omaha, Nebraska. According to emergency service scanner traffic, at least seven people were hospitalized after the event, as President Trump's supporters waited for heavily delayed buses. While Air Force One departed at around 9 pm local time, some supporters waited until after midnight to leave the event.
Article continues below advertisement
Aaron Sanderford, a political reporter for the Omaha World-Herald, attended the event and detailed the chaos that ensured afterward. The Trump campaign told Sanderford that "they have plenty of buses but are having trouble getting them to people still waiting because traffic flow on the small, two-lane airport access road is limited to one direction."
Article continues below advertisement
Jeff Zeleny of CNN, also in attendance, added: "President Trump took off in Air Force One 1 hr 20 minutes ago, but thousands of his supporters remain stranded on a dark road outside the rally. 'We need at least 30 more buses,' an Omaha police officer just said, shaking his head at the chaotic cluster that is unfolding."
Article continues below advertisement
According to the Omaha Scanner Twitter account, which monitors police radio chatter, at least 7 people were taken to hospital as a result of the delay. "One officer advising 8 to 9 elderly people who are struggling," the Twitter account explained. "Separate officer advising they have located an elderly party who is frozen cold unable to move with an altered mental status."
Article continues below advertisement
While some people decided to walk back to their cars, Omaha Scanner explained that it is a 3.7-mile walk from the area of the airfield where the event was held to the area where attendees had parked their vehicles.
Article continues below advertisement
According to Sanderford, the area wasn't completely cleared of people until well after midnight. "Looks like most people have made their way to buses or walked out and are finding their way to their cars," Sanderford tweeted at 12:22 am local time.
Article continues below advertisement
The chaos attracted criticism from State Senator Megan Hunt, who wrote on social media: "Supporters of the President were brought in, but buses weren't able to get back to transport people out. It's freezing and snowy in Omaha tonight. What people will do for this con man, what people have sacrificed, is so sad to me. He truly does not care about you."