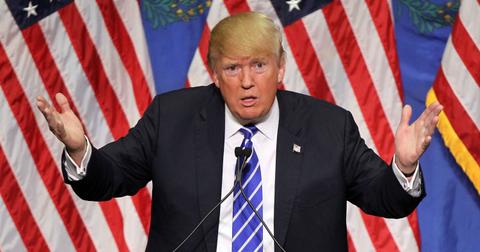 Trump's Super Bowl party reportedly cost taxpayers $3.4 million
By Mark Pygas

Updated
According to a report by the Huffington Post, taxpayers shelled out $3.4 million to send President Donald Trump to Florida for a private Super Bowl party with members of the Trump International Golf Club in West Palm Beach.
While tickets were sold for $75 each, they were only available to members of the club. Initiation feeds reportedly run at $450,000, and annual duties are several thousands of dollars more.
The Post has estimated that a trip to Florida costs taxpayers $3.4 million for the cost of Air Force transportation, Coast Guard patrols, Secret Service security and other expenses. That estimate is based on the Government Accountability Office of Trump's first four visits to Mar-a-Lago.
White House press secretary Stephanie Grisham defended the trip, saying: "The premise of your story is ridiculous and false, and just more left-wing media bias on display. The president never stops working, and that includes when he is at the Winter White House."
President Trump has made 28 visits to Mar-a-Lago since becoming president, with Saturday's and Sunday's golf outings bringing his total days at the resort to 79 and 244 total golf days at properties that he owns. The Post estimates that these trips have cost taxpayers $130.4 million.
The conservative group Judicial Watch estimated that President Obama spent $105.7 million on personal travel in his two terms. However, that figure may include official trips by the Obama's as well as campaign-related travel that was partially reimbursed by the Democratic party.
The Huffington Post states that Obama's golf bill was somewhere closer to $30 million.
President Trump's golf trips have earned him criticism from many, especially because he was so critical of President Obama's trips to golf clubs before and during his presidential campaign.
In October 2014, Trump wrote:"Can you believe that,with all of the problems and difficulties facing the U.S., President Obama spent the day playing golf. Worse than Carter."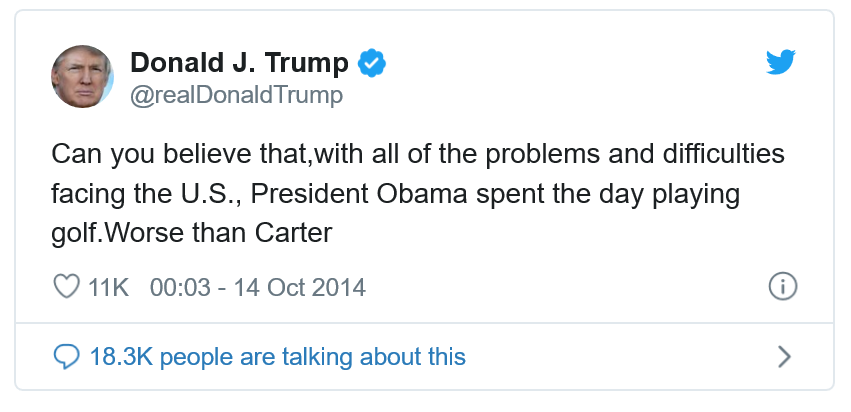 And back in December 2011, he stated: "I play golf to relax. My company is in great shape. @BarackObama plays golf to escape work while America goes down the drain."